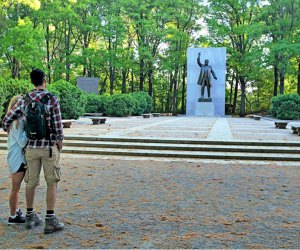 What's Open in Coronavirus Shutdown in Washington, DC: Parks, Hikes You Can Do While Social Distancing
It's the first weekend of spring in Washington, DC and that normally brings inspiration to us here at Mommy Poppins.
Of course, we all know these are not normal times in the nation's capital. As precautions against the spread of the coronavirus continue, public events, particularly with kids, remain limited and fluid.
So many weekend events have been canceled or postponed, but there are some outdoor activities that are continuing with safety precautions in place. Call or research before heading out. With a bit of imagination we just might make it through coronavirus lockdown.
We have previously documented several "evergreen" and indoor activities so you can manage your kids' cabin fever should you choose to avoid public and outdoor events. We've also posted a roundup of some of the best virtual storytimes, sing-alongs, STEM activities, and more that you can access here. You also might want to check our rundown of our favorite family films.
Lastly, a word on our events calendar: Events listed in the calendar whose statuses we have confirmed should be clearly noted. Those with plans to go forward once the virus abates are labeled "postponed." Those with no plans to reschedule are noted as "canceled."
In this environment, it is a challenge to keep up with all canceled or postponed events, so we beg a bit of indulgence from readers who have been so loyal to us.
Coronavirus-Related Closings in Washington, DC
Our post on DC-area coronavirus closings has the latest on theme parks, government buildings, and schools that have temporarily closed in the region. In the mood for a good read? Check out New York correspondent Susan Miele's post from inside that state's containment zone. Also, our coronavirus activities guide contains hundreds of activities for parents and kids during this extended time off from school.
Whenever the virus abates, know that your friends at Mommy Poppins DC will be with you with updates on the best family happenings in the area. Remember to sign up for our FREE newsletters to receive posts such as this right to your inbox.
So on to what's possible this weekend and beyond:
Despite the pandemic, you still can take a quiet walk wth the family through the mall. Late in the day watch the sun cast a reflection of the Washington Monument on to the reflecting pool. Continue your walk toward the Lincoln Memorial while reflecting on the World War II, Korean War, and Vietnam veterans memorials.
The 88-acre park in the Potomac is ideal for families who want to practice some social distancing in the company of nature. As you walk the island, look for the looming statue of the 26th president, who made conservation a hallmark of his administration. Enter the park in Arlington, Virginia and follow the boardwalk through the marsh forest while taking in the panaromic views of Georgetown.
Programs at this popular recreation site on George Washington Parkway are canceled, but walks and bike rides through the woods are not. In fact, much of the park remain open for passive use, and you won't find better hiking trails in the region than those here.
RELATED: Coronavirus Guide With Hundreds of Activities and Resources for Parents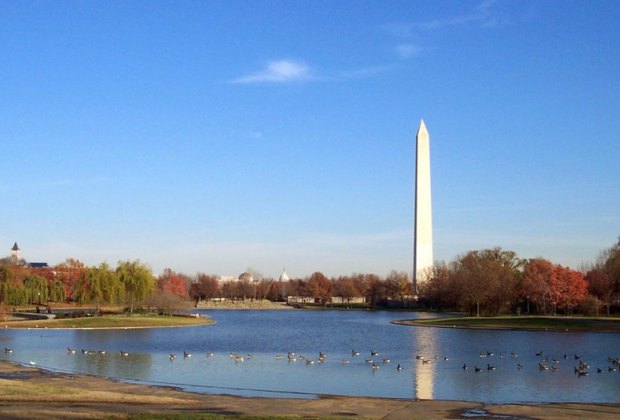 Constitution Gardens is a living tribute to the U.S. Constitution. Photo courtesy of NPS
Noticing a trend here? Some of DC's nature-based attractions are open, at least in a limited capacity, including Constitution Gardens, alongside the reflecting pool in the National Mall. The 50 acres that would become the gardens originally sat underground until an Army Corps of Engineers project in the 19th century created what was then Potomac Park. The gardens sit today as a natural-world tribute to the U.S. Constitution.
5. Head to an Out-of-Area Outdoors Attraction
We can all become a bit parochial living in the capital area. But if nothing else, the coronavirus offers us a chance to see more of the region we call home. If you live in the District or in Virginia, why not pack up the kids and drive to, say, Rachel Carson Conservation Park in Montgomery County, Maryland. The park features more than 6 miles of surface trails for hiking and is one of the state's premier conservation areas. If you're in Maryland, Scott's Run Nature Preserve in McLean,Virginia offers visitors a chance to glimpse early spring wildflowers and more.
6. Take a Day Trip from Washington, DC
The DC area's proximity to historical and natural sites in Virginia, Maryland, Pennsylvania, Delaware, even the Carolinas, makes it ideal for a day trip. Close to home, families can visit Baltimore or hike along the Appalachian Trail. Gettysburg Pennsylvania is a mere 90 miles from DC, as the Confederates knew in 1863, and while the museum is closed the battlefield is open. In about three hours, visitors from DC can arrive at Crossroads of the American Revolution National Heritage Area in Trenton, New Jersey, site of Washington's Delaware River crossing and battle. Again, offices and the museum are closed but the grounds remain open.
Near Baltimore and about an hour from Washington, DC, Bengies Drive-In boasts of the biggest movie theater in the country. The theater was planning a March 20 opening but now see April 3 as a more likely opening date. Enjoy a full-length family film from the safety of your own car,.