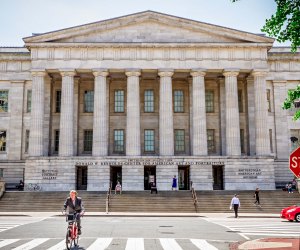 Coronavirus Update: Closings, Cancellations in Washington, DC, Maryland and Virginia
Coronavirus-Related School Closings in Washington, DC
Washington, D.C. public schools will close for at least two weeks beginning Monday, March 16. Schools in Alexandria, Arlington, Loudoun County, and Falls Church, Virginia will be closed until mid-April. After initially hoping to open on Friday, Fairfax County Public Schools, the largest school system in Virginia, opted to close. Schools across Maryland are closed. District of Columbia schools will be closed through Sunday, March 24 with online classes scheduled for Monday, March 23 through Tuesday, March 31.
Catholic schools in the Archdiocese of Washington will be closed from March 16 to 27. Masses open to the public in all archdiocesan parishes, missions, and campus ministries will not be celebrated effective March 14 until further notice.
Coronavirus-Related Museum Closings in Washington, DC
On Thursday, Smithsonian magazine said the DC-based museum system will close its 19 Washington-based museums as well as two in New York City. In a statement, the institution said the "health and safety of Smithsonian visitors, staff and volunteers is top priority." No reopening date was announced, but officials will provide weekly updates on Smithsonian websites and social media sites.
Popular Smithsonian museums in DC include:
Freer Gallery of Art
National Museum of African American History and Culture
National Museum of African Art
National Air and Space Museum
National Museum of American History
National Museum of the American Indian
National Portrait Gallery
National Zoo
Smithsonian American Art Museum
Just two weeks after its celebrated reopening at Woodrow Wilson Plaza, the National Children's Museum aaid it will close from March 13 to March 31.
George Washington's home in Mount Vernon will close from March 14 to 31. As of Friday afternoon, the International Spy Museum remains open, but public events have been canceled through April 1.
Professional and collegiate sporting events in the District are off as part of larger, leaguewide suspensions of play. The Kennedy Center has canceled all public performances until March 31.
Government Buildings in Washington, DC That Have Closed
The U.S. Capitol, House, and Senate office buildings as well as the White House are closed to the public until April 1. Late Friday March 13, the National Park Service announced it is suspending elevator tours of the Washington Monument. Visitors can still be on the grounds or visit other monuments along the National Mall, including the Lincoln and Jefferson Memorials, which remain open. Arlington National Cemetery has closed to visitors, but funerals will continue as scheduled.
St. Patrick's Day Cancellations in Washington, DC
D.C.'s annual St. Patrick's Day parade along Constitution Avenue has been canceled. Likewise, Gaithersburg, Maryland and Manassas, Virginia have canceled theirs. The National Cherry Blossom Festival also has been canceled.