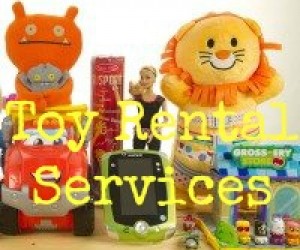 Toy Rental Services: Get Lego Sets, Baby Toys & Other Playthings Delivered to Your Door
A young child's interest in toys changes quickly. A new plaything that was a huge hit when first received is forgotten just a few days (make that hours) later. That can be frustrating for parents as the clutter and the bills mount up. That's why a toy rental service makes so much sense. It saves money, space and the environment. Less junk to throw in the landfill!

Toy rental websites offer Netflix-style subscriptions so your kid can try out new playthings on a regular basis. These services are also great for when your child goes on an extended visit to a grandparent or another relative who doesn't have playthings lying around the house. Traveling families can also benefit from shipping toys to a destination to lighten the luggage, just like you might rent strollers or car seats on the road. Here are some toy rental websites that ship packages throughout the United States.
It's interesting to note that the toy rental industry seems to be in the midst of a transition. Many high-profile toy rental services, like TOYconomy and Toygaroo, which was launched on the reality show Shark Tank, have gone out of business or changed to toy sales (see BabyPlays). But we still found a couple of companies that seem to be thriving, perhaps because of their excellent hooks.

Sparkbox Toys – Aimed at children through age 4, this service sends four award-winning educational toys to your doorstep. Families can keep the toys as long as they want and even purchase them at a discounted price if so desired. Also included: product cards that detail the developmental benefits of the toys, playtime ideas and any safety precautions, as well as a return shipping label. All toys are examined, cleaned and sanitized using child-friendly sterilization solutions.

Pley – Formerly known as Pleygo, this service seems particularly brilliant, especially with Lego mania currently sweeping the nation. With any of the three membership levels, families can rent and exchange unlimited sets of Legos. A bag with all the pieces for the set, 10 spare pieces, the original printed manual and a preprinted return shipping label are included. Pley doesn't charge for lost pieces, and uses a kid-friendly sterilization solution. If your child loves a set, it can be purchase at a discounted price.

Although not exclusively a toy rental service, Baby's Away does rent playthings along with all kinds of infant equipment - great for when you're traveling

It's also worth checking with your local public library to see if it loans out toys as well as books, because many do. The Los Angeles area has an entire library-like system called the Toy Loan Program, with locations throughout the metro area; LA County has been lending toys to kids since the 1930s, and visitors are not excluded. But LA is not alone; check the USA Toy Library Association website to see what options are near you—or even better near Grandma's house.