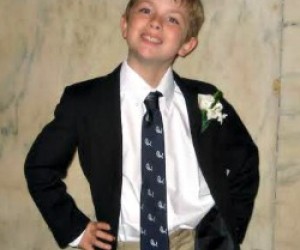 NYC Kids' Clothes: Boys' Suits & Formal Wear Shops
It's one of those annoying double standards you deal with as a parent: While fancy dresses seem to beckon from shop windows everywhere, finding a nice and affordable kids' suit feels like going on a scavenger hunt. Just how far do you have to search for boys' formal wear for the next wedding/graduation/holiday/picture day? And how much do you have to pay? At the rate kids grow, they'll probably only wear it once or twice.

Scouring second-hand kids' clothing shops is a good first option (remember, most of these suits were barely used). But if that's not your thing or you can't find a good fit, we came up with a list of NYC stores where you can buy boys' suits without having to take out a second mortgage.
Department Stores
You might think every department store has children's suits. Well, you'd be wrong. Some don't have any at all! But the following do: Nordstrom carries a wide selection of boys' suits ($145-$295) in sizes toddler to 20 with some husky options. Although there are only Nordstrom Rack stores in NYC, there are four full-fledged locations within 25 miles of Manhattan, all of which carry boys' suits. If you see something you like online, you can put a hold on it until you come in or have it delivered to your home. Of course, actually trying on suits is kind of key.

Sears, with locations in Queens and the Bronx, offers a small selection of boys' suits for much less ($50-$60) in sizes 8 to 20. JCPenney, which has locations in Manhattan, Queens and the Bronx, also has affordable suits ($75-$100) in sizes 4 to 20.

Burlington Coat Factory may be the best bargain in town: suits are about $40 each and there are husky options. And good old Lester's carries a wide selection of suits sizes 8 to 20 ($220 and up). The Upper East Side location has the wider variety but the Brooklyn store has some boys' suits, too.
Suit Specialty Stores
Boys Italian Suits in Williamsburg, Brooklyn specializes in children's formal wear, with a focus on (you guessed it) boy's suits. The store carries sizes up to 24 including stout and husky options. Custom suits are also available. The prices here are, understandably, higher ($179-$289).

New York Man has two stores on Staten Island and offers boys' suits in sizes 7 to 20, including some husky styles ($90-$140).

Karako Suits near Kings Plaza in Brooklyn and in Howard Beach, Queens, has boys' suits sizes 8 to 20 (starting at $80).

Men's Warehouse carries a selection of boy's suits sizes 8 to 20, including husky options. There are about a dozen stores in NYC and if you go in and can't find the right size, the staff will measure your child and order the correct one. Pieces are sold together and separately, in case you just need a jacket.

Brooks Brothers, which has many NYC locations, has a small selection of boys' suits but they're $300 and up. And in case you're wondering about the lauded Rothmans, you need to travel to its Scarsdale location to check out its famous boys' formal wear but reportedly many people make the schlep because of the wide selection and personalized service.