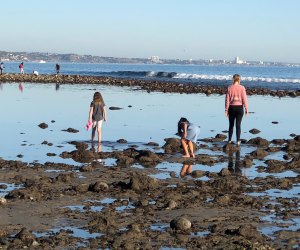 Things To Do in LA this Weekend with Kids: Tidepool Hikes, Carpool Jam Concerts, and Go, Dog. Go!
Whoa, what was that? Someone pushed the reboot button on our country! We'll be restarting in safe mode to avoid the threat of a virus (that's okay, because safe mode can be fun!).
Until the updated programming kicks in, we can safely rely on our dependable defaults, such as drive-in screenings, socially distant outdoor outings, and rocking to tunes in our cars. More perfectly safe activities include venturing into the Upside Down, which may or may not include a demogorgon, and going on a Jurassic Quest where you probably won't be eaten by dinosaurs.
Once we get the all clear, you can go, dog, go! Actually, you don't have to wait for the all clear; you can Go, Dog. Go! this week, with the new Netflix series based on the children's book. (I do like your hat!)
To find the fun while staying safe at home, look no further than Poppins@Home. This week, Snapology Scientists inspires young minds to ask questions about the world around them, while Snapology Minecraft takes kids into the world of Nether (watch out for creepers!). DMF Youth helps kids stay fit and healthy through dance mini lessons. And step aside Cassidy: Hopalong Andrew is getting our kids moving to the music.
Keep reading for activities to reboot, reset, and refresh your week ...
While we are trying to promote safer activities that occur outdoors or with social distancing guidelines in place, please keep your family and others safe by always wearing a mask and maintaining appropriate distance. If you arrive at an event that appears too crowded, try using the "nearby" search feature on our event calendar to find something else to do—or stay at home and check out our list of virtual events in January.