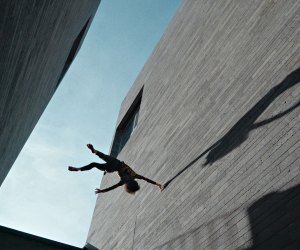 Things To Do in LA this Weekend with Kids: Dance Drive-In, Hide and Seek Garden, and a New Studio Ghibli Film
Things are looking up: Our statistics are improving and California's stay-at-home restrictions are being relaxed. Pretty soon we can look forward to an expanded repertoire of engaging and enriching recreational activities. And in the meantime: we can go to Disneyland! (For vaccinations, if we meet the current Tier 1 criteria.) And horse trails and gardens and farms! (For some fresh air and change of scenery, no matter who we might be.)
The changes aren't happening overnight, so we encourage keeping a close eye on our site. We'll do our best to keep you informed as favorite venues once again roll out the welcome mat. 'Til then, we have no shortage of online amusements. This week we can log on to celebrate chocolate, Marion Davies, and human abilities. Ohana means family, and you'll want to gather yours for the premieres of Finding Ohana on Netflix and Studio Ghibli's Earwig and the Witch on HBO Max.
Poppins@Home continues to bridge the enrichment gap, with fun and funky virtual classes for kids of all ages. Real science brings magic to life in the Magical Potions class at the Science of Wizarding School. Step by step instructions help kids draw iconic cartoon characters, with a different character featured each class. And happy feet make for happy kids, so sign them up for HappyFeet soccer.
Keep reading for more inspirational picks for the coming week.
While we are trying to promote safer activities that occur outdoors or with social distancing guidelines in place, please keep your family and others safe by always wearing a mask and maintaining appropriate distance. If you arrive at an event that appears too crowded, try using the "nearby" search feature on our event calendar to find something else to do—or stay at home and check out our list of virtual events in January.