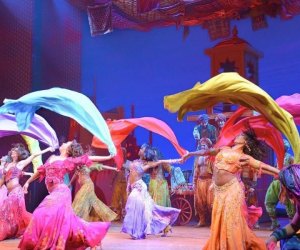 Lights, Camera, Action! 8 Family-Friendly Shows Coming to Philly This Summer
Philadelphia is a city with lots of activities for kids with all kinds of interests. When it comes to entertainment, New York City is widely known for Broadway and its live entertainment scene, but you don't have to go to the Big Apple to catch a great show.
Whether your children are interested in getting on the big stage or in front of it, the city has a wonderful creative arts scene with something for just about every age group. In fact, Philadelphia has a summer full of must-see shows and performances that make for wonderful family outings. Check out these 8 live shows hitting Philly stages this summer that you and the family won't want to miss.
Water on Mars
June 1 - June 3 ​at the Perelman Theater (inside the Kimmel Center)
In its U.S. debut, three talented performers known as Plastic Boom bring to Philadelphia their astonishing show Water on Mars. This event is jam-packed with astounding stunts, acrobatics, juggling, and more acts that will be sure to take your breath away. You'll just have to see it to believe it!
This event is part of the 2018 Philadelphia International Festival of the Arts.

Aladdin
June 13 - July 1 at the Academy of Music
Experience a whole new world with the magic of the classic Disney production Aladdin!
Of course this family favorite comes to you this summer with all of the hit songs from the original film but also with new music written by Tony Award® winner Casey Nicholaw. This production of Aladdin is recommended for children ages 6 and up.​
Tilly the Trickster
June 16 - June 24 at the Players Club of Swarthmore
Tilly the Trickster is a story about Tilly, a girl that loves to get into mischief and prank her family and friends. Tilly's schemes are all in fun, however, everyone else just may have a few tricks of their own up their sleeves. The whole family is sure to enjoy this delightful musical production.
Adult tickets (12+) are $10, children (ages 3-11) $8, and children under 3 are free.
Wiggle Wiggle Wiggle!
June 16 at Merriam Theater
The Wiggles are on tour this year and they're stopping in Philly! The wildly popular children's entertainment group comes to you this summer to perform a variety of the Wiggles classics that over 330,000 fans around the world have grown to know and love.
From "Hot Potato" to "Do the Propellor," your littles one are sure to be singing, moving and grooving to a collection of kid favorites. These interactive, high-energy shows are best suited for children under 5, but they are known for small bits of entertainment that will get some laughs from the parents as well. And remember to buy your tickets fast because this one is sure to sell out!
Champions of Magic
June 20 - June 24 at Merriam Theater
The 5 international award-winning illusionists collectively known as the Champions of Magic will be appearing in Philadelphia this summer to bring you and the family an evening of mesmerizing magic, incredible illusions, and mind-reading! Witness firsthand as the group performs a variety of amazing acts including levitation, disappearing, teleportation, and a finale that will blow your mind.
Need more reasons to go? Then use code MAGIC20 to get 20% off your tickets!
Jack and the Beanstalk
June 28, August 7, August 9 at the Ambler Theater
Kids of all ages are sure to enjoy the classic story of Jack and the Beanstalk. Performed by a pair of dynamic performers, this delightful production be sure to keep a smile on kids' faces from beginning to end.
General admission tickets are $12, seniors and grandparents $10, and kids under 3 are free.
The Jungle Book
July 19 at the Ambler Theater and August 14 at the Newtown Theater
The jungles of India come to the city in this one-hour production of The Jungle Book. This story is based on the original 1894 publication which inspired the classic Walt Disney movie. Join Baloo the Bear and his friendly animal counterparts as they guide their lost friend Mowgli through the jungle, guarding him from the sneaky tiger Shere Khan.
General admission tickets are $12, seniors and grandparents $10, and kids under 3 are free.
Alice in Wonderland
August 11 - August 19 at the Players Club of Swarthmore ​​
Alice is exploring Wonderland and she's bringing you along for the adventure! Come see the Mad Hatter, Cheshire Cat, and some other interesting characters as Alice makes her way through the strange world of Wonderland trying to find her way back home.
Adult tickets (12+) are $10, children (ages 3-11) $8, and children under 3 are free.
Which one will you be heading to this summer? Head over to our Facebook page and let us know!