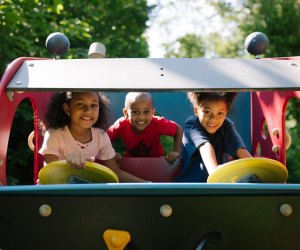 Philly Playgrounds with Shade to Keep Kids Cool
School's out, the days are long, and summer is in full swing -- cue rosy cheeks and sweaty hair. To help you and your family have fun while avoiding heat exhaustion, we've compiled a list of 10 Greater Philadelphia playgrounds that will help you beat the heat.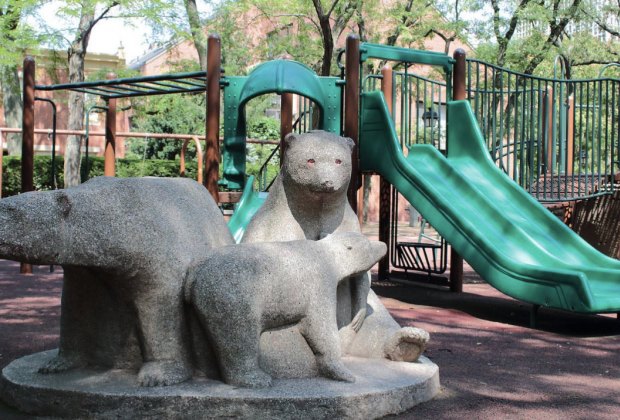 Three Bears Park has plenty of shade for those hot summer days. Photo from Three Bears Park
1. Three Bears Park - While fairly basic as far as playgrounds go, if you're looking to keep cool, this park is one to remember. Located in Center City's Society Hill, Three Bears Park features slides, monkey bars, swings, and plenty of padded surfaces for your little one to run. And, of course, there's a namesake statue of two adult bears and a cub, which kids love to climb and sit on. There are also plenty of benches and tables when your kids are ready to break for lunch or snack time.
2. Liberty Lands - Located in the Northern Liberties section of Philly, this modest but shaded playground sits amid a larger public park with a community garden area. Once your kids set foot onto the mulched play area, they can choose from swings, a play set, a spacious play car, and a spring rider. Any climbers in your group will also delight in the dome-shaped jungle gym.
3. Weccacoe Playground - This shaded park sits in the Queen Village area of the city and offers a lot of play options for youngsters of various ages, with several swings and two play set areas, including one that would work well for toddlers. The larger of the two play sets features a slide, bridge, climbing bars, and sliding poles.There's even a stand-and-spin for your kids who enjoy circular motion and don't mind getting a little dizzy.
4. Markward Playground - Head to Schuylkill River Park, on the eastern banks of the river and check out this playground, shaded and set on springy padding. Features include straight and spiral slides, climbing bars, and swings. There's even a spring see-saw.
5. Shissler Recreation Area - What's better than a shady playground in the summer? How about one with a sprinkler park? Situated in Fishtown/East Kensington, this playground offers the basics on a rubber surface area, with plenty of benches where parents can sit when they need a break.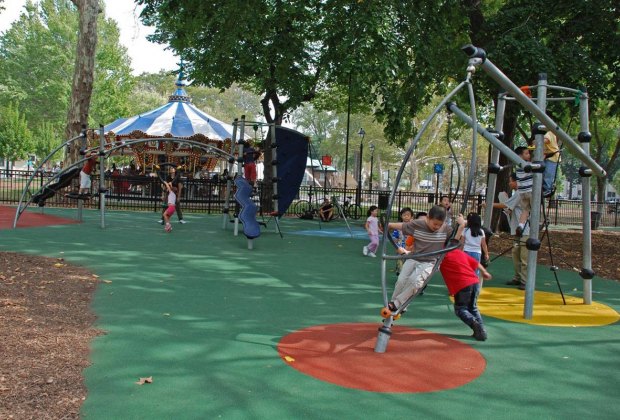 Franklin Square offers plenty of shade - and a host of other activities, including mini golf and carousel rides. Photo from Franklin Square
6. Franklin Square - With two sections of play equipment, one geared toward those five and younger, and another for the older crowd, you can't go wrong. Here you'll find swings, slides, see-saws, sliding poles, monkey bars, and more. Plus where else can you a round of play mini-golf afterwards and satiate hungry bellies with burgers, shakes, and fries?
7. Sturgis Playground - If you're near Philadelphia's Olney neighborhood, check out this playground renovated in 2013. It's situated in a park boasting approximately five acres, which also features a baseball field, spray pad, and recreation center.
8. Pleasant Playground - Located in East Mount Airy, this playground has two play areas and a section designated for water sprinklers, which are ready to shoot up from the ground with the push of a button.
9. Vernon Park - On Germantown Avenue, you'll find this park with a playground that underwent renovations just a few years ago. Sliding, running, climbing, and swinging are popular activities here. Fun fact - at one time, Vernon Park belonged to a horticulturalist who is said to have planted various trees and shrubs on the land. You can think of him when you sit below the canopy of trees that shade you from the blistering summer sun.
10. Smith Memorial Playground - No shout out to Philly parks is complete without a nod to this expansive playground with more offerings than you'll find in most other play areas. In addition to the traditional playground equipment, Smith Playground also also large climbing nets, spinners, tunnels, and train and boat playground sets. There's even a giant slide you'll need a burlap sack to glide down. While many of the play sets and modern outdoor equipment are situated in sunny areas, there are shaded outdoor spots where you can catch a break from the heat. What's more, there's a mansion onsite, designed for toddlers and preschoolers, with play rooms that can provide reprieve from the high temperatures. Inside you'll find tricycles, train sets, toy cars, kitchen sets, and costumes. This playground is open through September 30 and is arguably one of the best playgrounds (if not the best playground) Philly has to offer.
Now that you've got the lowdown on some of the most canopied Philly playgrounds, make the most of a day with family and friends. After you've enjoyed your afternoon out, let us know what you thought of the playground you visited by going to our Facebook page.