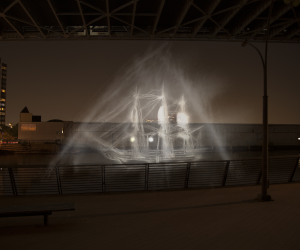 Just in Time for Halloween, Ghost Ship Sails into Philly
This fall, Philly families can pick the perfect pumpkin, get lost in a corn maze, enjoy some scary (or not-so-scary) Halloween fun, and get an artful fright at the Race Street Pier's latest art installation. Ghost Ship, which opens to the public on Friday, October 4, 2019, celebrates the Delaware River's long history with ships and shipbuilding.
Complete with a self-guided audio tour that showcases the extensive shipbuilding history in the area, Ghost Ship is a 90-foot three-dimensional light and water installation from artist group Biangle Studio. Visitors can head down to Race Street Pier Wednesdays through Sundays, 7pm to 10pm, October 4 through November 3, 2019 to enjoy the spooky ship.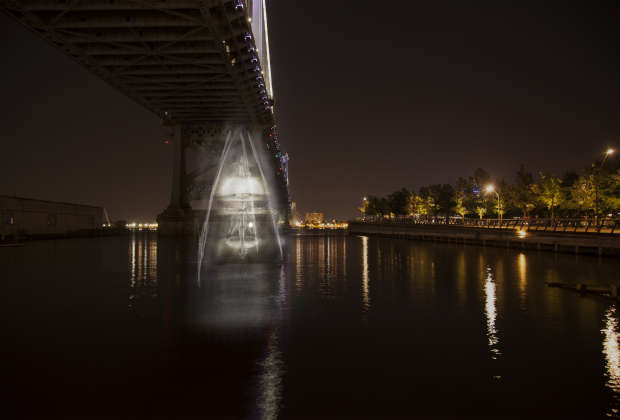 Here's what you need to know:
Visiting Ghost Ship is free to the public and is open Wednesday-Sunday, October 4-November 3, 2019 from 7pm to 10pm.
The art installation can be found at Race Street Pier and there are lots of ways to get there. Detailed information on directions and parking can be found on the Delaware River Waterfront website. Note: While the art installation is free, if you drive in, you'll most likely have to pay for parking, which can cost up to $20.
Make a whole trip of it! Head over to nearby Cherry Street Pier for family-friendly dining and dessert options. Race Street is also partnering with Parks on Tap for a Ghost Ship beer garden, open Wednesday through Friday, 5pm-10pm, and Saturday and Sunday, 12pm-10pm through November 3.
Photos courtesy of the Delaware River Waterfront