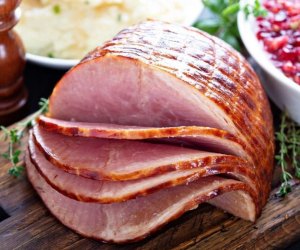 Easter Brunch or Dinner Delivery: Restaurants near Philly with Takeout Holiday Meals
Despite social distancing and stay-at-home orders, Philly families can still make the most of the Easter holiday with delicious foods available for pick up or delivery from many restaurants throughout the region. Traditional items such as deviled eggs, hot cross buns, Italian Easter pie, ham, carrots, and chocolate candies are sure to make young and old alike forget about being cooped up for the past month.
We've rounded up 16 area restaurants offering Easter breakfast, brunch, and dinner take-out. Some provide delivery as well. Treat yourself to a wonderful Easter meal from some of the restaurants on our list. Every belly is sure to be satisfied. Best of all, there won't be a pile of dishes in the sink!
At publication time, these restaurants are offering take-out service for Easter Sunday. Since the COVID-19 situation is constantly evolving, please confirm with the restaurant directly to be sure.
1. Aneu - Paoli
Aneu Catering offers both Easter breakfast and dinner. Breakfast options such as Farmer's Frittatas, Cinnamon Chip Scones, Chocolate Croissants, Monkey Bread French Toast, and Homemade Granola. There are three dinner options- Ham with Pineapple Stuffing, Roast Turkey with Mashed Potatoes and Stuffing, and Pot Roast with Carrots and Cauliflower Risottos. Dinners all come with additional select sides and dessert for either 2 or 4 people. Delivery is available for April 11 or pick up on Easter from 9 a.m.- 12 p.m.
While the restaurant itself is not open on Easter, with a bit of planning, families can pick up their holiday dinner from Barrel's on Saturday for Sunday. This South Philly staple offers delicious soups and salads, decadent pastas, and a wide variety of seafood and chicken dishes, Among the most popular dishes are Chicken Parm, Fettuccine Alfredo, and Chicken or Veal Piccante.
This menu makes it difficult to decide what to select. In addition to the regular dinner menu, Bridgets offers an Easter dinner take out option which include a choice of either Mixed Green Salad or Caesar Salad, a choice of Turkey, Tenderloin of Beef, or Rack of Lamb, two sides such as Fingerling Potatoes, Mashed Potatoes, Asparagus, Green Beans, or Carrots, and a choice of Cheesecake, Chocolate Cake, or Carrot Cake. Dinner packages start at $30.
Christopher's Wayne location is open for carry out, but the restaurants is also offering delivery for Easter dinner as well from 4 p.m.-7:30 p.m. Selections include Salmon, Roasted Chicken, Pulled Pork, Caesar Salad, Spaghetti and Meatballs, and Brick Oven Pizza.
Email (preferred) or call your order into Izenberg's Catering. Offering contact-free curbside pick up or delivery, this spot has a wide variety of holiday favorites including Deviled Eggs, Quiche Lorraine, Smoked Salmon, Honey Glazed Ham, and Rosemary Rack of Lamb. Sweet endings such as 'Carrot' Strawberries (i.e. orange colored chocolate covered strawberries), Coconut Macaroon Nests with Candy Eggs, and Iced Easter Sugar Cookies finish the meal.
RELATED: Easter Crafts and Egg Dying Kids Can Do at Home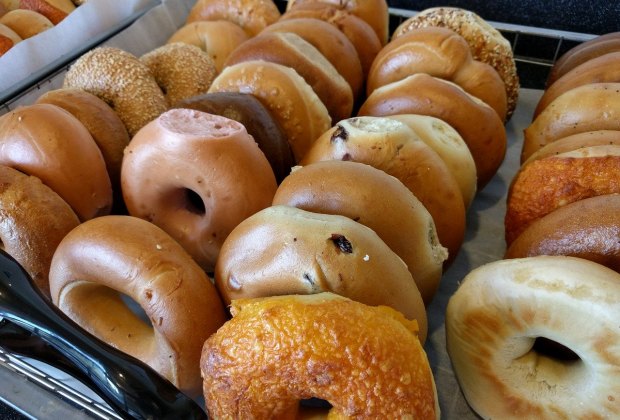 Bagels are a great way to start off Easter morning. Photo by Ravi Krishnappa from Pixabay
Families can select a special Easter dinner from Normandy Farm. Feeding a family of four, this special includes 24 oz of Lamb,Ham, NY strip, Salmon, Turkey, or Lasagna, Salad as well as sides such as Mashed Potatoes, Candied Yams, Green Bean Casserole, and Pineapple Stuffing. Soup, extra sides, kids' meals, and desserts are also available. Order in advance for pick up on Easter between 10 a.m. and 2 p.m.
There are five locations and one simple process. Call your local store, place your order, and pick up curbside. That's the easy part. Deciding what to order is the tough part. From classics like bagels with salmon to specialties such as Nutella Banana Honey, you won't be disappointed on Easter morning with this breakfast.
From everything bagels to cinnamon raisin bagels, Philly Style Bagels can provide you with a great breakfast. This spot offers loose bagels, spreads, bagel sandwiches, and a variety of morning beverages too! Call in advance to place your order. Delivery is available through Uber Eats and Caviar.
For over 100 years, Ralph's in South Philly have been offering high quality food. For Easter, it is no different. The regular menu is available for take-out and delivery service on Easter Sunday. Fan favorites include Ravioli, Manicotti, Caesar Salad, Eggplant Parm, and Chicken Parm.
Start off Easter morning with bagels from Schmear It! There are savory options such as the Penn, which is classic cream cheese and chopped lox or the Dragon, which boasts cream cheese, jalapenos, walnuts, scallions, and red peppers. Or, satisfy your sweet tooth with a stuffed French Toast Bagel or S'mores bagel with cream cheese, marshmallow fluff, graham crackers, and chocolate chips.
Scoogi's Easter menu consists of Roasted Beef Tenderloin with Potatoes Au Gratin and Grilled Asparagus, a Honey Glazed Ham with Pineapple Stuffing, Green Beans ,and Corn, or pasta dinner with choice of Chicken or Italian Wedding Soup, Lasagna or Stuffed Shells, Meatballs or Sausage, and Salad. Pick up on Easter Sunday is from 1- 3 pm and orders must be placed by April 6. Regular menu items are also available with pick up available from 3 p.m.-6 p.m..
If you are looking for comfort, southern food is sure to satisfy. Breakfast lovers can select Vegetable Omelette, Meat Lover's Omelette, or a Beignet Basket. For something savory, try the Fried Pickles or Sourthern Style Cheesesteak Egg Rolls. Family meal options include a Fried Chicken with Mac & Cheese and Homemade Cole Slaw, Jambalaya, and Buffalo Wings with blue cheese dressing and celery.

Crawfish Mac & Cheese from The Twisted Tail hits the spot.
Grab some bagels to get you going on Easter morning at either Spread Bagelry's Rittenhouse or South Street location! Families can expect many bagel flavors along with a variety of spreads. Breakfast sandwiches, pizza bagel melts, and signature sandwiches are also available.
With a plethora of choices, families can eat breakfast or dinner from Talia's. Start off with bagel and assorted spreads, muffins, and tea or coffee. Then try Beet Salad, Baba Ghanoush Salad, Orzo, or Tabouli Salad alongside a Beef Gyro Platter, Chicken Kabob, or Lamb Chop Platter. Save room for some Baklava!
This spot is open for both take out and delivery. In addition to freshly baked bagels, the shop offers catering options such as muffin trays, smoked fish trays, bagels and sausage gravy, salads, and pastries. It is important to note that all orders should be pre-paid.
Both of The Classic Diner's locations are open and offer their full menu with items such as Egg Platters, Pancakes, Belgian Waffles, Salads, and Sandwiches for Easter. Malvern is open from 7 a.m.- 3 p.m. and West Chester is open from 8 a.m.-3 p.m. on Easter Sunday for pick up. Delivery is free. A huge catering menu is also available. Catering orders can be picked up at the catering location (827 Lincoln Ave, West Chester) on Saturday. Reheat instructions are included.
This restaurant makes dinner easy. Added to the regular offerings, this special family style holiday meal include a choice of Fllet of Beef, Lamp Chop, Chicken Marianne, Chicken Piccata, or Roasted Salmon with a Spring Mix Salad, Fingerling Potatoes, Grilled Asparagus, and a loaf of Easter Bread. Key Lime Pie or Toll House Cookie Pie rounds out the meal. Place your order by April 8 for Easter pick up.
Families can select their own customized meal starting with an array of fish and meats including Beer & Honey Glazed Ham, Organic Salmon, Prime Rib, and Roasted Leg of Lamb. Extras such as Heirloom Beets, Crawfish Mac & Cheese, Fingerling Potatoes, and Organic Carrots are perfect on the side. Finish off dinner with Beignets or Peanut Butter & Chocolate Tarte. Delivery is available through Uber Eats or for free within a 3 mile radius.