Beginner's Guide to Homeschooling: Gym Classes and Sports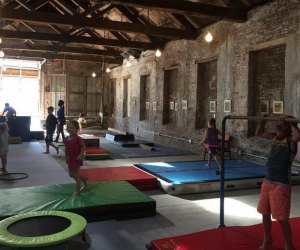 It's true that homeschooling creates a really unique and wonderful bond with your kids, but, sometimes, it's really hard. When you consider the fact that you're responsible for teaching your child everything, getting some socialization time in with other kids, and making sure they're healthy and physically active- well, it's just too much. That's why we started this monthly series of articles, to help homeschool parents, new and vets alike, find all the resources you need to make it a completely enjoyable experience. Which means, taking some responsibilities off of your plate. There are a lot of great classes out there, specifically for homeschool kids. Maybe there's a subject you don't feel comfortable teaching your child, or maybe you just don't know how to keep them active, or (real talk), maybe you need a break. We've found a lot of great phys ed, gym, and sport options to enroll the kids in to keep them healthy and strong.
Your local school district
The first rule when it comes to homeschooling, is to know your rights. Did you know that your kid can play sports, join clubs, and more at your local school district? It's true, anything considered a Section 511 activity is usually open to homeschool kids. Call your school district and find out what kind of opportunities are available for your kids.
Philadelphia Freedom Valley YMCA- Various
The YMCA offers classes throughout the school year for homeschoolers. These classes focus specifically on keeping kids moving with various sports instruction. Currently, classes are being offered at the Ambler branch, the Spring Valley branch, and the Haverford branch.
Flip Out Productions- Philadelphia
This gymnastics studio is located in a super cool and trendy new space in The Sculpture Courtyard at Sharktown. Homeschoolers can enjoy gymnastics classes specifically for them and learn how to tumble, jump, and flip.
Doylestown Rock Gym- Doylestown
Doylestown Rock Gym offers two different classes for homeschoolers: a 6-week Homeschool Climbing Class and a 4-week Homeschool Adventure Class. In the climbing class, kids age 6-13 will learn proper use of equipment, climbing technique, and safe climbing practices. The adventure class, for kids 10-16, is a bit more intense, and includes outdoor hiking and geocaching, as well as rock climbing and a high ropes course.
Kid Sport at Cairn University- Langhorne
Kid Sport is an affordable physical education program for homeschoolers in grades K-12. There are 2 age groups: 5-7 and 8-17. Six week sessions cost $30 per student or a maximum of $70 per family.
Legacy Youth Tennis & Education- Philadelphia
This tennis training center offers a 12-week homeschool clinic for kids age 4-18. Classes are available for beginner or intermediate level students. The one-hour clinic includes warm-ups, fitness, drills, and skills for matches.
Photo courtesy of Flip Out Productions.