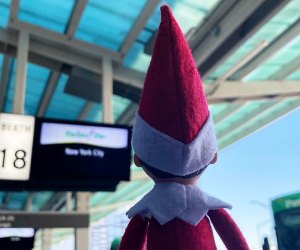 The Ultimate Philadelphia to New York City Holiday Travel Guide
Philadelphia is an amazing place to spend the holiday season. But as much as we hate to admit it, New York City is a strong frontrunner for the ultimate holiday destination. This time of year in New York is downright magical, and at 100ish miles away, a trip to the Big Apple during Christmastime is a tradition that many Philly families treasure. We figured that the ultimate holiday destination deserves the ultimate holiday travel guide, so we've compiled a list of the best ways to get from Philadelphia to New York.
Traveling from Philadelphia to New York is a route with myriad options, and parents can expend a lot of energy debating taking the train from Philly to NYC, taking the bus from Philly to NYC, or driving up the turnpike, never mind the traffic and parking headaches waiting to greet you on arrival. We're making your family trip to New York City for the holidays or any other days as hassle-free as possible, by mapping out all the best ways to go from Philly to New York, and throwing in a few suggestions of what to do when you arrive.
Read on for all the best ways to travel from Philly to NYC, then plan all the bucket-list experiences that only Christmas in New York can offer.
Grand Central Terminal. Photo by NYCGo.
Taking the Train from Philly to NYC
Riding the train from Philly to NYC is scenic and relaxing, and many kids will enjoy the experience, from exploring the grand stations to looking through the windows during a game of I Spy. An additional bonus is that there's no traffic on the railroad, but families can expect to pay a premium as a result. You can take the train from Philly to NYC using either Amtrak or SEPTA, which connects to NJ Transit.
OUR LATEST VIDEOS
Amtrak is both the fastest and most expensive train option from Philadelphia to New York, offering daily trips via multiple routes. The quickest route is the Acela, making just one stop, and all of the trip durations vary from about 70 minutes to 105 minutes. Compared to driving, each of these routes is a timesaver, especially once you factor in the time you'd spend finding parking. Amtrak trains depart Philly from either 30th Street Station or the North Philadelphia Station and deposit riders at New York's Penn Station, which is a great starting point for a lot of NYC's best holiday activities.
Pricing varies widely, with most tickets significantly more expensive than other rail options. Depending on the route and departure dates and times, adults can expect to pay anywhere from $90-$200 for round-trip value-tier tickets, with discounts available for kids ages 2-12 and youth ages 13-15. Tickets must be purchased in advance, and seating is first-come, first-served. The trains are comfortable and more spacious than public transit, but the pricing is a big drawback for many families. Parking for the day at 30th Street Station is $28.
SEPTA can also get Philly Families to NYC via transfer to an NJ Transit train. SEPTA's Regional Rail Trenton Line and Chestnut Hill East Line provide service to Trenton, where you can board a train that goes straight to New York's Penn Station. Switching trains in Trenton is simple, you just need to locate the right platform to board the train to New York, which is always close by. This method adds some travel time to your trip, especially as wait times for the NJ Transit train can be around 30 minutes. Still, it's a great money-saving option, and outside of 30th Street, parking at most SEPTA Regional Rail stations is free.
Round-trip fares from 30th Street Station to Penn Station in New York can be purchased on the NJ Transit Mobile App, and cost $52 for adults and $24.30 for children ages 5-11. Children under 5 ride free. On weekends and holidays from 7pm Friday to 6am Monday (or the day after a holiday), two children ages 5-11 can ride from Trenton to New York for free with NJ Transit's Family Super Saver. Note that if you're boarding a train before 30th Street Station, additional SEPTA fares for your boarding zone apply.
Taking the Bus from Philly to NYC
Riding the bus from Philly to NYC is the least expensive route, and is also known for being the least glamorous and most unreliable of the transportation modes. Unpredictable traffic frequently throws off schedules, so you'll want to allow ample extra time, especially during the holidays. But if pricing is your primary concern, buses are the way to go. Departure times run every 1-2 hours from as early as 6am to as late as 10pm depending on the carrier. Almost all buses count WiFi, power outlets, and bathrooms among their amenities. The bus routes below take Philadelphians straight to Midtown Manhattan, where families will find a lot of the top New York holiday destinations.
Flixbus sells some of the cheapest fares families can find from Philadelphia to New York City, starting around $20 round-trip. All trips have a $2.25 fee, and for an extra $1.49, you can reserve specific seats. The Flixbus fleet leaves from 6th and Market Streets, sometimes making a stop in Cherry Hill, NJ, before continuing to Midtown Manhattan. The drop-off location at 31st Street and Eighth Avenue is a reasonable walking distance or brief subway ride from many of the city's best holiday sights.
Megabus has long been a favorite among college kids and young professionals, and makes a good budget-friendly option for families as well. Double-decker buses leave Philadelphia near 30th Street Station at Schuylkill Avenue and Walnut Street, and arrive at the intersection of 7th Avenue and 27th Street, a few blocks from Penn Station and centrally located to lots of holiday attractions. On the route home, buses leave from across the Javits Center at 34th Street between 11th and 12th Avenues and arrive back at 30th Street Station. Megabus fares average $40 round-trip, with extra fees of $2 each way for reserved seats, and a $2.50 booking fee. Megabus offers additional amenities like reclining seats and onboard entertainment through their app, Megabus RIDE.
The Peter Pan bus line leaves from the Philadelphia Bus Station at 10th and Filbert Streets and takes passengers non-stop to NYC's Port Authority Bus Terminal at 42nd Street and Eighth Avenue, steps from Times Square. Tickets are $40 round-trip, with an additional $8 total in fees, and passengers can pay an additional $17 for a refund option. Children under 2 don't need tickets as long as they can sit on a guardian's lap. Kids' tickets can be purchased at the station at a 20% discount.
Greyhound tickets for the bus from Philly to NYC can be purchased at Economy, Economy Extra, or Flexible rates, ranging from about $30 round-trip on the low end to $70 on the high end. The Greyhound Station is the main hub for Philly intercity bus travel, with buses leaving from 10th and Filbert Streets, and arriving at New York's Port Authority Bus Terminal. Book tickets ahead of your trip online, or use the Greyhound app. Children under 2 can sit on an adult's lap and ride for free.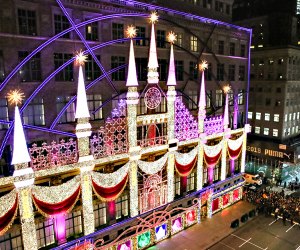 Throngs of onlookers pack an intersection to see The Saks Fifth Avenue Holiday Light Show and holiday windows. Photo courtesy of Saks.
Driving from Philly to NYC
If life existed before Waze, I don't remember what that was like. So thankfully, you don't need our help with a road map for your road trip from Philadelphia to New York. Driving into NYC has two main advantages–you've got a car if you want or need one while you're there, and you're not dependent on anyone else's departure schedule. Usually, the drive comes in under two hours when there's minimal traffic. The disadvantages are that traffic can be unpredictable, tolls can be pricey, and parking can be a major headache.
Whether entering NYC through the Lincoln Tunnel, Holland Tunnel, or across the George Washington Bridge, toll rates are $16 if you pay cash, $13.75 for E-ZPass during peak hours, or $11.75 for E-ZPass during off-peak hours. You may also incur PA and NJ Turnpike tolls, depending on your route. Use Toll Guru to calculate exactly how much you'll need to pay from start to finish.
Parking in New York City isn't exactly cheap, with garage spaces in Midtown Manhattan for a 12-hour day ranging from $30 on the low end to $75 and up on the higher end. During the holiday season, garages often fill up on early weekends, and drivers should expect prices to be even higher. Websites and apps like Spot Hero and Icon Parking allow pre-booking, helping parents to save time and money.
Then there's the option to drive some portion of the way, park in New Jersey, and take NJ Transit into NYC. One popular station to take advantage of this method that's roughly half-drive and half-train is Metropark Station in Iselin, New Jersey. It's about a 70-80 minute ride from Center City. The train from Metropark into New York is 50 minutes. Parking rates are $7 for up to 16 hours, $9 for 16-20 hours, and $12 for 20-24 hours. Overnight parking is permitted for up to 21 days.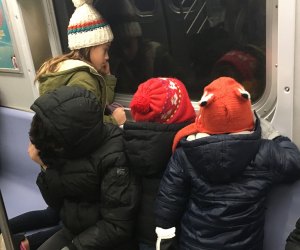 The train is fast and easy and will drop you off in the heart of Midtown's Christmas activities. Photo by Sara Marentette.
Using NYC Public Transportation
Even with swarms of tourists crowding the streets, New York City is very pedestrian-friendly. Walking the city is a big part of the excitement, but when little legs have trouble keeping pace with the hustle, the MTA's bus and subway systems are a quick and cost-efficient way to zip several blocks uptown, downtown or crosstown.
You'll need to purchase a MetroCard to use NYC's subways and buses, which can be bought at station machines and booths. Pay-per-ride MetroCards cost $2.75 per swipe, and you have to buy a minimum round-trip card for a total of $5.50. If you plan on making more than 12 local bus or subway trips during your stay, a 7-day unlimited ride card makes the most sense at $33. Up to three children under 44 inches tall ride for free when they're with a fare-paying adult.
Families can also get around the city via Uber, Lyft, and of course NYC's famed yellow taxis. Finding an available ride isn't always easy during the holiday season, and be prepared to sit in city traffic on the way to your destination.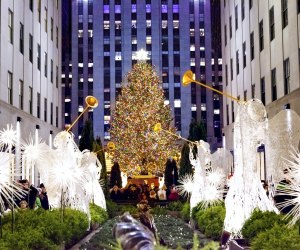 The glorious Rockefeller Center Christmas Tree. Photo courtesy of Tishman Speyer.
The Best Holiday and Christmas Activities in NYC for Philly Kids
You can fit a decent amount of New York City holiday sightseeing into one day, since many of the most popular Christmastime destinations are near each other, and close to where the Philly trains and buses arrive. Holiday hot spots get crowded and can be very touristy, but for a quick day trip, these quintessential New York Christmas experiences are not to be missed. Families may also want to consider booking a hotel for an overnight stay to catch even more Christmas Spirit.
Thanks to the Today show, images of Rockefeller Center around Christmas are forever burnt into our brains. But Philly families in NYC for the holidays can experience the festivities on the plaza in real life, where a variety of seasonal entertainment staples mingle on the same campus. We think Channel Gardens on Fifth Avenue is the best location to take in views of the Rockefeller Center Christmas Tree, and it also happens to be the best place to catch the mesmerizing Saks Fifth Avenue Holiday Light Show. This year's presentation lights up in a gorgeous wintery-castle scene synchronized to music, and runs from 5pm-10pm every day during the holiday season.
The Rink at Rockefeller Center requires tickets, will likely be cramped, and spoiler alert: it's smaller in person than it looks on screen. Still, if you can find the space, consider taking a quick twirl, then take a shopping spree at the LEGO store, FAO Schwarz, or American Girl Place. Before leaving, ride to the Top of the Rock for breathtaking views of the city.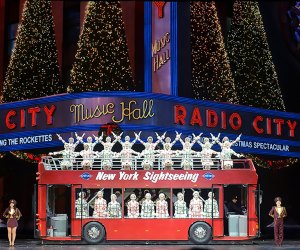 The Radio City Christmas Spectacular, featuring the world-renowned Rockettes. Photo courtesy of the show.
Scoring tickets to see the Rockettes perform their legendary kicklines should be part of any New York City Christmas bucket list. Stage Door Tours of Radio City Music Hall are currently paused, so attending the show is the only way to see the iconic venue this holiday season, which is impressive enough on its own for a family visit.
Spend a couple of hours on the ice at the only NYC rink where the skating is free–provided you bring your own skates. This family-favorite winter wonderland in Midtown Manhattan is also known for its holiday shopping market and vendors selling seasonal eats and treats.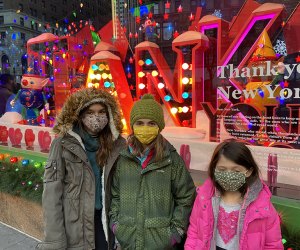 Hit the big department stores of NYC to see the fabulous holiday window displays. Photo by Sara Marentette.
Bloomingdale's, Saks Fifth Avenue, Bergdorf Goodman, Macy's, and more transform their store windows into artistic depictions of holiday spirit every year. Tourists and New Yorkers alike jam the sidewalks as everyone tries to sneak a peek, but the sights are worth waiting for.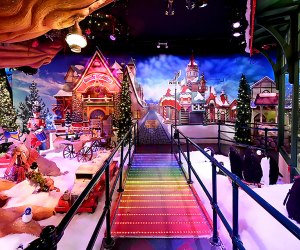 Macy's Santaland. Photo by Mike Coppola courtesy of Macy's.
Remember where Buddy worked in the classic holiday movie Elf? This is basically that, but better. After marveling at the window display outside, step inside Macy's Herald Square for a trip through Santaland, an immersive Christmas village filled with artificial snow, animatronics, and multiple Santas. This is definitely one to book as soon as possible, and go early to avoid crowds.
Have your very own Home Alone 2 reenactment–minus misplacing the kids. Central Park is picture-perfect every season, and a family stroll across even a small section of its expansive grounds will remind you of a million different Christmas movie scenes. The Columbus Circle entrance is home to a kid-friendly holiday market, while the Shops at Columbus Circle welcomes visitors with Holiday Under the Stars–an exhibit showcasing a dozen 14-foot illuminated stars suspended from the ceiling. A synchronized light and music show takes place every 30 minutes from 4pm to 7pm. Families will find more ice skating at Wollman Rink, along with plenty of other kid-friendly holiday activities.