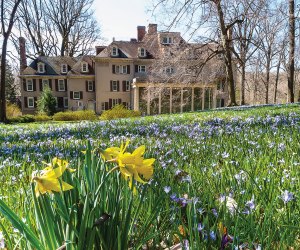 What's Open in Coronavirus Shutdown: Gardens, Parks, Hikes You Can Do While Social Distancing
School closures and canceled activities have become the norm in Philadelphia and throughout the Delaware Valley. Social distancing is on everyone's mind as parents juggle work from home while homeschooling their children. Many Philly families have turned to virtual options to pass the time. However, with mild temperatures and sunshine in the forecast for the weekend, both kids and grown ups alike could use some vitamin D and fresh air.
We have rounded up some ideas of things to do safely during these unprecedented times due to the COVID-19 situation. While some spots throughout the region are open for passive recreation, please be sure to use observe social distancing recommendations.
Stay well, Philadelphia! And for more ideas on things to do at home, be sure and check out our Coronavirus Guide for Parents.
1. Turn your eyes to the sky.
Grab a pair of binoculars to watch birds at Churchville Nature Center while walking along the trails at sunrise.
2. Enjoy a walk.
Explore the beauty of nature at Winterthur by walking throughout its gardens or stroll around your block while playing I Spy.
3. Clean up the garden.
Weed your gardens and ready the flowerbeds for spring as a family. Go beyond your backyard and collect trash throughout the neighborhood.
4. Take a break.
Prepare a picnic lunch with foods from the Farm Market at Linvilla Orchard or The Market at Del Val.
5. Burn off some energy.
Run along the trails at Valley Forge National Historical Park or set up an obstacle course in the backyard to navigate.
6. Roadtrip!
Load up the car and drive to Washington Crossing State Park in Jersey for a walk, hike, or bike ride.
7. Support local businesses.
Call your favorite local family-run restaurant and pick up take out. Some pizzerias are offering 'make your own pizza' kits so be sure to check with your favorite shop.
8. Jump on your bike.
Ride your bike through Bartram's Gardens from dawn until dusk or take a spin through the neighborhood.
9. Curl up for a movie.
Make flavored popcorn and watch a movie together. Some excellent options can be found in our 50 Best Kids' Movies for Family Movie Night list.
10. Explore nature.
Enjoy the outdoors at ChesLen Preserve. Families can walk about the grounds but be aware that restrooms, buildings, and playground are off limits.
11. Search for spring flowers.
Experience the meadows, gardens, and grounds of Awbury Arboretum while taking in the beauty of early spring flowers.
12. Treat yourself!
It is an understatement to say that it's been a long week. So why not treat yourself to something sweet? Drive by Freddy Hill Farms to pick up some delicious ice cream from the daily store.
Please review our latest post on what's closed as well as our resource on activities to keep the kids entertained while dealing with this crisis. It includes everything from indoor exercises for preschoolers to round ups of mostly free online learning resources for school aged kids. Together, we can get through this Philadelphia!