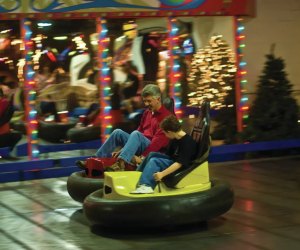 Philly Family Fun Spots that Aren't Boring for Parents
As a parent, it can be tough trying to please the kids without being completely bored out of your mind. Playspaces and story times are great for the little ones, but for adults, they can get old fast. And, let's be honest, the kids don't exactly love going to the mall or checking out the latest trendy restaurant or bar. So, what can you do to keep everyone happy and entertained? Luckily, there are some awesome spots around Philadelphia and the surrounding area that are perfect for the kids, but also not a snooze fest for parents. Red on for our cool family favorites.
Ikea–​South Philadelphia, Conshohocken
Drop the kids off for some supervised (and free) play in the kid's room (Småland) while you get some retail therapy in. Even if you don't need anything, it can be fun to browse around Ikea (especially alone)! You can even be bad and enjoy some sweet treats!
Dave & Buster's–Plymouth Meeting, Philadelphia
Grab a drink or a beer from the bar while the kids have fun playing arcade games. Get your own play card and play along with them.
North Bowl / South Bowl–Philadelphia
These bowling alleys are geared a little more towards adults, but welcome and accommodate kids, too. Enjoy some drinks while you play a few games with the family, or play a few rounds of pool. For more great local bowling alleys, check out our recent round-up.
Trampoline Parks–Various
For the more active parent, trampoline parks can be a fun way to get a workout in while hanging out and playing with the kids. Check out our round-up of trampoline parks to find one near you.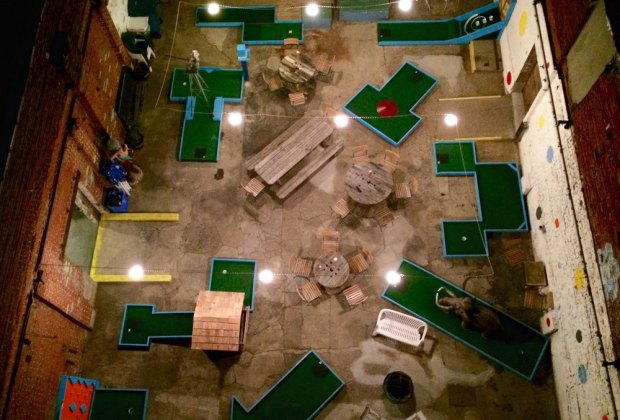 Photo courtesy of Keystone Mini Golf.
Keystone Mini-Golf–Philadelphia
This indoor mini-golf center has a pop-up feel to it. Parents will love the retro warehouse atmosphere and kids will love playing the game or playing the arcade games.
Doylestown Rock Gym–​Doylestown
Another one for adventurers and fitness fiends, Doylestown Rock Gym offers plenty of climbing courses that kids and adults alike can enjoy.
Arnold's Family Fun Center–Oaks
Laser tag and go karts make everyone a kid at heart. Check out all the great attractions and the huge arcade at Arnold's Family Fun Zone.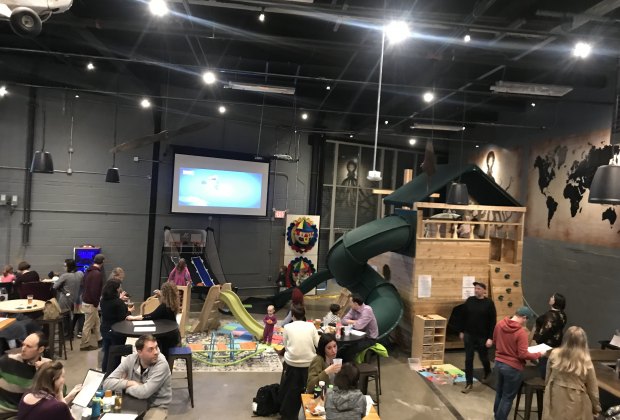 The play space at Craft Hall, photo by Lindsay Li
Main Stay–Philadelphia
This one of those moments when you realize that a genius has finally tapped into the idea of putting a playground inside a bar for parents who still want to hang out. The brewpub has old school Nintendo games, a giant ship playground, ping pong, and constantly updating play features.
Franklin Institute–Philadelphia
If your kids are over 2, this is probably the best museum for the whole crowd. Plenty of interactive and interesting regular exhibits, plus a rotating special exhibit hall that draws some of the best traveling exhibits in the nation, past exhibits include Jurassic World Animatronics and Marvel Heroes.
Delaware River Waterfront–Philadelphia
Whether it's ice skating in the winter, or lounging by the pier in summer, the Delaware River Waterfront packs the space with attractions and events that are a crowd-pleaser for all ages. Often featuring games for kids, great food and drinks for parents, and unbelievable views of the river, this destination is always changing and always a good time.
Header image of Arnold's Family Fun Center courtesy of ValleyForge.org.
Updated 2019