13 Best Baby Stores in Philly: Gear, Clothes, and More for the Teeniest Philadelphians
1/22/23
- By
Hillary Moses Mohaupt
We found the best baby stores in Philly for all the gear, toys, and clothing a babe could want.
Whether it's your first baby or your third, stocking up on baby essentials can be stressful, and it can be hard to find a store with baby toys, baby gear, and baby clothes that match your style as well as your budget. That's why we've rounded up our favorite Philadelphia baby stores where you can find all the stuff for your littlest family member. Whether you're shopping for a baby gift or welcoming a new baby into your home, we've got you covered.
While you're at it, don't miss our list of all the things every Philly baby should do before they turn one. Grown-ups with babies also need a caffeine fix, so be sure to browse our list of kid-friendly coffee shops, or check out our roundup of stroller-friendly walks and hikes for some fresh air with baby in tow.

Solve all your toy troubles by getting a membership at Rutabega Toy Library.
Best Baby Stores in Philly for Toys and Gear with Lending Libraries
It can feel like a struggle to keep your kids entertained with developmentally appropriate toys without breaking the bank. That's where Rutabaga Toy Library comes in. For a monthly fee, you get access to over 1700 toys, games, puzzles, books, and more, starting from birth and right on up through age 8. This unique toy library is a great way to reduce your carbon footprint and the stress about accumulating toys, while also trying out new family-favorites. Borrow toys for four weeks at a time, and exchange as much as you want!
This gear library was founded by a Philadelphia mom who was tired of stressing about which was the right baby gear for her family (sound familiar?). With multiple options for membership levels, Baby Gear Group makes it easy to try out bassinets, strollers, cribs, playpens, wraps and carriers, baby seats, swings, toys, and more without having to commit to something pricey that your little one inevitably will hate! Total game-changer.
Best Baby Stores in Philly for Gear
We love that the Children's Hospital of Philadelphia (and one of the top children's hospitals in the country) is home to a shop for gear meant to keep kids safe. Particularly perfect for babies, the shop stocks sleep sacks, swaddles, and car seats, as well as smoke alarms, baby proofing products, and other items that will keep your home safe for your littles. Plus the store is staffed by health educators who will make sure you know how to use your baby gear before purchasing.
4. Colugo – Online and Various Locations
This Philly-based company started by a local mom and dad of four sells compact strollers and carriers in awesome designs, created with city parenting in mind. Other gear includes a stroller organizer boasting 2 cup holders and 3 zippered pockets that can magically convert into a cross-body bag or fanny pack. The Colugo carrier also features multiple zippered pockets for easy toting – clearly they know what grown-ups with babies need! (Ed. note: Seriously this was my personal go-to carrier and the only one I was ever able to use successfully. - Liz, Philly Editor)
5. Lilypad – South Philadelphia
This volunteer-run shop is also a play space, event space, and community hub for parent classes and programs for bigger kids. The thrift shop features clothes and gear including strollers, swings, and other essentials.

Minnow Lane's eco-friendly inventory includes baby gear, wraps, books, and more.
This Fishtown staple features natural and sustainable toys, clothes, baby accessories, baby carriers and wraps, books, and more–-basically anything your baby needs, made from eco-friendly materials. The shop is also a community space, offering crucial classes for new and not-so-new parents, like infant CPR.
The flagship location in Mount Airy spun off locations in Collingswood, New Jersey and West Philadelphia, but stays true to its roots offering high-quality products both new and on consignment. This is your home-base for cloth diapers, feeding and bath supplies, carriers and wraps for baby wearing clothes, toys, and nursery essentials–-plus they offer classes, workshops, check-lists for new parents, and other resources that will make any new parent's transition just about as easy as it gets.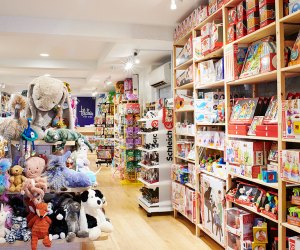 Tiny Tildies is the baby branch of Tildie's Toybox, and your solution for those baby shower gifts.
Best Baby Stores in Philly for Clothes, Toys, and More
This beautiful boutique has cute things for the whole family, but its baby section features everything your littlest little needs for fun, feeding, fashion–-and Philly pride.
Bibs, swaddles, loungers, and more Philadelphia pride are main-stays of this Mt. Airy favorite. Plus all Buddha Babe products are designed and crafted in Philadelphia, and the shop offers sewing classes and workshops for the whole family.
This boutique started as a baby store but has since expanded to include clothes, toys, and books for older children. But it still stays true to its origins, with sleepwear, playwear, outerwear, and swimwear for babies, plus high-end toys to amuse your little Philadelphian as they grow.
This chic center-city boutique makes it easy to dress your baby, head to toe, no matter the season, weather, or activity-–even if it's just snuggling on the couch.
12. Tiny Tildies – South Philadelphia
Tiny Tildies is the newest extension of beloved South Philly toy store Tildie's Toybox, with toys, nursery decor, clothes, books, and other gear especially for infants, including specialty bibs to show off your Philly pride. Head next door to Tildie's Toybox for gender-neutral toys and books to build your baby's treasure chest as they grow.
Named for Pippi Longstocking's home, this store gives major Scandinavian vibes. Come for the high-quality toys, clothing, and baby-friendly gifts, and stay for the whimsical atmosphere.
Photos courtesy of the shops
Sign up for the Mommy Poppins Newsletter today!
i