How to get on TV in New York City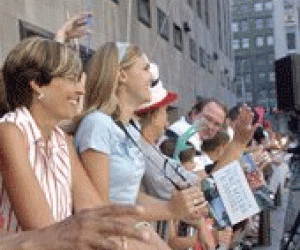 To be on TV: for some people it's a life long dream. For a kid in New York, it's a few hours diversion. All you have to do to grab your fifteen seconds of fame in New York is be at the right place at the right time. Sitting in a studio audience might not be kid-friendly, but you can get your mug on the morning shows just by standing outside the studios while they are filming.
Here are some of the right places and right times:
The Today Show
Rockefeller Center (49th St between 5th and 6th Avenues)
By far the most popular show to try to get on, which means you'll have to work harder to get your spot. Arrive by 5am, Monday through Friday, to snag a spot by the fence which ensures you being seen by the cameras (the area in front of Dean & Deluca gets the most screen time.)
The Early Show
Trump International Building (5th Avenue and 59th St.)
The Early Show is the easiest to get on TV; no crowds. Show up any time while the show is on air, from 7-9am, Monday through Saturday.
Good Morning America
Times Square (44thSt and Broadway)
If you prefer to sit in a studio than stand on the street, you can get free tickets to Good morning America. Call 212 580-5176 to get tickets to the indoor studio or try just showing up by 6:15am, Monday through Friday. Good Morning is less popular than Today and you might even get lucky showing up later. There is no age limit on audience attendees, but read their rules for what you can and can't bring with you.