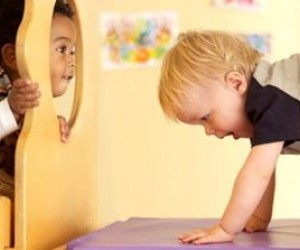 Mommy and Me Classes on Saturdays
[UPDATED: July 14, 2012]
They say that when you have kids everything changes. By everything, I think they predominantly mean Saturdays. Remember when your Saturdays could include marathon sessions of, well, pretty much whatever you like to do. Now Saturdays can just feel like marathons of...marathons. Sometimes structured weekend activities help make Saturdays run smoother.
Mommy Poppins reader, Josie from Riverdale, asked if I knew of any Mommy and Me programs that offer Saturday classes and I thought I'd share some here with all of you. I mostly picked places that have multiple locations so that you can find a location near home. Click on the links to visit each site and find the most convenient locations.
Appleseeds
10 West 25th St
212-792-7590
Appleseeds in Chelsea has a Saturday Music Together class and they also have a location on the Upper West Side. They're currently running on the summer schedule but check back in the fall for more on the weekends.
NY Kids Club
Manhattan and Brooklyn
347-706-4700
NY Kids Club offers tons of different Saturday classes from sports to Spanish from their locations in Manhattan and Brooklyn.
Gymboree
7 locations in Manhattan, 2 in Brooklyn, 2 in Queens, 1 in Staten Island
Gymboree offers Mommy and Me Gym Play classes, Music classes, a Family Gymboree Play and Learn and has Open Gym Time on Saturdays.
Creative Play for Kids
7 locations in Manhattan
212-729-1667
Though there are no Saturday classes scheduled currently, it's worth checking back for Creative Play's music and movement classes for babies and toddlers. At their Upper West Side location they have Mommy and Me drop-in classes during the week. Perfect for the last minute planner.
Don't forget, just cause they call them Mommy and Me classes doesn't mean Daddy can't go and let Mommy have a marathon sleep session.