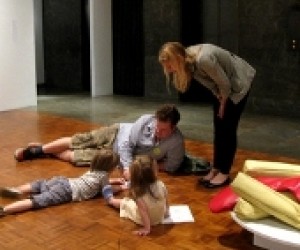 Whitney Biennial 2010: Highlights and Programs for Kids and Families
We recently took our son to The Whitney to experience The 2010 Biennial, the premiere contemporary art exhibition that sets the trends and tone in American modern art. Not something you would expect to be kid friendly, right? Well think again.

It is totally kid friendly, first of all, the museum is full of exciting, large scale installations, not just room after room of paintings hanging on the walls. There is art you can walk through, around and even into, not to mention, video and film exhibits, giant sculptures and even cars in the displays! Plus, there is a tremendous amount of programming available for families with the fantastic Whitney Museum Educators.
Little artists or art collectors in training can work with the Whitney Educators and in some cases the artists themselves to examine the art by discussing, exploring and creating their own work of art. The educators here are great at getting their point across to the kids and keeping them interested and involved. I was impressed with their ability to teach the children to see concrete things like, shape, size and pattern in very abstract work.

To experience the exhibit, we registered for a one hour Whitney Wees program. With the museum's educator and 4 other families we looked for shapes, patterns and sizes in the three very different pieces of art: Piotr Uklanski's gigantic, multi layered, textile painting suspended from the ceiling and his untitled (red dwarf) statue placed in front of it, Charles Ray's gallery of colorful flowers and trees ink drawings, and Sarah Crowner's dimensional and graphic, black and white 'painting' made of pieces of painted canvas sewn together. The tour also included hands on activities like drawing and pattern making. My husband and I both appreciated that program was designed for the entire family and not just for kids and we also liked that we were given some framework to use to when looking at art with our child. The best part was that tour started at 10:30, so we had the museum to ourselves before it opened to the public and we didn't have to wait on a long line to get in and then were able to spend the rest of the day in the museum if we chose to.

Whitney Weesprograms are $10 for the family. The remaining tours focus on everyday objects and inside and outside. For ages 4 and 5 year old. Registration required.

The Whitney also offers other educational opportunities for families with older (and younger) children:

For children aged 6 to 10 years olds and their families. The two hour program includes discussion, exploration and creation of art. Themes are
sculpture
,
paintings
and
installations
. $10 per family. Registration required.
Tours at Two:
A family friendly tour given by a museum educator, where children aged 6 to ten years old will learn what is new in contemporary art through drawing and discussion. Select Saturdays and Sundays at 2:00, free with museum admission.
Artists Choice Workshops:
Share your ideas and opinions with the artists from the Biennial and create art inspired by these conversations. For children aged 8 to 12 years old and their families. $10 per family. Registration required.
The Whitney is also offering a new,
art school program
. Each three-part class is drop off and allows the kids to expand on their own artistic work in the studios and through discussions in the gallery all while using the Biennial as their inspiration. There are three sessions left and each one focuses on a different medium:
painting and drawing
,
sculpture and installations
and
new media
. $150 for each program of three classes. Children aged 8 to 12 years, registration required.
This one is really for the parents, but normally strollers are not allowed in the exhibits, so The Whitney is offering
stroller tours
with a teaching fellow while the museum is closed to the public. Tours run on select Fridays for parents of stroller-bound babies of 1 to 18 months old. $25, registration required.
If you want to go it alone or can't attend one of the programs, be sure to visit the
family section
of The Whitney website, where they offer tips and advice on the best way to look at art together. And then,
download
or pick up in the lobby, the 2010 Family Guide to the Biennial, which leads families through the galleries looking for various exhibits and providing ways to experience it.
Children's Biennial Highlights by Floor:
The first exhibit you will notice is in the
lobby
in front of the stairs: The Crossing, by
Daniel McDonald
, a statue created out of small toys and action figures, featuring iconic characters recognizable to the kids – like Michael Jackson and Uncle Sam.
2nd Floor:
My son loved the enormous photographs by
James Casebere
, Landscape with houses #1 and #2. These real yet surreal photographs showed a typical American subdivision made of model homes that the artist created with cardboard, styrofoam and plaster.
3rd Floor:
We stood in awe watching the stressful video of
Kate Gilmore's
Standing Here, where we watch her, dressed in a red and white polka dotted dress and heels entering a tall wood and sheetrock column and then clawing, kicking and ripping her way to the top to turn off the video camera. Especially once you realize the column is part of the installation.
My son yelled out wow, when we excited the stairwell onto the 3rd floor to be welcomed by
Pae White's
huge Still Untitled smoke photograph on canvas, he really liked it and thought it looked like jellyfish.
We also enjoyed
Alex Hubbard's
Annototated Plans for Evacuation a five minute video installation, where we were able to watch as he did all sorts of random things to a used car – adding a wall, spackling the tires, driving up a little ramp. Each time he did something new – my son wanted to know why. Unfortunately, I couldn't tell him.
4th Floor:
Aki Sasamotos'
Strange Attractions, a whole bunch of different every day stuff (like shoes, drinking glasses and wire whisks) suspended from the ceiling in droopy mesh bags. Some bags held video recorders that projected our images onto the wall. Very interesting for children to walk around and learn that art can be everything and anything. Try to visit when the artist will be performing in her own exhibit.
We couldn't keep our son away from the white-painted, old, Cadillac hearse with video projected on it's windshield in the exhibit by the
Bruce High Quality Foundation
.
And, before you leave be sure to visit one last work of art, the pop-up restaurant,
Sandwiched
. The menu is comprised of limited edition sandwiches, the epitome of child-friendly, created especially for the Biennial by top chefs in Danny Meyer's restaurant empire and only available during the exhibit.
The Whitney Museum of American Art
945 Madison Avenue
Adults: $18
Children under 18: free
Photo Credit: Whitney Museum of American Art