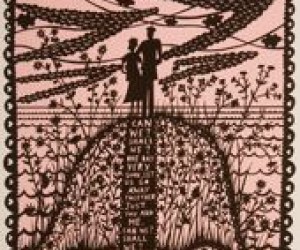 Culture for Kids: Slash - Paper Under the Knife Exhibit at Museum of Art and Design
Whereas folded paper origami is pretty much a household word nowadays with those delicate little animals and boats taking center stage at craft shows and kiddie cultural events, cut paper arts have never quite made it into the spotlight. Until now. For luckily cut paper's the new star of the Museum of Art and Design's (MAD) latest show, Slash: Paper Under the Knife.
With giant cardboard sculptures, intricate cut paper designs, amazing pop-ups, and other unique paper creations, both children and adults will marvel at the many ingenious paper works and wonder that something as simple as paper can be used in so many different ways to create such different works. It's a very cool show even for little kids so don't let the somewhat surgical and slightly ominous title dissuade you from taking your gang.
Read on for highlights of the show and activity ideas:



Your journey at Slash begins in the lobby. Look up at the incredible project which nearly covers the entire ceiling. Italian artist Andrea Mastrovito depicts Christopher Columbus's storm-tossed boat lost in the midst of a rough sea made entirely from ripped and shredded paper. Eagle eyes will spot the precisely-cut humans dotting the choppy waters as they struggle to survive by escaping the ripped paper chaos. The rest of the show is every bit as good!

There is something here for every child to love and we found plenty of fairy tale imagery to enchant us. Chris Gilmour extraordinary giant sculpture George and the Dragon fabricated entirely from ordinary cardboard boxes captures the imagination as well as the beast.
My older daughter loved artist Su Blackwell's delicate Rapunzel, a shadow-box construction featuring the fair princess and her tower in the forest, all crafted from a hand-cut antique book.
Another hit with my gang was Béatrice Coron's site-specific Heavens populated with the tiniest and most puckish silhouetted figures engaged in all manner of amusements like building a snowman and releasing hot air balloons.
Dylan Graham's beautiful red tableau, in the style of old Chinese paper cuts, depicting the Earth, star constellations, fierce dragons, and an amazing array of birds and flowers all hand-cut from one single piece of paper is also worth close scrutiny.
Not to be missed is Jane South's Wall —a humungous futuristic, industrial robot-like machine built entirely from paper (in Brooklyn, no less!).

There are too many gems in this show to mention, but it's certain that many of the pieces will elicit the "wow factor" from your kiddos—first when you see them and then when you read (from convenient descriptions pasted on the adjacent walls) just how these incredible works were made.

Minor Content Alert: Some of the works cover more serious topics like slavery and war, many using delicate paper art to literally "undercut" the brutal message of violence. My advice, if you have younger kids in tow, is to not read those titles and descriptions out loud like you might the other helpful ones.

Apart from the lobby installation, the works in the show cover both the entire 5th and 4th floors (in that order) but each floor is a VERY manageable size so you and your gang could see everything in an hour not counting the films.

About the Films...
Indeed some really nifty films including animated cut-paper artwork are being shown with the exhibit. Check the day you visit for shows and times. Big hint (stage whisper): focus on the main exhibit and see only just "a little" of what's showing on screen, as some films--however cool--are quite repetitive (including films "embedded" in the exhibit itself on wall screens). If your kids REALLY dig the films, give them more at home via Moving Paper, the MAD website's own curated film festival in conjunction with the exhibit.

More tips:
Even tots can enjoy this great show. However, know that only small (single) umbrella strollers are allowed in MAD; if you don't have one, bring a baby carrier as you surely don't want mishaps from running pell-mell to the low-to-the-ground, unprotected and very fragile paper-works.

Before or even after the show, download the Teacher Resource Guide and take a look at page 6 onward for some great insights into the exhibition's concept along with some thought-provoking questions for kids.

WHERE TO GO: Museum of Arts and Design (MAD) 2 Columbus Circle, Manhattan
WHEN: The show runs until April 4th. Museum is closed on Mondays.
COST: Free if you go on a pay-as-you-wish Thursday evening between 6 and 9pm. All other times children 12-and-under are free while non-senior grown-ups are $15.

TO DO AT HOME: You and your kids can try some basic Mexican Paper Cutting or even a Chinese Paper Cut Tiger for the upcoming Chinese New Year. Or see what you can create from your paper bin and play with different textures from ripping, tearing, cutting, and crumpling paper.
Flavorpill also posted a great collection of amazing paper works for some online browsing.
For more great museums and exhibits check out Mommy Poppins Art & Shows Guide.