Places to Play in Riverdale: Kids' Classes and Play Spaces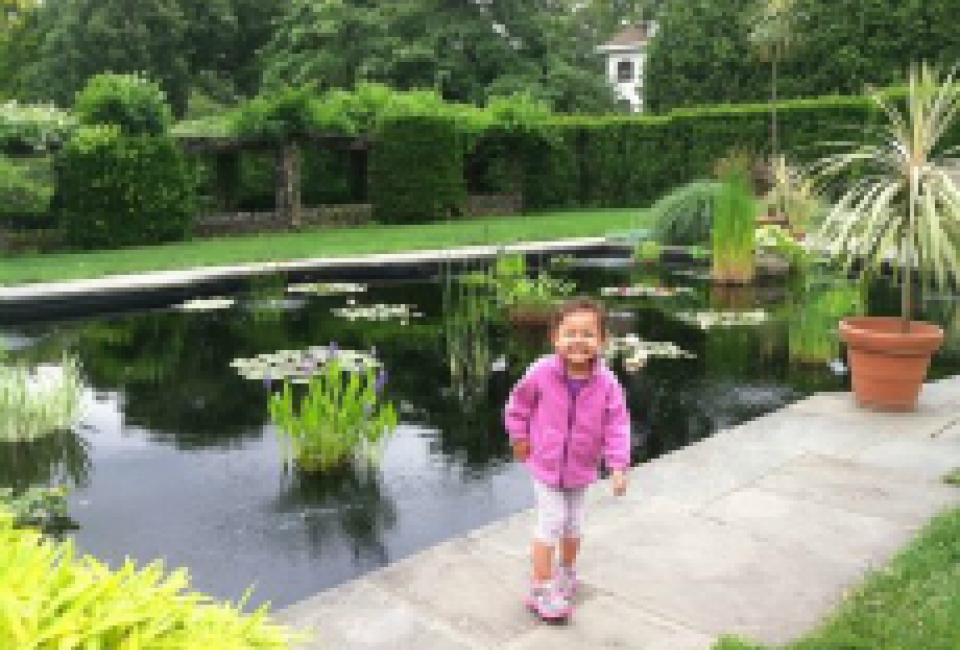 6/20/12
- By
Sonia Gonzalez
So far during our month-long focus on Riverdale and the surrounding areas, we've rounded up the top things to do and the best places to eat with kids in the northwest Bronx. For our final Riverdale post, we're looking at great places to play and learn in the neighborhood, from old favorites like Wave Hill and Uptown Sports Complex, to a brand-new play space that opens next week.
Wave Hill
West 249th Street and Independence Avenue
$8 for adults, $2 for children 6 and up, free for kids under 6 and to all on Tuesdays and Saturdays before noon. Memberships are also available.
This 28-acre public garden and cultural center overlooking the Hudson River is truly a treasure for visitors and residents alike. In addition to the gorgeous grounds and spectacular views of the river and New Jersey, Wave Hill regularly hosts activities for families. My kids love the nature-based Family Art Projects that take place every weekend 10am-1pm and are free with admission. Another favorite is Stories in the Garden every Tuesday at 11am. Admission is waived on Tuesdays before noon so it's absolutely free. The staff even provides blankets. Every Friday, Wave Hill hosts Yoga Together for kids ages 2 to 5 and their caregivers. Each session is $15 for members and $20 for non-members, and includes one child and one adult; $5 per each additional child. Check the calendar for a complete list of events. Wave Hill even offers no-cost shuttle service from the Riverdale Metro-North station and the 242nd Street subway stop.

Van Cortlandt Park
Last summer, we wrote an in-depth post about this sprawling 1,000-acre green space. Along the west side of the park, you'll find the Riverdale Equestrian Centre which offers riding lessons for kids and adults. There's an outdoor pool on 242nd Street and Broadway where kids and adults can register for free swimming lessons during the summer. There's also a wading pool for tots, plus the Van Cortlandt Nature Center and the Van Cortlandt House Museum are nearby. The southwest corner of the park, on 240th and Broadway, has shaded playgrounds, paved pathways for bike riding or skating, spray showers to cool off on hot summer days and Van Cortlandt Stadium, which houses a running track, handball and tennis courts, and so much more. Check the website for a complete list of features and upcoming kid-friendly events.

Kidaroo
Sadly this business closed in August 2014
Founded by two neighborhood moms, Kidaroo opens this month and has bragging rights as the sole indoor play space and enrichment center in Riverdale proper. For school-age kids, a variety of classes are offered like math, art, yoga and music. Families with preschoolers can opt for the open play sessions when kids can romp in an area featuring a loft, play kitchen, blocks, dress-up clothes and a stage, and toys that encourage creative play. Kidaroo officially opens its doors Monday, June 25 and families can take trial classes for 10 bucks each the entire week. Check the calendar for a complete schedule of open play, classes and other events. Prices start at $13 for drop-in play sessions.

Uptown Sports Complex
170 West 233rd Street near Broadway
Down in Kingsbridge you'll find this 16,000-square foot athletics complex, which offers kids' classes in five main areas: baseball (if your kids don't want to join a group, they can always work on their swinging skills solo at the batting cages); soccer; martial arts; dance; and gymnastics, which includes structured classes plus open play for preschoolers and teens. There are also different summer camps for school-age children.

Aquabilities With Jennifer
The Whitehall Club, 3333 Henry Hudson Parkway between 232nd and 235th Streets
One thing Uptown Sports Complex doesn't have is a pool. But you can take group or private swimming lessons at this indoor pool. The instruction is top-notch: This aquatics program was founded by Jennifer Paolicelli, a water safety instructor who also happens to have a Masters of Science in occupational therapy.

Big Apple Music Together
Riverdale Jewish Center, 3700 Independence Avenue at West 237th Street
North Riverdale YM/YWHA, 5625 Arlington Avenue at West 256th Street
With two Riverdale locations, this organization aims to foster children's love of music through song, dance and musical instruments. Check the website for a list of upcoming classes and rates.

Hudson River Arts Workshop
5355 Henry Hudson Parkway near 254th Street
This awesome program invites elementary and middle school children to find their inner artist with classes that explore multiple disciplines including drawing, painting, sculpture, printmaking, and more. Projects are often inspired by famous artists and instructors provide a brief history of these artists' work. There are four sessions a year, as well as special two-day workshops and drop-in weekend classes. Visit the website for an up-to-date schedule of offerings.

Riverdale Y
5625 Arlington Avenue near Independence Avenue
Like most of its ilk, the Riverdale Y has something for the whole family. Its Early Childhood Center offers classes for toddlers and preschoolers, including universal pre-K, while the Children and Teen programs provide a wide range of athletics, music, dance and even theater courtesy of Riverdale Rising Stars, which is based at the Y.

Riverdale Children's Theatre
Riverdale Jewish Center, 3700 Independence Avenue at West 237th Street
Theater must be big in the Bronx because Riverdale has not one but two children's theater programs. In addition to Riverdale Rising Stars, there's Riverdale Children's Theatre. Like Rising, RCT offers theater, dance and voice classes, and also holds open auditions for school-age kids for full-fledged musical productions.

New York Public Libraries
Local libraries are a great place to (quietly) play and learn for FREE. There are two NYPL branches in the northwest Bronx
Riverdale Library, 5540 Mosholu Avenue at West 256th Street
Spuyten Duyvil Library, 650 West 235th Street at Independence Avenue
Both branches have weekly toddler storytimes plus lots of special programming in the summer for school-age kids. And of course, you'll find lots of children's books to borrow, all FREE.

Read all of our posts about Riverdale.