NYC Bathrooms: How to Find Public Restrooms When You've Got to Go!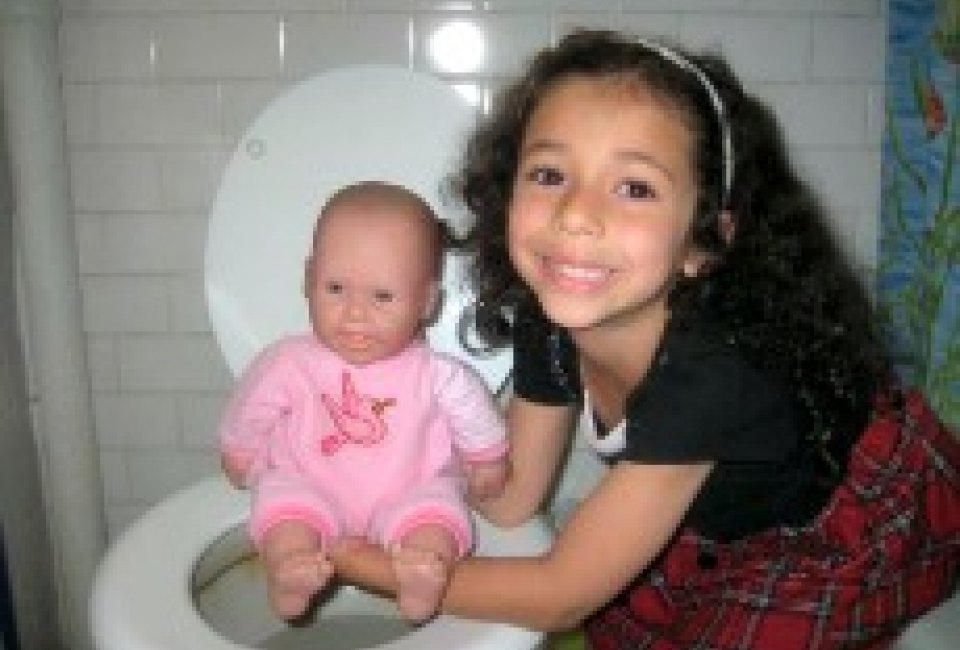 6/17/12
- By
Alina Adams
When my kids were toddlers, they must have thought that all I cared about were bathrooms, because every five minutes or so I would ask them, "Do you need to go? Are you sure you don't need to go? Why don't you just try to go?"

They were right in a way. Even though they're all school-age now, I still like to know where the nearest accessible bathroom is at all times when I'm walking around New York City. Now I've turned my obsession into a guide so you too can easily find public restrooms in NYC.
It used to be that you could count on Starbucks to let you use their bathrooms in exchange for a purchase. But in November of 2011, the company announced it would be limiting access to employees only at many locations, making the chain harder to count on (though a public revolt did cause several outposts to revoke the edict).

McDonald's is still a good bet, as is Barnes & Noble and department stores like Bloomingdale's, Crate & Barrel, J.Crew and Apple outposts.

When in Times Square, I always head to the Marriott Marquis hotel—just go on up to the second floor. True, Toys "R" Us across the street also has a public bathroom, but you'll have to navigate aisles of toys to get there.

In Midtown East you've got Grand Central Station, Bryant Park and the main branch of the New York Public Library. Any public library, in fact, is worth checking out, especially the children's section.

Parks and playgrounds are also a good bet, although not all of them have facilities. The NYC Parks Department has a comprehensive list of park bathrooms organized by borough on its website. You can even search by zip code!

While all sit-down restaurants have restrooms, they usually won't let you use them unless you stay and eat. Bars, however, seem to be much more sympathetic, especially during the daytime when you have a kid in tow. Just walk in and look as desperate as possible—if you have a minor with you it's not like they'll ask you to stay after you're done. (And if they do balk, offer to tip the bartender a buck.)

And of course there are malls. Yes we have them in NYC, even in Manhattan: The Shops at Columbus Circle at the Time Warner Center, East River Plaza and the Manhattan Mall all have public restrooms. All of the outer borough shopping complexes do, too.

Here's an offbeat one: NYC hospitals. They're open 24 hours a day and used to strangers coming and going. We know walking through the Emergency Room doors seems like a last resort, but if your kids need to go that badly, you've got an emergency, of sorts, too.

If the situation is critical, NYC police stations will reportedly allow you to use their facilities upon request.

Public Bathroom Apps and Websites

Want even more options? You're in luck: There are several FREE websites and apps that instantly track down the public bathrooms near you. Our favorites are:

NYRestroom.com: Simply select your area and a PDF map pops up with arrows directing you to the nearest location. Unfortunately for outer borough residents, the service is limited to Manhattan only, and even then offers nothing above Morningside Heights.

The Bathroom Diaries let's you search for bathrooms by zip code. The site is also behind an app called Toiletocity but it costs .99 cents and we haven't tried it yet.

Sit or Squat: Sponsored by Charmin, this is a national public bathroom rating app for Android or iPhone. Take note: It asks for your personal information via Facebook prior to logging on. If you don't want the world to know your business to that particular extent, proceed with caution.

Have2P automatically detects your current location and directs you to the nearest restroom. It also comes with an "urgency detector" that senses when you (via the phone) are shaking and starts a fresh search for nearby restrooms. Got to try that on the kids sometime.

Sign up for our free
newsletters.
Mommy Poppins is a family activity website that helps people find things to do with kids.
©
2023
MommyPoppins. All Rights Reserved.
mp-prod4-v4.32.99
Click Here to Sign Up!
i