Online Robotics Camp
Young Gates - Kids Online Personalized Classes

Artificial Intelligence with Scratch Online Camp
Young Gates - Kids Online Personalized Classes

Spark Math: Free Trial Class
Virtual
Sign up for our free newsletters.
Foreign Language Classes for Kids in Connecticut (Fairfield County)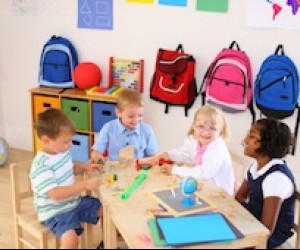 3/4/15
- By
Katie McKnight
With a tenuous (at best!) handle on my native English, I am perpetually jealous of people who have mastered multiple languages. And the best way to learn multiple languages…start early! Children's brains are far more receptive to languages than adult brains. If you're interested in having your child learn another language, consider some of these language schools and classes in Fairfield County. For more fun after school classes ideas check out our guide.
Chinese Language School – Greenwich, CT
Greenwich's Chinese Language School offers afternoon, evening, and weekend classes, as well as summer camps and private tutoring. Students as young as 18 months are welcome, and the school focuses on teaching Mandarin, Chinese culture and heritage in a small classroom setting.
Eastern Middle School
51 Hendrie Avenue, Riverside 06878
Second Congregational Church, Room 19
139 East Putnam Avenue, Greenwich 06830
German School of CT -- Rippowam Middle School, Stamford, CT
The German School of CT offers Saturday morning classes. Students are placed in classes based upon their age and proficiency; older kids (high school age) will also be taught German history and heritage.
381 High Ridge Road, Stamford 06905
Linguakids -- Darien, CT
Linguakids offers classes in French and Spanish at their learning center in Darien. The language skills are incorporated into music and art adventures in order to fully engage the children. Classes are available for children as young as 2 ½.
43 Tokeneke Road, Darien 06820
Franc-o-Fun, -- Wilton, CT
Offering year round immersion classes as well as summer camps for children 3 and up, Wilton based Franc-o-Fun is all about providing a fantastic French experience for your children. The youngest age group (3-5) is taught with the use of puppets and signing, and older kids learn through plays and fairytales.
807 Ridgefield Road, Wilton 06897
Fiesta de los Cuentos Bi-Lingual Storytime -- Greenwich Library, Greenwich, CT
Visit the Greenwich library on Thursdays from 11:00-11:30 to participate in their weekly bilingual Spanish/English story time. Designed for toddlers and pre-schoolers, the children will enjoy singing songs and hearing stories. No registration required, but you may want to call in advance anyway.
101 W. Putnam Avenue, Greenwich 06830
Monique Govil --lin Norwalk
If your child is interested in the Dutch language and culture, try calling Monique Govil at 203. 956.9160. This native Dutch woman teaches both her native language and culture to kids.
Have fun, bonne chance, and adios!
Originally published 3/24/12.