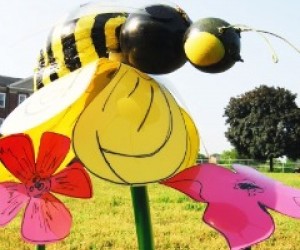 Figment NYC Festival on Governors Island: Creative Fun for the Whole Family
Sometimes rain is the best thing that can happen to your weekend plans. There's nothing like a storm to keep the teeming masses away from an excellent event. The Figment Festival on Governors Island is one of the most fun things to do in the city every June, but it's usually jam-packed. This year, we braved a few drizzles (and one downpour) and almost had Figment completely to ourselves.
This free festival continues through Sunday, June 12, so there's still time to enjoy all of the wacky, artsy fun. What's the fest like? Check out our slide show and our list of highlights of the 2011 Figment Festival, then head to Governors Island tomorrow to see for yourself.
The Figment Festival is a three-day extravaganza of creativity spread out all over Governors Island. The best way to experience the festival is simply to get off the ferry and wander around. You'll discover different stations at every turn: performances, installations, colorful characters and plain silly activities. Just about everything is interactive; you're constantly invited to be part of the action. Plus the setting on Governors Island makes the day feel like a mini-vacation.
Because of the rain, we weren't able to do everything as some areas were shut down, but we still had a great time. My son loved fighting with giant foam swords, but the highlight for all of us was climbing on all of the installations in the sculpture garden, and playing mini-golf. Happily, both of these attractions will stay open throughout the season, so you have plenty of time to check them out.
On Sunday, June 12, Figment is open from 10am-6pm. Ferries run at 10am, 11am and then every half hour. A variety of food and drinks are sold on the island. You can find out more about the fest on the Figment website and even download an iPhone app.
Find out about more great festivals in June.