5 Free Indoor Stay Cool Play Places in Fairfield County, CT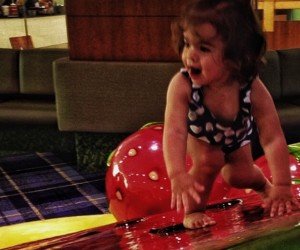 I spend the winter telling my children to hold their horses about going to playgrounds: "Soon it will be warm and we'll be able to play outside all day long." Spring comes, we hit a few local parks and then before you know it, the temperature soars and I hear myself saying: "It's too hot out! Let's play inside!" Well, I've found a happy medium that makes everyone happy—playground for kiddies and air conditioning for Mommy and baby.

Check out this list of must-visit free indoor play spaces in Fairfield County. Be warned, although these spaces are free to use, you and your children will be surrounded by lots of shiny stores offering everything from cute sandals that would pair oh-so-nicely with that darling sundress you saw in the last window to the biggest and brightest Thomas the Train and Cars II paraphernalia. For even more indoor fun check out our Connecticut Indoor Play Guide.
1. Sit and sip an iced latte as your children investigate a new rain forest-themed Play Space at the Westfield Shopping Center in Trumbull. The Westfield Play Space is a fun place for children to learn and play. Kids can climb and explore the bright, colorful play area with animal characters, large puzzles, and plenty of space to sit and play with other children. Play Space is located on the Lower Level, JCPenney Court. Children are required to be supervised by an adult at all times.
Westfield Family is a whole free membership program with benefits that include specially designated family parking for expectant mothers and families with small children. Westfield Trumbull family parking is located on the Lower Level in between JCPenney and Target underneath the parking deck. Visit the family lounge for a comfortable place to relax and recharge. The lounge features private nursing areas, baby changing-stations and a large family restroom, which even has a toddler size toilet and sink. The family lounge is located on the Lower Level, JCPenney Court. This space is like the nicest family room of your neighbor that you drool over: lots of wooden toys, leather couches, and a flat screen television playing cartoons.

Westfield Trumbull offers Smarte Carte strollers to make shopping with your children easy and fun. Choose from the race car-themed single stroller or fire truck-themed double stroller. Smarte Carte self-serve stroller vending units accept credit cards or cash. The strollers feature: Plenty of space for personal items and purchases, two convenient cup holders and a snack tray, a moving steering wheel to keep little hands occupied, and a lap safety belt.

You'll find a self-service Smarte Carte located on the Lower Level near Champs and on the Upper Level near Lady Foot Locker. I've never actually used these strollers because I can't imagine lugging my kids into the mall without my own handy-dandy stroller from the minivan trunk, but if you have a small car and no room for a stroller, these mall strollers are a good option.

2. Spend the day lounging on a soft bench seat as your little ones climb and clamber on a soft indoor play space at the Westfield Connecticut Post Shopping Mall in Milford. The Play Space is located on the Lower Level near Sears. Adjacent to the Play Space is a pet store, which buys another fifteen-minutes of cool fun as you browse the dogs, bunnies, and gerbils. Just like in Trumbull, you can take advantage of Westfield Family benefits: preferred, up-front parking spaces for expectant mothers and families with small children.

Westfield Connecticut Post family parking is located in the Red parking Garage on the Upper Level near the entrance to Macy's, in the Red Parking Garage on the Lower Level near Door 3, in the Sears Parking Lot, in the Door 2 Parking Lot, in the Door 1 Parking Lot, in the Green Parking Garage on the Lower Level near Door 7, and in the Green Parking Garage near Door 8.

There are two family lounges located on the Upper Level near the Food Court and on the Lower Level near Sears. These are not quite as new as Trumbull's, but are nonetheless very nice and well-cared for. Westfield Connecticut Post also offers Smarte Carte strollers. You'll find a self-service Smarte Carte located on the Upper Level near Door 4 by Sears and on the Lower Level near Door 1 by Target.

3. If you're looking for another play option by the Milford mall, check out the Barnes and Noble right down the street at 1375 Boston Post Road. First, visit the Starbucks conveniently located within the store—yeah! Then grab a handful of magazines for yourself and a bunch for kids and go settle into the children's book area for at least an hour of fun. On the left side of the children's books you'll find benches and a stage area where kids can play. To the right side of the books, there's a Thomas the Train table surrounded by chairs.
Do be warned that the staff is touch and go on friendliness levels of playing children. I've had one employee give me nasty glances as my children flip through books and I've even been followed by one employee on a few occasions making sure I'm putting books back in the proper places.

4. The Stamford Town Center, 100 Greyrock Place, also boasts an indoor Looney Tunes Children's Play Area on Level 7 right in the center of the Food Court, which is quite large and clean. The play area is presented by Norwalk Hospital and features soft sculptures of The Looney Tunes Characters. The Stamford Town Center Kids Club offers free membership to all children age 3 through Grade 6. Kids Club members receive invitations to special events, educational incentives, family health programs, store discounts, contests and more. You can register your child at Guest Services on Level 4 or visit the Kids Club Page.

This is not my favorite mall: you have to deal with driving through downtown Stamford, pay for parking, and wait for elevators to get anywhere in the seven-story mall. If you live close by though, or for a needed change of scenery, this mall play space will do for one afternoon trip per summer.

5. The old standby in a desperate circumstance can work out fine; yes, I speak of McDonalds. The only Fairfield County McDonalds with an indoor play space is located in Milford at 439 Bridgeport Avenue; it's conveniently located right off exit 34 from I-95. There are the usual climbing towers and two slides along with a smaller toddler play area.

This McDonalds is pretty hardcore when it comes to making sure your kids are wearing socks to play, even during the summer when everyone is wearing sandals (those cute pairs you purchased for your kids the last time you were at the mall playground, perhaps?). I recommend throwing a few pairs of socks into your glove box in the car so you'll always have them handy when you need them instead of paying one dollar for McDonalds socks that you'll probably just throw away when you get home.

Beat the heat and let your children run about and expel their summer energy. Of course, these are also awesome places to hang out on rainy days and cold, miserable days come the fall and winter!
Originally published 7/12/2011.