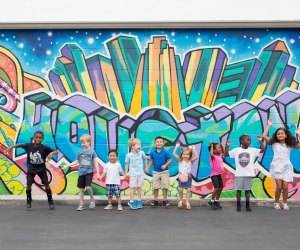 Welcome Houston and More Exciting Mommy Poppins News
I'm thrilled to announce that Mommy Poppins is now in Houston! Our local Houston moms have been running all over town to get the inside scoop on the best attractions and activity ideas and share their tips with you. Already the Houston site has loads of information from 24 fun family fest in October to Houston restaurants where kids eat free, 25 splash pads for keeping cool, great advice for finding a local nanny, and so much more. And we're already starting to load up our family event calendar and local business directories, too.
Newsletter subscribers will get our first weekly email with the top weekend activities this Thursday. If you're not signed up, sign up now and tell your friends! Don't forget to like Mommy Poppins Houston on Facebook, too, and make our page a favorite so you don't miss out on the latest news, highlights, and giveaways.
We're so excited about our new Houston community, but that's not all we've had in the works. Those of you who are long-time readers know that we totally revamped our website in February. Boy, was that a lot of work! Since our launch we've continued to develop more improvements to make it easier to find what you are looking for in the vast amount of information we have. Apparently, it's not that easy to build a website when you have over 20,000 articles, 5000 listings, and 450 guides to manage! I thought this might be a good time to quickly run through some of those changes that you might not have noticed yet.
New Activities in our Directory. We've expanded our directory beyond camps, classes, and parties with a family fun category, which lists play spaces, museums, family fun centers, playgrounds, and so much more. We're still filling that out, and we're going to be adding even more categories into the directory in the coming months, so make sure to check it out periodically to see what's new.
Neighborhood Guides Easier to Find. If you just want to see the latest news about what's happening near you, we've added the full list of our neighborhood guides on the right side of the site. You can choose your region first to see what's in your larger area, and from that page you can choose your neighborhood. These guides will show you all of our articles that are just about your local area. For events and listings you can still use the calendar and directory, which have always had neighborhood filters.
Activity Guides, Too. You'll see our full list of activity guides on the sidebar, too. Click on any link to see all the articles about Halloween, Classes, Parties, or whatever you are looking for today.
Add Events to Your Calendar. You can add events to your Google, iCal, or Yahoo calendar with the links we've added on calendar listings. Go to our Event Calendar, use the filters if you want to limit your results, click to expand a listing, and you'll find the "add to calendar" links in the blue box.
Our NYC Teen Newsletter. Just for teens, we're starting a new monthly newsletter to share some cool cultural activities, internship, classes and volunteering opportunities, and other ways teens can get the most out of this awesome city. Our first one will be coming out soon, so sign up here.
Whew! That's a lot. But we're not nearly done. We're dedicated to doing all we can to help families save time and spend more of it in meaningful and awesome ways. We'll keep making updates and improvements, and we'll keep you posted as we do.
As always, you can send your feedback through our contact form. We read every email and love to hear your ideas, stories, and concerns.
Thank you for being part of the Mommy Poppins community,

Anna Fader
Founder, Mommy Poppins
Coming up on our 10th Anniversary — Yay!