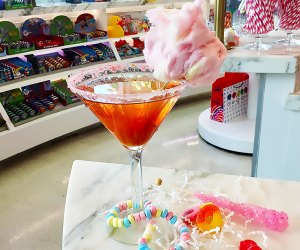 A Museum of Candy with Edible Walls Is Coming Your Way
Edible candy murals, a candy-adorned unicorn, and a gigantic gummy bear. Sounds like your kid's best Willy Wonka fantasy? It's actually a new museum headed to New York City's Flatiron neighborhood in 2019.
Sugar Factory, known for its over-the-top desserts, smoking drinks, and celebrity guests, will open the Museum of Candy in the former Limelight Club location (the corner of 20th Street and 6th Avenue). The 30,000-square-foot space, complete with a winding staircase, will showcase candy's pivotal moments from the early 1900s to today, along with 15 candy-themed experiential rooms that might just cause cavities upon viewing.
I'm no stranger to candy. I even incorporate it into my career, taking my kids along to check out the new Hershey's Chocolate World, and dutifully "fact-checking" articles like 15 Insane NYC Desserts To Try. (Tough job.) And now, I'm happy to bring you more details on this sweet new NYC museum.
Sugar Factory said in a news release that guests can expect live art installations, musical performances, and "surprises" around every corner.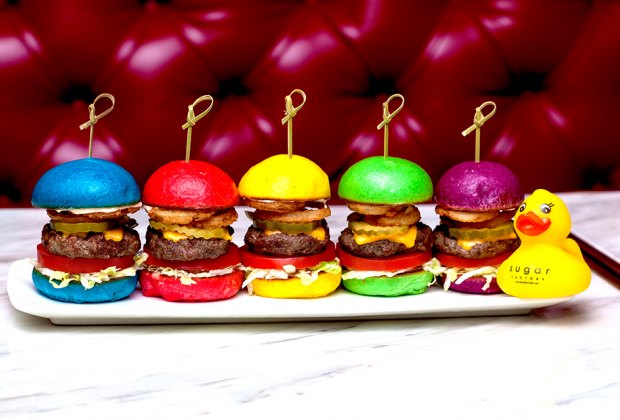 The vibrant Rainbow Sliders will be available in the restaurant.
Aside from floor-to-ceiling confections (my bet: it will actually be on the ceiling, too), the museum will offer a dessert marketplace—with tastings and demos—and a 75-seat cafe that will serve up Sugar Factory's standard menu, like its 24-scoop sundae, according to the announcement. The 5,000-square-foot marketplace will include around 20 vendors, selling everything from bakeware to candy by the pound. You'll be able to access the restaurant and market without a ticket to the museum.
RELATED: A Cookie Dough Ice Cream Shop Has Landed in NYC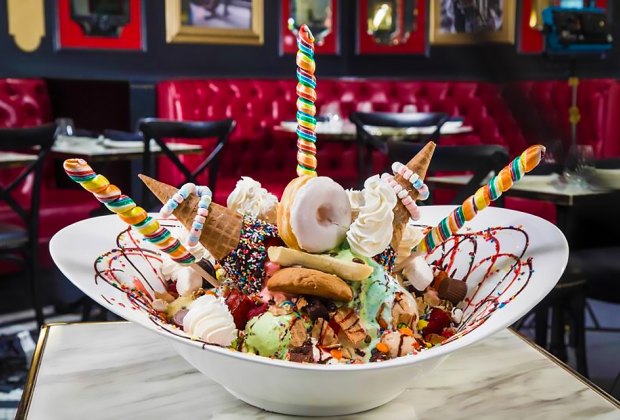 The massive treat, the King Kong Sundae, will surely get awes from the kids! Photo by Matt Harbicht for The Food Network
I don't anticipate heavy history lessons here, but kids will probably absorb facts along the way as they point and squeal at the wonders of the space, right? It certainly sounds more substantial than the Museum of Ice Cream pop-up from two summers ago, but perhaps just as 'gram-worthy. Expect birthday party packages and other special private event options.
Although an official opening date for NYC is not yet set, the Sugar Factory already has plans to open two more locations: Los Angeles in late 2019 and a third, yet-to-be-determined spot after that.
The Museum of Candy will be located at 656 6th Avenue and will open in 2019. Visit its site for updates on the timing and events, and in the meantime, satisfy that sweet tooth with a visit to NYC's only chocolate museum, or perhaps one of these mega candy stores.
Top photo: The Cotton Candy Cosmo. Photos courtesy of The Sugar Factory unless otherwise noted
This story has been edited to reflect updated information about the museum opening date. It was originally scheduled for summer 2018 and is now scheduled to open in 2019.