Take the Kids Back in Time at the New York Renaissance Faire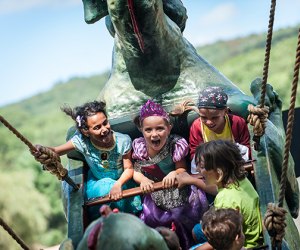 The New York Renaissance Faire descends on Sterling Forest once again this August and September, an annual festival that transforms the state park in Tuxedo into a 16th century village complete with period costumes, music, theater and crafts.
The massive 65-acre "Renn Faire," as locals call it, has been taking place since 1977, and it kicks off again on Saturday, August 5, 2017. This year is the festival's 40th anniversary, and we have the scoop on what's new for 2017. Read on for details on what to see there with the kids, tickets discounts, and more.
Looking for fun in the Hudson Valley? Take a look at our Family Day Trips Guide and sign up for our newsletters.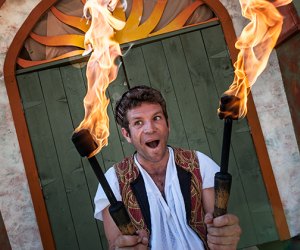 All of the live entertainment shows are included with the ticket price.
Located in Orange County, the Renaissance Faire makes for a quick day trip—just over an hour from Midtown Manhattan and even closer for Westchester and Northern New Jersey families. There's also a bus that runs daily from Port Authority to the Faire.
The minute you step through the gates, you'll feel like you've entered another world. From the jousting, roaming royals and strolling performers, to the rides, archery and face painting, there is plenty for families to do. Expect to see parades as the "residents" of the cute Tudor-style village walk by, as well as games and crafts, live music, dance, comedy and acrobatic performances—all set beneath the trees of the Sterling Forest.
There are also dozens of live performances throughout the grounds, with many occurring at the same time. Visiting artisans, meanwhile, sell an eclectic mix of wares, including puppets, jewelry and old-fashioned clothing. Planning in advance will save you some time—don't expect to do it all in one day.. At times, the Renn Faire can feel more like a theme park than an authentic re-enactment, but that's probably for the best; I think we all prefer 21st century plumbing and hygiene.
In addition to trying their hands at archery, star-throwing and testing their strength, kids can have their faces painted and ride on the man-powered Dragon Boat ride. The food is about average for an outdoor event—think soggy chicken nuggets and fries—and overpriced, save for the massive turkey legs and adults-only mead. Unfortunately, outside food isn't permitted. You can see a full menu here.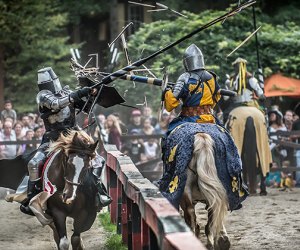 The jousting is truly a highlight of the Faire.
Jousting is a frequent family favorite. There are three matches throughout the day, starting with the Gaming Joust and culminating in a final Royal Joust. The storyline builds from one joust to the next, and with such energy and excitement, you can't help but pick a side and join in the cheering and clapping.
In addition to new merchants, music acts and dance performances, attendees at this year's show can also expect to see new jousters and acrobats. The all-new Storybook Stage will host an interactive, kid-friendly puppet show, while Pirate's Cove and Queen's Cove will feature activities, naval combat and swordplay.
And attention Game of Thrones fans: Take time to check out the brand-new Gallery of Thrones area for a chance to sit upon the "larger than life" thrones!
What to Know Before You Go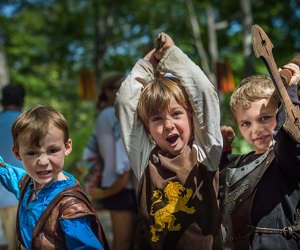 Don't forget the costumes!
Location: The New York Renaissance Faire takes place in Sterling Forest. The entrance is located at 600 Route 17A in Tuxedo Park, N.Y. No car? Short Line's once-a-day bus delivers you to the gates. The Faire takes place on weekends during August and September, plus Labor Day. It's open rain or shine.
Pricing: At the door, entry is $25 for adults, $12 for children ages 5 to 12, and free for 4 and younger. You can save money by buying your tickets in advance online or at Walgreens. All entertainment and many activities are included in the ticket price, but wares, rides and food cost extra. Still too rich for your blood? On August 12 and 13, all children 12 and under are admitted free (no coupon necessary).
Come in costume: Dressing in period attire is part of the fun, so fish those princess and pirate outfits out of the closet. Don't have anything appropriate? You can rent or buy costumes there.
Wear comfortable shoes and sunblock: You're going to be doing a lot of walking around outside.
Check the map and schedule in advance: The map gives you the lay of the land, and the stage schedule is posted the Wednesday before each weekend. It's easy to lose track of time browsing the seemingly endless sea of vendors. (If you want to avoid most of the vendors when you enter the festival, make a quick left onto the High Road (which has none) and then cross Robin Hood's Bridge. From there, you can access the main grounds and bypass most of them.
Not all face painters are created equal: Watch them work before you decide who to go with and what design you want. Different artists worked on my two kids at the same time, and one ended up having to fix the other's not-so-fine work.



Check out the face painting before you commit to an artist.
Bathrooms: The flush toilets are located by the Kissing Bridge; there are also many portable toilets.
Bring cash: Some vendors do accept credit cards but others only take cash.
Not all performances are kid-friendly: Many acts, like Ded Bob and Acrobatrix, are peppered with sexual innuendo and other naughtiness better suited for older crowds. Some jokes go over the heads of younger kids, but my 10-year-old blushed a few times before we opted for an early exit. The jousts, the glassblowing demos and the Children's Knighting Ceremony are suitable for all ages.
Arrive early: By afternoon the crowds get a little more, ahem, mature, and the mead really starts flowing.
Sign up for the email list: If you subscribe, you'll receive discount coupons and reminders for special events and themed weekends.
Looking for more Medieval fun? Try the annual Medieval Festival in Fort Tryon Park in the fall. This festival, which only takes place one day a year, is smaller and even more crowded than the Renn Faire; however, there's jousting and other entertainment, many of the same vendors, and entry is free.
Originally published in 2014 and updated for 2017.
Photos by Deborah Grosmark/courtesy of the New York Renaissance Faire