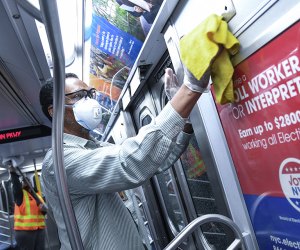 NYC Coronavirus Updates: New Grading Policy, Overnight Subway Shutdown, More
Just more than a month into its coronavirus-induced remote learning program, the New York City Department of Education announced a new grading policy for the school year. That's far from the only news story to come out of City Hall this week. Read on for the latest pertinent coronavirus updates spanning from Lower Manhattan to Albany.
As you're hunkered down with kids, be sure to visit our post on FREE coronavirus resources for NYC families and our Stay-at-Home Guide, which is chock full of boredom busters to keep kids entertained.
DOE Updates Grading Policy for Remote Learning
On Tuesday, the city's Department of Education announced a new grading policy is in effect for the remainder of the school year. Officials drew on input of stakeholders ranging from parents to teachers and students themselves in developing the plan. Students in kindergarten through fifth grades will receive one of two marks: Meets Standards or Needs Improvement. In middle school, students are eligible for the same marks plus a "Course in Progress." High schools can utilize their individual grading rubrics, but a no-fail policy will be applied. Any student who doesn't meet the standards for a class receives the same "Course in Progress" mark as middle schoolers. Both middle and high schoolers getting this mark will be enrolled in summer programming and eligible to improve their grade once progress is met.
"Our students, educators, and families are going through a lot right now. I know our students are capable of excellence, and we will continue to hold them to that high standard while adjusting our grading to reflect the unprecedented challenges created by this crisis. We will give every student the support they need to bounce back and continue on their path to success," said Mayor Bill de Blasio when he announced the policy.
Additionally, families looking toward middle or high school admissions for the 2021-22 school year should know attendance from this school year will not be used as a factor in determining school placement. Details on application criteria will be finalized in the fall with additional community input.
Subway to be Closed, Sanitized Nightly
One day after referring to the New York City subway system's deteriorating cleanliness as "unacceptable," Governor Andrew Cuomo announced Thursday that the entire system would shutter nightly from 1am-5am for a comprehensive daily sanitizing. It's believed to be the first time the subway system has halted regular 24-hour service. The closures take effect next Wednesday, May 6, and more plans are forthcoming on how to accommodate the approximately 10,000 riders who have been utilizing the service during these overnight hours, including options to take for-hire vehicles. Overall, subway ridership has dropped by 92 percent during NY on PAUSE. Long Island and Metro-North Railroad cars will receive the same daily sanitizing treatment.
Early Intervention Services Continue
Among the essential services still operating during the coronavirus outbreak is the city's Early Intervention Program, which pairs children ages birth to 3 years who have developmental delays with necessary city services. As the city's Early Help Matters brochure spells out, the earlier a child receives necessary therapy, the better; a delay of just a few months can make a big difference in a child's development. To apply for services, call 311 and ask for Early Intervention, or download and complete an Early Intervention Program Referral Form.
RELATED: 20 Ways Teens and Kids Can Help During Coronavirus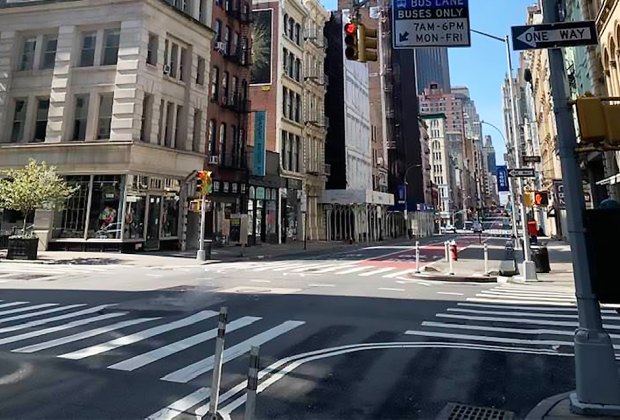 New York City is set to open 100 miles of city streets to recreation. At least 40 miles will open in the next month. Photo by Anne Grego Marceax
Mayor, City Council Agree on Open Streets Plan
While the city has already announced many beloved summer programs like swimming pools won't open, there was some good news on the recreation front. The mayor and city council have reached a deal for 100 miles of "Open Streets," where cars will be prohibited and provide more space for recreation. Open Streets will be concentrated in areas hardest hit by the COVID-19 outbreak. About 40 miles of Open Streets are set to debut in the next month, with more than 100 miles expected to open eventually. Sixty miles worth will be adjacent to parks, and 20 miles will be opened in consultation with local precincts, community boards, BIDs, and block associations. Elsewhere, sidewalks will be widened and 10 miles of protected bike lanes added. The Open Streets will remain pedestrian-friendly throughout the NY on PAUSE period.
Brooklyn Public Library Seeks Oral History
The Brooklyn Public Library is calling for submissions to its Our Streets, Our Stories oral history archive. In attempting to document this current history-making era, librarians are calling on Brooklynites to share their story or nominate a community member for an interview. Call 917-426-1271 or email ososproject@bklynlibrary.org if you'd like to contribute. Librarians conduct a remote interview and log the conversations in the library's permanent collection.
Maternity Task Force Issues COVID-Related Report
The New York State Maternity Task Force issued its recommendations for better access to maternity care during the pandemic. Its proposals, which the governor adopted in full, include letting a healthy support person stay with a new mother through labor, delivery, and the duration of her postpartum hospital stay. It also directs the creation of alternative birthing sites, mandates testing for all pregnant mothers, and more.
NY State Sets Guidelines for Reopening
While New York is still officially on PAUSE through at least May 15, there are signs the peak is behind us, with hospitalizations and fatalities declining daily. With an eye toward the future, Governor Cuomo has released his Guidelines for a Phased Plan to Re-Open New York. The 12-point plan relies on guidance from the CDC, a phase-in of "more essential" business re-openings, and emphasizes preparedness for each industry to protect its workers. Contact tracers must be hired and trained, hospital capacity must decrease, more tests must be performed, and other thresholds met and continually re-checked.