High-Tech Family Fun: 5 Ways Technology Can Be Family Time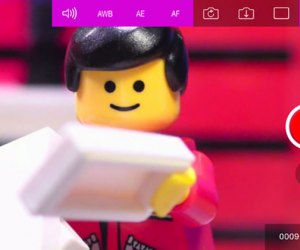 My family has been having a great summer and making use of several ideas from our Ultimate Summer Play List along the way; it's hard to believe we're already more than halfway through the season. We've cooled off with water games, revisited classic backyard games from our childhoods, and turned childhood stories into family games. Of course, most plans we make involve asking someone to put down an electronic device (and give the poor, hounded Pokemon a rest). Wouldn't it be great if we could put those phones and tablets to more enriching use? Maybe even use them for some family playtime?
Ask and ye shall receive: check out these five ideas for exercising minds and thumbs together.
Go on a High-Tech Treasure Hunt
Geocaching is such a popular sport, we have two regional posts about these interactive scavenger hunts. Geocaching is similar to old-school orienteering, which used geographical coordinates to locate hidden treasures. Nowadays, instead of navigating with a compass and counting steps, you can use a smartphone and GPS technology to find caches hidden in public spaces. It's a lot of fun and a popular pastime in my family. While you can go online and write down the coordinates to find the cache using the GPS on your phone, downloading a FREE app is the easier way to go. Apps often include hints and comments from other players to help you if you get stuck. There are several apps on the market, but I have had great success with the FREE version of geocaching for Apple products and c:geo for Android.

One thing to keep in mind is that geocaching is sort of like a secret society, and the non-cachers, called Muggles, aren't supposed see what you are doing when you are hunting for the cache. That's sort of tricky in a big city or crowded area, so teach the kids to be discreet. Also, sometimes the tracking technology just doesn't work well in urban areas where there are hundreds of buildings in the way of the satellite transmissions, but it is still worth trying no matter where you live.

Create the next Lego Movie
Modern technology has made it super-simple for kids to create their own stop-motion films. There are dozens of apps that can walk your aspiring animator through the necessary steps and customize the finished product. Our favorite is the FREE version of Stop Motion. What I like about making these films with my son is that, beyond the app and the phone, you don't need anything special—you can create the movies with things around the house. We use stuffed animals, Legos, and plastic animals; other great props are action figures, fashion dolls, yarn and craft materials, and toy cars and trucks. To make a film, set the scene and decide what the action will be; then snap a photo, adjust the moving parts of your scene, and repeat until you have your movie. Using the software, you can adjust the timing and other elements, add sounds or dialog, and you're done! Have the whole family make their own films, and then host a movie night and screen your creations.

Take it Apart
This is a huge hit in our house with both my 9-year-old and my husband. They work together to take apart hard drives, printers, and anything else they can get their screwdrivers on, to see what's inside and learn how things work. Obviously, they only dismantle old, broken-down machines; we often save stuff instead of trashing it, just so they can take it apart. Kids can dismantle any machinery you have around the house that's past its prime, like portable telephones, VCRs, and alarm clocks. For extra fun, you can re-purpose the parts you extract into artwork; we transformed a bunch of computer memory sticks into key chains and gave them away to friends.
RELATED: Coding for Kids & Free Websites that Teach Kids Programming

Direct a Film or Music Video
The video cameras on smartphones and tablets make it easy and quick to record mini-films together. You can opt to go all out and create sets, draw storyboards, sew costumes, and memorize scripts; or you can just film each other doing goofy stuff. Either way you'll have fun and keep a nice visual memory of the day.

Explore the World in a Whole New Way
There are tons of apps available that allow your family to tour a neighborhood, museum, or other attraction in a whole new way. These guides offer a cool way to experience a beloved favorite from a different point of view, or explore something new-to-you. My son and I have toured neighborhoods using themed itineraries we purchased from Stray Boots. This company has tours in most big cities as well as an option to create your own custom tour wherever you are. Other fun hunt apps take you to top family attractions; we recently toured the Central Park Zoo using Habitat: The Game, an eco-themed app that lets kids collect and trade "pins" hidden in parks and public spaces around the globe.