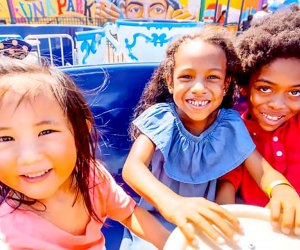 Best NYC Experiences to Give Your Kids Instead of Birthday Presents
How many Legos do you need to step on before you realize your kid probably doesn't need another toy for their birthday? It's not an existential question as much as it is a practical one. If your little one has already accumulated as many material goods as they could ever need or want (thanks, Grandma), try a different tack for birthday gift-giving this year. Why not pick a cool experience instead of a toy this birthday?
Raising kids in the best city on the planet has its advantages, and there's no shortage of meaningful "experience gifts" to choose from for your city kid. Check out these birthday-worthy NYC experiences that range from totally free to a bit of splurge—and surprise your child with a fabulous birthday experience that is sure to be fun for them, and you too!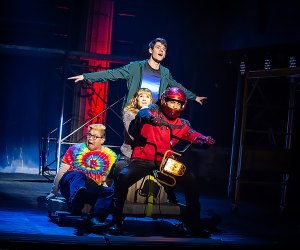 The Lightning Thief: The Percy Jackson Musical is an exciting family-friendly show. Photo by Jeremy Daniel
1. Take in a show. Seeing a Broadway show is a rite of passage for New Yorkers of all ages. Granted, ticket prices aren't as accessible as they once were so it's not for everyone, but with TKTS and the raffles that many shows do (as well as window sales where some shows make really good seats available at very nominal rates), there are options that make seeing a show more affordable. Check out the best Broadway shows for kids if you need some thought-starters. Off-Broadway shows and children's theater are equally cool and will leave your little one starstruck and imaginative.
OUR LATEST VIDEOS
2. See New York from above. A real splurge is a helicopter ride high above the skyscrapers. It's not a cheap option, though, so be prepared to shell out hundreds of dollars for even just you and your kid to go. But it's a once-in-a-lifetime experience and one that you will be equally thrilled by, so it's worth the one-time investment if you can swing it. A much more affordable but also cool option is to take the Roosevelt Island Tram, which costs just the swipe of a MetroCard and goes high up in the sky along the 59th Street (Ed Koch) Bridge between the Upper East Side and Roosevelt Island. When you get back to the Manhattan side, stop in at Serendipity 3 for their famous frozen hot chocolate, just steps from the tram entrance.
RELATED: 20 Fun and Free Ways to Celebrate Your Child's Birthday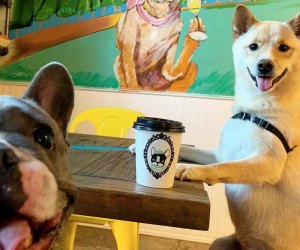 Chateau le Woof in Astoria is cool experience if you love dogs. Photo courtesy of the cafe
3. Borrow a pet. Has your kid been begging you all year for a pet cat or dog? Your apartment may too small and your schedules too hectic for a forever furry friend, but you can rock your kid's world for an afternoon by taking them to one of the city's cat cafes. Your kid can play with furry felines that you don't have to take home, and you get a bonus dose of caffeine to fuel the rest of your afternoon. And if your kid is dog-crazy, hop the NYC ferry to Astoria and walk one block south for a really cool experience at Chateau le Woof, the city's first doggie café (and a really cool hangout).
4. Sleep over at a museum. What kid doesn't want to sleep over at some of the world's coolest museums? From the Mixed-Up Files of Mrs. Basil E Frankweiler, the story of 12-year-old Claudia and her brother Jamie, who take up residence in the Metropolitan Museum of Art, is a must-read before embarking on this adventure. If your kid's birthday doesn't line up with a museum sleepover schedule, a trip to the Hayden Planetarium to look at the nighttime sky is the next best thing. I still remember my trip there when I was a kid – it's a truly memorable (and educational) experience.
RELATED: Family-Friendly Day Trip Ideas to Celebrate Your Child's Next Birthday

The candies are a blast from the past at Economy Candy. Photo courtesy of the shop
5. Enjoy an "old New York" day. Take your kid back in time. Start by reading some books about New York history, and looking at some pictures of old New York. Then embark of a day of Old New York appreciation with a tour of the tenement museum on the Lower East Side, where kids learn about what immigrant life in the 19th century was like. After, enjoy Katz's deli for lunch just a few short blocks away. Then head to one of the city's oldest candy shops, Economy Candy, on Rivington for a treat. (Bonus points for dressing up in old-fashioned costumes from your favorite era of NYC's past.)
6. Go horseback riding. One unique experience you don't expect to find in New York City is horseback riding. Young riders can commune with the horses thanks to horseback riding programs offered by partnering stables in Prospect Park and Jamaica Bay in Brooklyn, as well as in Pelham Bay Park in the Bronx. Clopping along a leafy park trail on a trusty steed is an experience your kid will not forget!
7. Glamp on Governors Island. Fun to get to via ferry, and fun to explore with old architecture and history and new activities like farm and crafts workshops and tons of events, Governors Island is one of our favorite destinations in the city. The icing on the birthday cake is its new "glamping" experience, where you stay overnight in a fancy tent equipped with a real bed, so you can feel like you're in the wilderness but with views of the city as a backdrop. Another new NYC glamping option just opened last season on Jacob Riis Beach, Camp Rockaway, which offers the comforts of home with all the fun of the seashore.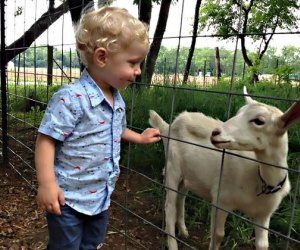 Kids and adults will love the Queens Country Farm Museum. Photo courtesy of the museum
8. Visit the farm in the city. Spend the day on a farm at the Queens County Farm Museum. This is especially fun for younger kids, but really children of all ages can find fun at the oldest working farm in New York City. Aside from a diverse array of furry residents, the farm also offers art classes and other workshops throughout the year. They also hold special events including carnivals and festivals, and unique experiences like the annual Thunderbird Powwow hosted by local Native American groups complete with drum circles and traditional food. There's a bonus playground in the adjacent elementary school if the swings are calling.
9. Take to the water. Go kayaking in the East or Hudson Rivers, or rent a rowboat or motorized toy sailboat in Central Park. There is no better view of the city than from the water, and a small boat is a unique vantage point your kid may not have had the pleasure of seeing. Plus, there are plenty of free or cheap options to row your boat gently down the New York City waterways.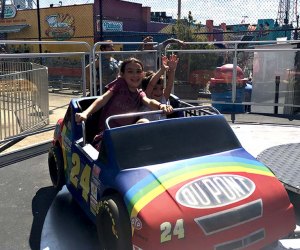 There's never a dull moment at Deno's Wonder Wheel Park at Coney Island. Photo by Matt Nighswander
10. Eat some bologna at Coney. Enjoy a day of unlimited rides and games and hot dogs (in that other and not the reverse) at the one and only Coney Island. Even in the winter, you can find fun with the indoor carousel and arcades, as well as kooky haunts like the Freak Show. In the summer months, the beach is a natural destination off the boardwalk, and you can also soak in a laid back Coney Island Cyclones minor league baseball game. Let your birthday kid stay up past bedtime to enjoy the spectacular fireworks show Friday nights at 10pm over the ocean. Grab some ice cream and a front row seat in the sand for a real birthday blast.
11. Climb the walls. If you're constantly telling your kids to stop climbing things they shouldn't, why not take your birthday kid to one of the dozen wall climbing gyms around the city? You can spot your little one while they safely scale a wall that's actually intended for climbing. In the same adventurous vein, you can head to an exciting ropes course or obstacle course to tackle a fun family challenge together,

Set up a scavenger hunt in a favorite park and spend the day looking for clues. Photo by Janet Bloom
12. Get creative. You don't have to spend a dime to have a fun birthday with your little one. Put together a scavenger hunt with clues around Central Park (or any one of the city's 1,700 parks of your choosing) and let your kid find the clues that lead to a cool birthday surprise.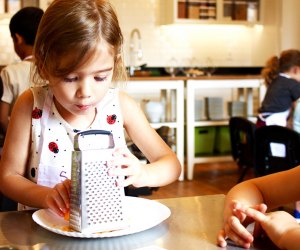 Take a cooking class with your little one, where they can get messy and creative! Photo courtesy of Taste Buds Kitchen
13. Build skills. Give your kid a new skill by gifting them a fun class as a present, one that you can take together or that they can do with a friend. There are so many options for classes in New York City, from cooking to playing in a rock band to wall climbing to skateboarding and so much more. You're sure to find something that speaks to your kid's passions.