How to Enjoy NYC Beaches, the Jersey Shore, and More Summer Haunts in 2021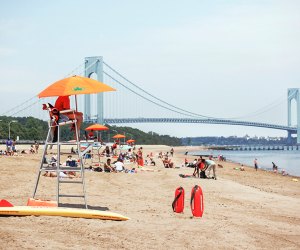 We're just three short weeks shy of Memorial Day weekend, and that means the unofficial start of summer is on the horizon, bringing with it the start of beach season 2021. After a pandemic-shortened season last year, New York City's 14 miles of beaches are set to reopen to the public for a full season of sun and surf beginning Saturday, May 29, 2021.
Read on for details on what beach season looks like in the five boroughs, and beyond from the Jersey Shore, to our favorite Long Island seaside haunts, and beaches in Westchester and Connecticut, too. Stay up-to-date all season long with our Summer Fun and Beaches and Lakes Guides.
Editor's note: While we are trying to promote safer activities that occur outdoors or with social distancing guidelines in place, please keep your family and others safe by always wearing a mask and practicing social distancing, and pack plenty of hand sanitizer.
New York City Beaches in 2021
New York City's shores are open for the season from Saturday, May 29-Sunday, September 12, 2021. During beach season, lifeguards are on duty from 10am-6pm daily. Swimming is prohibited outside those hours.
While full safety measures have yet to be announced, beachgoers are advised to try and keep a 10-foot distance from other groups when spreading out chairs and blankets and keep a six-foot distance on area boardwalks. Currently, mask mandates are still in effect when social distancing is not possible.
Visitors to Jacob Riis Park and Beach, which is managed by the National Park Service, will notice the parking lot capacity has been reduced by half in an attempt to control the crowds. Lifeguards are on duty from Saturday, May 29-Monday, September 6, from 10am-6pm.
Long Island Beaches in 2021
Long Island beaches open for the season Saturday, May 29. If you're traveling from the city, your best bet is to visit one of the state parks, which currently are planning on opening with a 50 percent capacity rule, so arrive early or risk being turned away. The Fire Island National Seashore is also a good bet, with its beaches open to full capacity. Some county and town beaches welcome out-of-towners, too, and you can find more details to plan a Long Island beach day here.
Jersey Shore Beach Access in 2021
Some Jersey Shore beaches open for the season on Saturday, May 22, with the rest following one week later. If you didn't have luck nabbing a beach pass in 2020, you're in luck. Many beaches are still selling tags for this season, while others are offering FREE access. You can find all the details here. Before you plan your trip to the Shore, be sure to visit familiarize yourself with the protocols set forth by the state. Rules are similar to other localities: Social distancing will be enforced, contact sports are prohibited, and large group gatherings discouraged. We've got a full rundown of the region's most family-friendly shores to help you get your planning underway for a Shore getaway.
Westchester Beach Access in 2021
Most of Westchester's beaches were closed in summer 2020, but in January, county executive George Latimer put out a call for summer lifeguards, and the Westchester County Department of Parks, Recreation and Conservation is planning to open its shores this summer. Full details for shore access in the county have not yet been released.
RELATED: How to Visit the Jersey Shore Beaches in 2021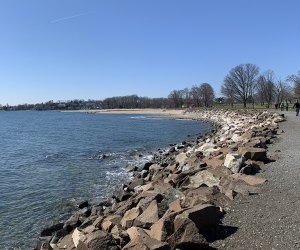 Enjoy the beach at Sherwood Island State Park which s on the shore of Long Island Sound in Westport. Photo by the author
Connecticut Beaches in 2021
Connecticut's sandy shores will open for the season in 2021 and visitors can expect relaxed guidelines relative to last summer. Visitors should plan to observe social distancing of six feet between individuals and 15 feet between groups, plus wear a face covering when that is not possible. Follow the Connecticut Department of Energy and Environmental Protection on Twitter for up to the minute closers and capacity limits.