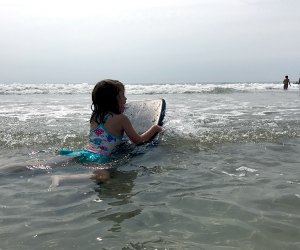 How to Visit the Jersey Shore Beaches in 2021: Where to Get Beach Passes and More
After an unprecedented summer last year, Jersey Shore beaches are preparing for a return to a new normal in 2021. Governor Phil Murphy recently announced beaches can reopen with restrictions on Saturday, May 22, 2021. "The Jersey Shore, after all, is where memories are made," Murphy said. "The last thing any of us wanted was for a summertime down the Shore to be a memory."
While Jersey Shore beaches will be open in time to kick off the unofficial start of summer, most beaches require a beach badge, and many beach offices aren't selling tags in the traditional, in-person way. They're either offering prepaid pickup, mail orders, or online-only sales through the Viply app.
Visitors can also expect beaches to have COVID restrictions in place (decided by the local municipalities) on the number of beachgoers allowed on a given day, and social distancing rules will be in effect and fully enforced. Families must remain six feet away from other parties, and group gatherings aren't allowed.
Despite these limits, we are still looking forward to summer days down the Shore. Read on to learn what you need to know before you go, and bookmark our Jersey Shore Family Guide for more summertime fun.
Editor's note: While we are trying to promote safer activities that occur outdoors or with social distancing guidelines in place, please keep your family and others safe by always wearing a mask and practicing social distancing, and pack plenty of hand sanitizer.
With seven miles of lovely, pristine surf, Sandy Hook is one of the most popular beaches in New Jersey. Access to the beach is FREE, but for the first time in nine years, parking increases to $20 per day starting Saturday, May 29. You can also buy a season parking pass online or at the Sandy Hook entrance gate for $100. A word of warning: The beach gets very crowded on weekends, and parking lots often fill to capacity, so arrive early or risk being turned away.
Long Branch is the perfect destination for beach lovers looking to pair a day at the shore with trendy shopping and delicious dining at Pier Village. There are multiple entry points to the beach, including at Seven Presidents Oceanfront Park, a low-key section home to a playground, and a new skateplex. The beach opens for swimming weekends (including Memorial Day) on Saturday, May 29, then daily Saturday, June 19 through Labor Day. Season passes are $75 for adults, and kids 17 and under are FREE. You can purchase season passes by phone for pickup until Friday, May 14, or in-person starting Saturday, May 15.
RELATED: Here's How to Enjoy Shores in NYC and Beyond in 2021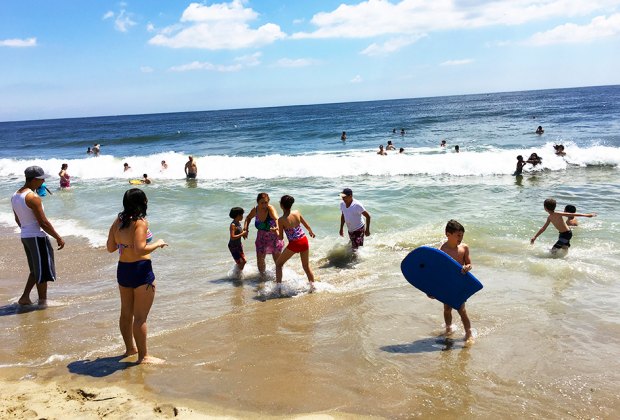 Asbury Park is a perfect place for a family beach day! Photo by Rose Gordon Sala
This family-friendly destination is known to blend old-school charm with hipster cool. Beach passes are required from Memorial Day weekend through Labor Day weekend and can be purchased in-person at the beach office on the Boardwalk at First Avenue (app purchases via Viply are currently suspended). Season passes are $70 per adult and $20 for teens. Kids 12 and under are FREE. Daily beach passes ($6 weekdays; $9 weekends) will be on sale starting Memorial Day weekend.
The name Jenkinson's needs no explanation when it comes to Jersey Shore fun, but try to pry your kids' eyes away from the amusement park rides and arcade games to check out Point Pleasant's mile-long, white sand beach. Daily passes (prices range from $3-4 per kid ages 5-11 and $11-12 for adults) can be purchased at any open gate. Kids under 5 are always FREE. And if you don't want to lug your beach equipment from home, chairs and umbrellas are available to rent for reasonable rates. Can't commit to a full season pass ($55 for kids; $110 for adults)? You have the flexibility to buy a half-season pass that runs Saturday, May 22-Friday, July 18, or Saturday, July 19 through Labor Day ($35 for kids; $80 for adults).
The soft, white sand at Island Beach State Park is clean and heavenly, and you rarely have to fight huge crowds like you do on other popular NJ beaches. One mile of beach on this narrow barrier island is designated for swimming, and it's located close to parking areas and bathhouse pavilions with changing areas, first-aid stations, and concessions. New Jersey residents pay $6 per person on weekdays or $10 on the weekends for entry.
Home to six beaches, Long Beach Island offers the best of both worlds: the waves of the Atlantic Ocean and the calmer waters of Barnegat Bay. Each beach town requires its own badge. Prices and purchasing methods vary, so check out this website before making your selection. Daily passes can also be purchased in advance via Viply or in-person. At Beach Haven, Wednesdays are FREE—no beach badge required.
Home to a bustling boardwalk that's back like it never left, the city offers FREE access to the sand at Downtown Beach at Raleigh Avenue, Crystal Beach at New Hampshire Avenue, and Delaware Avenue Beach. The best part? Since most people head to Atlantic City for the casinos, the beaches are usually pretty empty. Now, that's a win-win! Don't forget Jackson Avenue Beach, where kayaking, windsurfing, and boogie boarding are allowed.
Nicknamed America's Family Resort, Ocean City draws families from across the region to enjoy its beautiful beaches. Beach tags are required for all beachgoers ages 12 and older. Seasonal tags cost $25. Weekly tags ($10) and daily tags ($5) are available to purchase in person at the beach starting Saturday, June 5. Plan ahead and save some money: Discounted tags are now available online-only for $20 through Monday, May 31.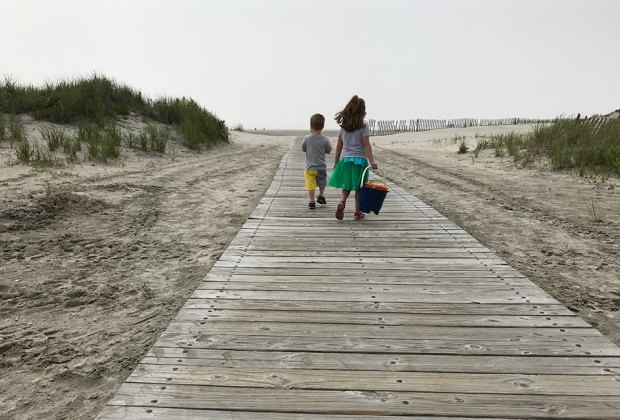 Wildwood has 5-miles of free white sand beaches. Photo by Rose Gordon Sala
Boasting five miles of beautiful beaches that have attracted visitors for generations, Wildwood beaches are extra-wide and also extra FREE. Parking nearby is metered, but you'll find on-street parking is FREE further from the beach. Wildwood beaches officially open weekends starting Memorial Day weekend with lifeguards on duty and daily starting in mid-June.
The historic town of Cape May is known as one of the nation's oldest seaside resorts, with a wholesome atmosphere and pristine beaches that attract families from all over. At Sunset Beach, on the southern end, families can hunt for Cape May "diamonds," a local tradition. These Jersey gems are actually clear- and colored-quartz pebbles that have been polished by the coarse beach sands. Beach tags are required for access and can be purchased in person or through the Viply app. Season ($30), weekly ($20), three-day ($15), and daily ($8) options are available.