Weehawken's Play City is a Metro-Themed Fun Zone for NJ Kids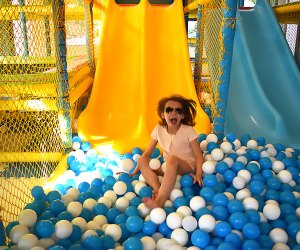 Just a few months ago, I was chatting with one of my mommy friends about how our lives had flipped upside down since our little ones started crawling. I said I wished my home was up to the task—in my mind, that meant it would be equipped with wall-to-wall foam padding and enough color and sensory stimuli to keep my infant son safe and occupied from sun up to sun down. Well, I finally found the muse to match my imagination. And all it took to stumble upon this gem of an indoor play space was a snowy, yet not-too-cold-to-keep-us-homebound hump day, and one ambitious crawler. We were prepped and primed for play, and Play City in Weehawken was ready for us!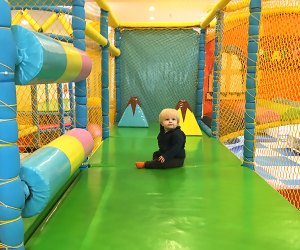 Big kids won't get bored in the challenging climbing area, but it's also super safe for little ones.
The 2,000-square-foot premiere play spot, catering to kids ages 0-11, will celebrate its first birthday in February, just around the time my little man celebrates his own. And while I'm sad to have missed a full year of fun, I've discovered this dynamo destination at just the right time.
It was just a short ride for us to Weehawken, and we were happy to take it as former Hoboken residents who missed our sixth-borough stomping grounds. And we couldn't have found a better parking place, in a small garage directly next to the Play City plot. Of course, given that our trip happened on a rather icky day, outside of the typically high-traffic times, we may have just gotten lucky. If you can't score a spot in the tiny garage lot, you can search for parking on the street. Just be sure to read the signs and scope out something surrounding the rest of the brick-and-mortar stores; they're the safest.
When we entered, we were welcomed by a friendly receptionist who was all smiles as she asked us to stow our shoes and coats on the nearby racks. Before having us complete the waiver for my son and pay for his all-day admittance fee ($16+ tax), she asked if it was our first time and ran through the Play City rules. These include a ban on outside snack and beverage stipulations, intended to protect guests from as many food-related allergies as possible. There was a petite snack area stocked with a smorgasbord of organic, on-the-go options for kids, plus caffeinated cups for caretakers who subscribe to the "but first, coffee" way of life. So if we needed anything to refuel, it was there.
RELATED: 30+ Indoor Play Spaces for Kids in Northern NJ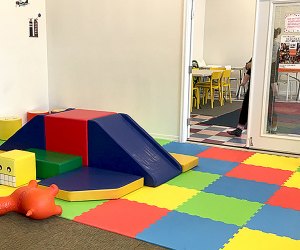 The soft and safe toddler area is a perfect space for little ones to explore.
Three Play Areas for Big, Medium, and Little Ones
After we had nixed our outerwear, stripped down to our socks, and agreed to all of the necessary terms and conditions, we made our way into the City itself, and it couldn't have come soon enough for my little dude (who is always a step ahead of us and testing his limits). Had there been a lot of children there already, we probably would have staked out the infant/toddler area to the right of the entrance, but instead we headed left. Since we had the place mostly to ourselves, we thought it'd be OK to take our rough-and-tumble tot to the big-kid arena. He is a blink away from walking himself, so he was mesmerized by all of the space he had to crawl and explore. He even looked to me a few times for confirmation that all of this freedom wasn't too good to be true!
There are several ways to come aboard the City-scaped equipment. From steep, ascending rainbow staircases to tethered climbing tubes, all paths lead up! Once adventurers make it to the top level, they have a variety of things to keep themselves busy. My brave little boy has very little fear, so we kept a close eye on him as he surveyed the scene and started crawling and cruising. I couldn't help but notice how immaculate all of the equipment and padding was—it sparkled, truly.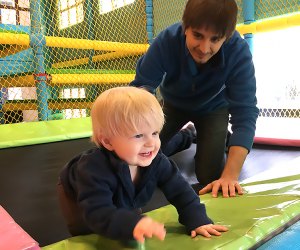 Trampoline time!
On his crawling tour, he could stop and amuse himself with spinning padded tubes, hanging punching bags, and netted tunnels—and he was tickled pink when we let him crawl (well, try to crawl) across the multi-colored bridge with "Play City" emblazoned above. He was ready and raring to go down the blue and yellow parallel slides, too, but I had trouble letting go—maybe next time. We can't wait for the day he and his older cousin can race down the slides and dissolve into total OMGoshes and giggles when they reach the blue and white ball pit at the bottom. Before leaving this area, we also had to let him try his first trampoline. He can't bounce by himself yet, but my husband did the honors so he could feel his tummy drop just a little bit. He was obsessed!
The middle section is pretty much a mini version of what the big kids have, just adapted to meet younger skill sets. The stairs leading up to the slides are hardly as steep, so little ones can take their time with scaling. And once they reach the top, they can either scurry down the slides (and into the similarly icy blue and white ball pit) or wiggle down the rainbow ramp to the side.
The final, rightmost section, was the perfect place to conclude our jungle gym jaunt. As if we were starring in our own version of Goldilocks and the Three Bears, my baby seemed to make himself right at home here. He could easily crawl around, climb up on the stacked rectangle, square, and triangle padded blocks, and slide down a slide that was his speed. He also LOL-ed a lot when we put him on the blue, green, and orange animal riders that little ones can romp around on if they're tired of climbing. The hot air balloon, helicopter, and skyscraper decals on the wall are a whimsical touch that match the rest of the cityscape motifs.
RELATED: New Hot Spots for New Jersey Kids and Families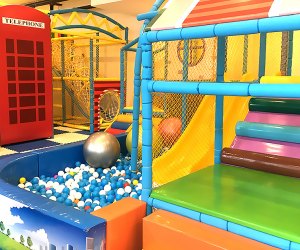 Big, safe, and clean—what more could a parent ask for?
Each section has its own special something, from the older kids' area with its metropolitan-facade of a cafe, British-style telephone booth, and window-lined pied-à-terre, to the little kids' indoor playground, peppered with the sweetest colorful paper lanterns hanging from above.
Know Before You Go
Bathrooms are conveniently located at the end of a ramp behind the play sets. And next door is the room for parties (yes, they have incredible, all-inclusive birthday party packages), or for families to take a break and have a snack before heading back to play or leaving for the day. One nice perk: admission entitles your little explorer to a full day of play, so even if you need to pop in and out, all you need to do is show your receipt.
The winter class schedule includes everything from yoga and music classes to science sessions and LEGO lessons. Play City's enrichment classes are a mix of Mommy & Me (or Daddy/Caretaker & Me), Separation Classes, and Drop-Off Classes. There are Parents Night Out programs, too.
Play City is located at 4918 Park Avenue in Weehawken, New Jersey. Normal hours are Monday through Thursday, from 9am – 7pm and Friday through Sunday, from 10am – 8pm, with the exception of some private birthday parties over the weekend. $16 per child, $14 per additional sibling, and free admission for parents/caretakers and newborns (under 3 months). You can save by buying play sessions in bulk, too.
Photos courtesy of the author unless otherwise noted