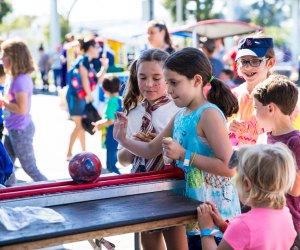 Things To Do and What's Canceled in LA this Weekend: Patrick's, Purim, and Butterflies
As the weekend approaches, rain is in the forecast, and a public health crisis is looming. As of this writing, most major venues are still open, extra precautions are being taken, and, this being Los Angeles, the show still goes on.
But we are starting to hear of more canceled events, particularly the large scale ones (Coachella, E3, the sport of basketball). The Los Angeles Times Festival of Books has been postponed until October. A number of universities and private schools are transitioning to online classes for the next few weeks, though we have not heard much of public school closures on the K-12 side.
We're doing our best to keep our calendar updated with canceled or postponed events (we've listed several at the end of this post). Since the landscape is rapidly changing we suggest checking with the venue for up-to-the-minute information. Now might be a good time to avail yourself of our "Boredom Busters" guide, aka how to stay home with your kids for extended periods of time without driving each other bananas.
The disruption in daily routine may be hard for kids to make sense of, and they may need some reassurance. I'm reminded of the Mr Rogers quote about dealing with crisis: "When I was a boy and I would see scary things in the news, my mother would say to me, "Look for the helpers. You will always find people who are helping... If you look for the helpers you will know that there is hope." In this coronavirus crisis, we are all the helpers. By washing our hands, sneezing into our elbows, and maintaining social distance, we are all doing our part to limit the spread of this illness. We are all the helpers, and if for a short time we scale back on our activities, we are doing it to keep our friends, our family, and our neighbors healthy.
Keep reading for our healthiest, and most helpful, suggestions for the weekend...