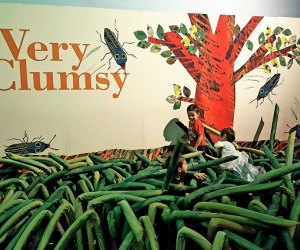 Very Eric Carle at Discovery Cube OC: A Very Imaginative Exhibit
Get lost in some toddler-sized blades of grass? Check. Make a dance floor change its image with every step? Check. Spin webs, create beautiful butterfly wings, get followed by a firefly? Check, check, check. We checked out the Very Eric Carle: A Very Hungry, Quiet, Lonely, Clumsy, Busy Exhibit at the Discovery Cube Orange County in Santa Ana, and all the romping, climbing, creating, and dancing kids let us know it's a great place to let your little ones' imaginations roam.
The exhibit, targeted at children ages 2 to 8, is based on Carle's well-known, colorful picture books that are illustrated in his hand-painted, tissue-paper collage technique. Carle's books feature insects that take journeys of discovery and overcome challenges, each based on a theme: The Very Hungry Caterpillar (hope), The Very Busy Spider (work), The Very Quiet Cricket (love), The Very Lonely Firefly (belonging), and The Very Clumsy Click Beetle (persistence). Each story highlights Carle's' love of nature and respect for the emotional lives of children.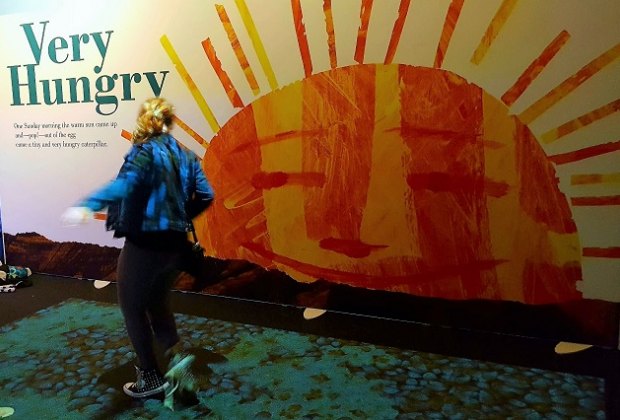 Moving across the floor as a Very Hungry caterpillar would, kids can see their environment (in this case, the floor itself!) change.
The exhibit offers young Eric Carle fans an opportunity to enter his world in as real a way as anyone ever could, stepping, reaching, and gliding through the life-sized pages of his universally adored books. Projections and practical interactive exhibits offer a photo op and learning experienceat every corner.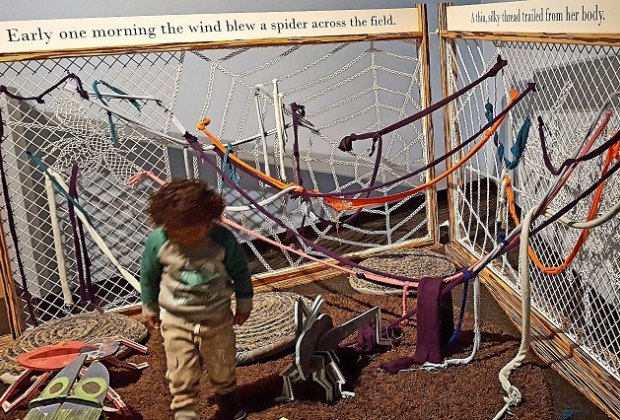 It's easy to stay Very Busy like Carle's spider using all kinds of materials to spin webs.
While we were there, the Very Clumsy activity, in which small kids can get lost among blades of grass only to pop up again, was the biggest hit of all. But taking time to be as industrious at the spider and make friends with the firefly had everyone stopping as well. The picture book crowd are in their element.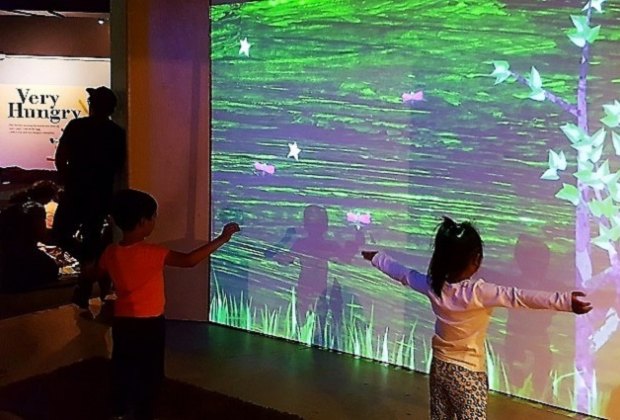 And the firefly isn't as Very Lonely when little ones stand still long enough to attract it.
While at the Discovery Cube, be sure to explore all the other cool, interactive displays on offer. The Orange County museum has been around longer than the San Fernando Valley Discovery Cube, and has the original versions of some of the most popular exhibits. There are more than 100 displays that teach science concepts using fun, hands-on activities. Some of our favorites include the Shake Shack earthquake simulator, Dino Quest, and the Discovery Market interactive grocery store. We're also big fans of the virtual helicopter tour of Irvine Ranch that takes visitors from the canyons to the ocean, across Irvine's wonderful, little known landmark.
Very Eric Carle: A Very Hungry, Quiet, Lonely, Clumsy, Busy Exhibit is open now and runs through May 14, 2017. It is included with a general admission ticket or membership to the Discovery Cube Orange County.
Top photo: Kids disappear and pop out through blades of "grass" in one of the more popular activities at the Very Eric Carle exhibit.
Photos courtesy of the author.