There Are Fairies Living in this Orange County Park—And Kids Are on their Trail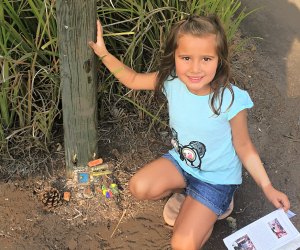 There's a small park in Orange County with a big secret: fairies. Loads of them. The Oso Creek Trail in Mission Viejo, aka The Oso Creek Fairy Trail, offers a delightful way for young kids to explore nature and reinforce a belief in magic. The picturesque hiking trail is one of the most popular destinations in south Orange County thanks to countless "fairy sightings" reported by families with small kids.
This free attraction is set up several times a year by local volunteers—who also hold fairy-themed workshops, like fairy house building, on weekends for an additional fee. On a recent Friday, my own kiddos and I headed down the 5 freeway to explore the famous creekside fairy trail, located in a suburb near Laguna Beach, for ourselves. We parked the car in a free lot located outside the city of Mission Hills' Potocki Center for the Arts, where we were able to go inside to grab a trail map. A friendly volunteer greeted us inside, regaling us with stories about the Caring Fairies whose tiny houses were hidden all over the park.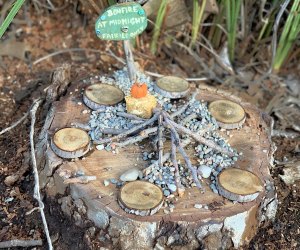 As we walked downhill from the center towards the entrance to the 5.5-mile trail, my kids poked behind every bush, rock, and tree stump, searching for fairies. "I see one!" hollered my five-year-old. Her big brother and two of their friends raced down the trail to join her where the first of many fairy houses peeked out at them. That first sighting was all the encouragement the kids needed to throw themselves into fairy hunting. "Look, look!" shouted my daughter's BFF. "I see fairy dust!" Sure enough, a tiny troll bridge was a short walk away. As she and my son lifted it up, they oohed and aahed over the cloud of glitter that flew into the air.
This was all the proof my kids needed to be convinced that fairies are real. Even my worldly 8-and-a-half-year-old son played along, encouraging his little sister to believe in magic. After she laid down a flower on the fairies' doorstep, he slyly moved it two doors down when she wasn't looking, then spelled out "thanks" in tree branches. The kind gesture put an ear-to-ear grin on her face as she skipped to the next structure.
After touring the scenic loop, where they saw at least half-a-dozen fairy houses (all of them intricately decorated with tiny stones, stools, pathways, and brightly colored doors), the kids chased each other around the nature preserve for almost three hours. As they laughed and played, enthusiastically searching every inch of the trail for more fairy houses, I couldn't help but smile to myself.
Not once did either of my kids ask to play with my iPhone, watch TV, or play a video game. Instead, they spent the majority of their day bent down on all fours, reading signs posted outside the tiny houses that said everything from, "Shhh...fairies sleeping!" to "Caring Fairies' Ladybug Rides."
Even though we didn't see any actual fairies (just sparkly fairy dust), visiting the Oso Creek Fairy Trail is definitely a great way to encourage kids to use their imaginations. Mine loved the experience so much they asked to come back the next day. If you ask me, getting them to voluntarily unplug for an entire afternoon without a single complaint was what was truly magical. Hurry to make your visit, though, because the fairies are currently only in residence through the end of December—after which they apparently hibernate until warmer weather returns.
Photos by author