Visit Rescued Seals and Sea Lions for Free at LA's Marine Mammal Care Center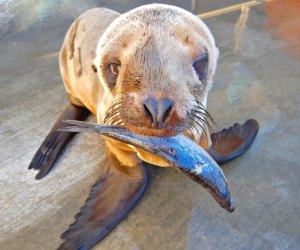 Who doesn't love California sea lions? Their cute, puppy-like faces turn up periodically at our favorite SoCal beaches, but did you know your kids can visit with seals and sea lions for free, every day of the week, at the Marine Mammal Care Center?
The San Pedro facility is a haven for injured seals and sea lions, where families can make an impact on the rescued animals' rehabilitation—all while educating kids and maybe inspiring a spirit of volunteerism. The Marine Mammal Care Center has taken in more than 8,000 patients from local beaches in the 27 years it's been open. That includes sea mammals who needed treatment for gunshot wounds, entanglement in fishing nets, and injuries from ocean trash. If you've been to all the local zoos and are looking for a new experience, a visit here could be just the ticket. My daughters and I (all animal lovers) decided to check it out, and we were very touched by what we saw.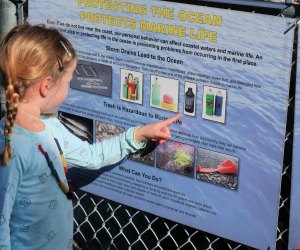 Protecting marine life starts on land...
There's no fee and no appointment necessary to see the animals at the Marine Mammal Care Center. Just show up any day between 10am and 4pm and head to the back of the building; the center is open 365 days a year. We arrived on a Saturday morning and could immediately hear barking. We followed the sound to the fenced-in viewing area surrounding the animal enclosures, and discovered a large sea lion recovering from a wound. "He was bitten by a shark," a docent told us. "He's also blind and can't be on his own." In the case of this patient, the volunteers at the center are hoping he will get adopted by a zoo or aquarium after his bite heals, but most of the other animals here will eventually be released back into the wild. We observed young seals who had been separated from their moms, and others who were recovering from illnesses. All of the animals were in good spirits when we saw them, some sunbathing on the pavement while others played around together, just like kids. They all had been rescued from southern California beaches.
Around 350 marine mammals per year rely on the food, shelter, and medical care provided by the MMCC. The non-profit facility saves seals in distress at all of LA's beaches, but it is struggling to keep its doors open. Donations of any size are greatly appreciated, and the hospital is full of signage on how visitors can help. My kids were thrilled to "buy a meal for a seal;" just $5 will treat one to lunch. The MMCC has a volunteer program, too, and there's a cute gift shop on site which sells stuffed animals, t-shirts, and books about sea animals. All proceeds support the hospital.
RELATED: Where To Go Whale Watching in LA

Buying anything in the shop helps save baby seals!
The facility is small and a tour takes less than an hour. Larger groups, like scouts working on badges, can sign up for a docent-led walk-through (while we were there, a boy scout troop was also visiting). Parking at the MMCC is free and plentiful, and the animal hospital is just a 10-minute drive from the Cabrillo Marine Aquarium and the LA Waterfront (where a family can get a great seafood lunch). If you are driving through this neck of the woods for any reason, I recommend a visit to see the recovering seal patients and the work being done to help them. It's an educational, feel-good experience for the heart.
Photos by author, unless otherwise noted