Top 10 Kids' Resale and Consignment Stores around Los Angeles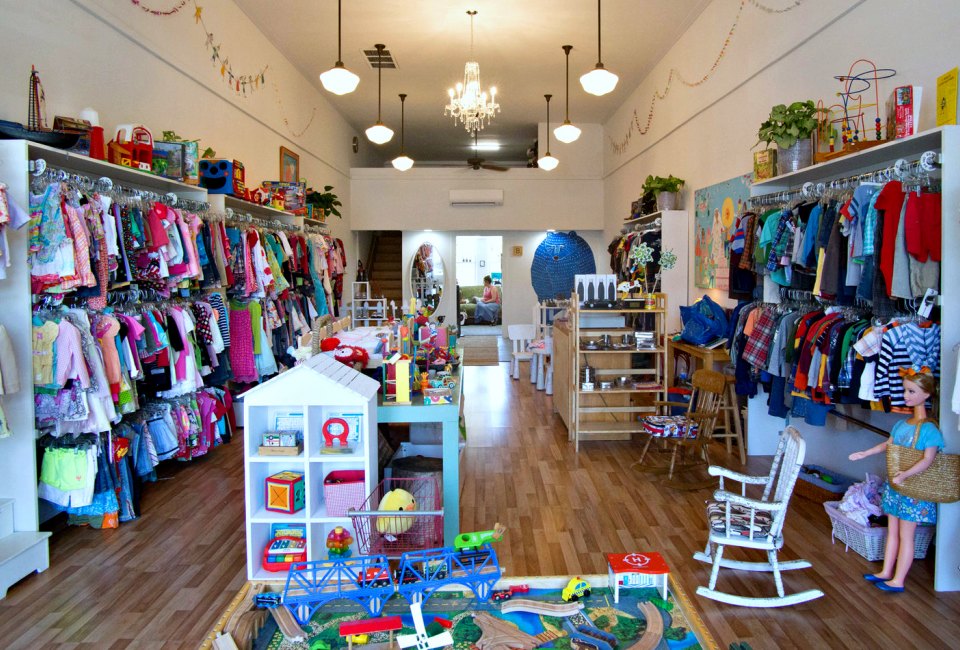 4/1/18
- By
Lindsay Halladay
Kids grow fast, and they need everything from swimsuits for the beach to (even just for a little while) snow gear for tubing. Having a few go-to consignment and second-hand stores for that next growth spurt is an absolute must. Bonus if you can sell or offload items, too! Here are our top picks for kids' consignment shops (plus a huge kid consignment event) around Los Angeles that are worth the trip. Just remember: inventory changes, so visit often.
1. The Green Bean Goods
Eagle Rock
This mommy-owned consignment shop offers some great deals on clothing. It's clean, well-organized, and has a separate toy shop featuring unique toys and gifts. The store also has a safe play area for little ones that often hosts storytime or sing-alongs.
2. Rosebuds and Rosestuds
​South Pasadena
You'll know you're in the right place by all the second-hand strollers lined up outside. Rosebuds and Rosestuds is best for finding deals on baby and toddler gear, and a little less so on clothing (though I did score new Baby Gap pants for $5 on my last trip). It does feel crowded, so this spot can be best to visit sans kids. Parking is on the street, and you'll have the best luck looking off the main drag.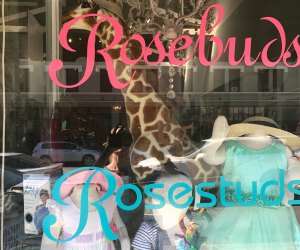 This place may even have the occasional sled... Photo courtesy of Rosebuds and Rosestuds
3. Grow Kid Grow
Silverlake
​There are some great steals in this small shop. It's an eclectic mix of clothes, used toys, and a sprinkling of new items. The baby section is a little disheveled, but that shouldn't deter committed shoppers. There's even a small play space for older kids while you browse. I love the shoe section, where I snagged a new pair of toddler Converse for $5. Park for free on the side street right past the shop.
4. Bluebird​
Larchmont
​If you're looking for a special occasion outfit, or you and your kid are fashionistas, this is your spot. Bluebird feels like a regular retail store carrying boutique and brand names, but without the retail prices. There are also a few resale toys and some higher end baby gear throughout the store. This store is beautifully organized and with just enough room to rummage (though maybe without a stroller).
5. Wear It Once Wear It Twice
Burbank
Part consignment store, part retail store, WIOWIT has some great finds. It's bright, clean, and extremely well-organized, which makes shopping a breeze. Highlights are the shoe section and the toddler boy section. Though it is mostly clothing, there are a few strollers, changing tables, and costumes, etc. Be sure to call ahead of time to double check the hours.
6. Earth Angels
Cheviot Hills
Earth Angels' front door says it all: Conscious Clothing and Classes. The space is bright and fun with a great area for kids to play. The wonderful classes offered include yoga and meditation for kids, Daddy & Mommy & Me classes, various music groups, and the "Mamma Needs a Drink" gathering.
7. Children's Orchard
Manhattan Beach, Multiple Locations
With more of a thrift store vibe than a boutique feel, Children's Orchard has lots of good finds in the clothing and gear departments. The store runs an Instagram account highlighting items it keeps in a specific section of the store, so when you arrive you can find what you want quickly. The $6 per bag rummage sales are a hit as well. This is a chain with multiple locations across the Southland; Manhattan Beach is the most central to Los Angeles.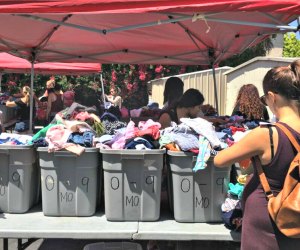 Check out the parking lot sale. Photo courtesy of Children's Orchard Manhattan Beach
8. Savers
Arcadia
A lesser known chain, Savers is most definitely a thrift store. There's nothing fancy about shopping here, but that's not why you go. You go for the bargains, and there are lots to be had for the whole family. Coupons for an additional 40-50% off can generally be found with a quick internet search. Bring along entertainment for the kids, or come alone for some quiet, blissful thrifting.
9. Goodwill
Glendale
Not all Goodwill stores have great kids' sections, or any great sections at all for that matter. But at this Glendale Goodwill right near the Americana, I can get all my other shopping done nearby and then breeze through to the back racks to find something for my fast-growing child. Our last visit landed us some brand new toddler Levis for $3 and a few gently used designer shirts for about $2 each.
10. LA Kids Consignment
Santa Clarita, Multiple Locations
The LA Kids Consignment sale is actually a huge event that happens in a few locations three to four times a year. Shop for literally everything, or become a vendor and clean out your closets. Selling requires some planning but can be well worth it. If you volunteer a minimum of one three-hour shift, you get access to the pre-sale and a higher percentage of your own total sales. Be sure to leave the kiddos home for this one, though, and be prepared for a little craziness and long lines.
Sign up for the Mommy Poppins Newsletter today!
i