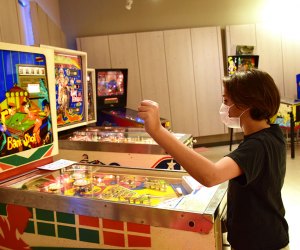 High Score Pinball Brings Old-School Fun to Bay Shore
Walking into the High Score Pinball Arcade inside the Westfield South Shore Mall immediately transported my husband and I back to our youth. After lamenting to our 10- and 12-year-old sons about how we had to save our quarters for arcade trips, our collective eyes glimmered at the dancing lights, pinball bells, and flickering scoreboards.
Read on for the inside scoop on this family-friendly outing and find more local arcades for old-school fun all across Long Island.
Subscribe to our newsletters to get stories like this delivered directly to your inbox.
High Score Pinball is the brainchild of owner Melissa Cerquin and Mike Burd, longtime gamers and arcade connoisseurs, whose 50-plus machine collection was in storage before finding a shiny new home in a former department store right smack dab in the middle of a Bay Shore mall.
OUR LATEST VIDEOS
Once inside with my family, the three dudes in my brood each ran to a different machine. Old-school arcade games like Pac-Man, Tetris, Contra, Galaga, and Cruise n' World, as well as the sports-themed Blitz 99 and NBA Hang Time, were crowd-pleasers.
RELATED: Planet Play Delivers Out-of-this-World Fun in Bellmore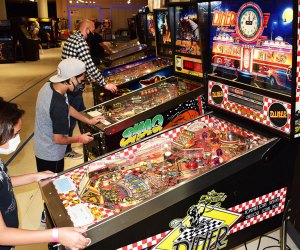 Get the whole family in on the pinball action.
My little pinball wizards must have played nearly all of the machines, including Home Run, which dates to 1971. Jack Bot, SlugFest, Taxi, Dracula, Teenage Mutant Ninja Turtles, Jurassic Park, Star Trek, and the comic-themed Deadpool, Avengers, and Iron Man were other big pinball draws.
While no high scores were surpassed on our first visit, we're keeping our fingers in shape and already plotting a return. High Score even highlights records on its social media feeds.
Forget saving your quarters for this outing. Unlimited playtime starts at $7 for 15 minutes and increases depending on the length of your visit. Stay and play all day for a mere $25. High Score Pinball offers group deals and private rentals for birthday parties and other special events.
If you've got little ones in your crew, step stools allow for easy reaching. High Score Pinball also has giant television screens so you can challenge your crew to a Super Smash Bros. tournament.
Food is allowed, so you can snack on your Auntie Anne's pretzel bites or sip on your Starbucks between games. Just be mindful not to get the machine buttons sticky. Hand sanitizer is stationed in between machines, which are wiped down frequently as well.
High Score Pinball is open Monday through Thursday, 10am-8pm; Friday and Saturday, 10am-9:30pm; and Sunday, 11am-7pm.
All photos by the author