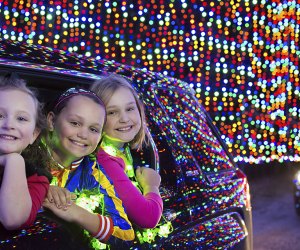 13 Top Things to Do This Holiday and Christmas Season with LI Kids
The holiday season is upon us, and that means it's time to start making plans for festive, family-friendly outings. Of course, there's a list as long as Santa's of things to do this holiday and Christmas season with LI kids, but we've whittled it down to a baker's dozen of the very best for your family to enjoy.
From Thanksgiving runs to Christmas shows and holiday train rides, we've got what you need to get your family into the spirit of the season. For more ways to make seasonal memories this holiday season, check out our Holiday Fun Guide and our Event Calendar.

Disney on Ice: Raod Trip Adventure skates into Nassau Coliseum this November. Photo courtesy of Feld Entertainment and Disney
1. Disney on Ice: Road Trip Adventures— Uniondale
November 21-24; 29-30, 2019 (except November 19-22)
This is a great way to kick off the holiday season, especially if your child loves Disney movies. Mickey and the gang hit the road, stopping at a number of fabulous Disney destinations. The show features some of Disney's most beloved characters, including Moana, Aladdin, Woody and Forky.
RELATED: Nutcrackers and other great holiday shows for LI kids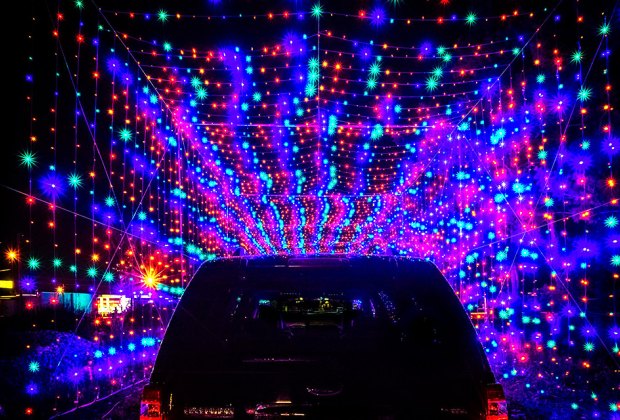 Thrill to the return of Magic of Lights to Jones Beach. Photo courtesy of Magic of Lights
2. Magic of Lights — Jones Beach State Park
November 22, 2019-January 4, 2020
Pile your family into the car and drive through this enthralling, 2½-mile-long light show that returns to Jones Beach. Enjoy the "Enchanting Tunnel of Lights," animated figures, and holiday characters. Be sure to stop at the Jolly Holiday Festival Village, where families can walk around and enjoy cocoa, s'mores, holiday music and movies, a hay maze, and pictures with the big guy himself, Santa. Tickets purchased online can be used at any show.
RELATED: Polar Express and other Santa trains in the NYC-LI area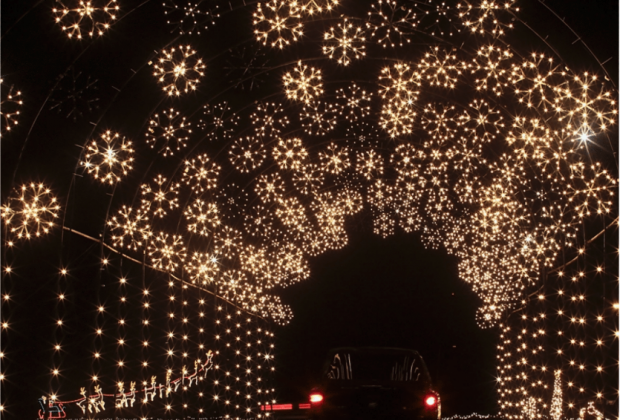 Drive among thousands of twinkling lights at Riverhead's new holiday light show. Photo courtesy of the show
3. Riverhead Holiday Light Show — Riverhead
Friday, November 22-Saturday. December 29, 2019
Thrill to more than 60 lighted displays at this new attraction at the Long Island Sports Park, five miles from downtown Riverhead. Some displays reach as high as three stories. The drive-through attraction is 1½ miles long and takes about 25 minutes to complete. It is open on Fridays, Saturdays, and Sundays beginning at 5pm. Tickets, priced at $20 per car ($22 ticket includes photo with Santa), can be used any day during the show's six-week run.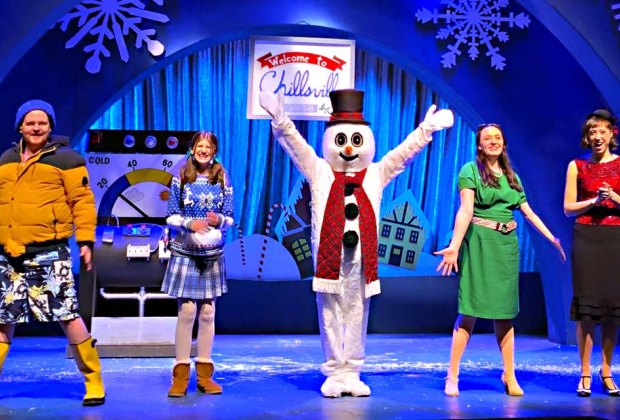 Join in the adventure as Jenny and Frosty combine to save Chillsville. Photo courtesy of The John W. Engeman Theater
4. Frosty at The John W. Engeman Theater — Northport
Various dates, Saturday, November 23-Sunday, December 29, 2019
Frosty and friend Jenny are united again in their adventures as they try to save the town of Chillsville. Kids in the audience help the duo in their quest to stop evil Ethel Pierpot from melting all the snow. Be sure to take a stroll along Northport's picturesque Main Street after the show.
5. Thanksgiving Native American Feast — Glen Cove
Saturday, November 23-Sunday, November 24, 2019
This more-than-25-year-old tradition is held at Garvies Point Museum and Preserve. It's a wonderful way to celebrate the history and culture of Native Americans. Enjoy hands-on educational activities throughout the weekend, including pottery making, primitive fire building, and fire cooking with samples (don't miss the famous popcorn soup). Tools and artifacts are on display. There's also face painting, spear-throwing demonstrations, and more.
6. Turkey Trots — Islandwide
Saturday, November 23-Thursday, November 28, 2019
If it's not already a family tradition, this might be the year to start. Get the whole family outside for a run or walk before you sit down to a delicious, but calorie-filled Thanksgiving feast. From a 5k race or walk to a fun run for little ones, turkey trots are held all across Nassau, Suffolk, and the East End. Most take place in the early morning on Thanksgiving Day, so even if you're hosting you still can participate—or at least get everyone out of your kitchen for an hour or two.
RELATED: Holiday volunteer opportunities for LI kids

Barnaby Saves Christmas will delight the littlest theatergoers. Photo courtesy of the Theatre Three
7. Barnaby Saves Christmas — Port Jefferson
Weekends from Friday, November 23 to Saturday, December 28, 2019; sensory-sensitive performance Sunday, November 24
An hourlong musical is just long enough for the littlest theatergoers. Celebrating its 15th season, Barnaby Saves Christmas follows the journey of the little elf and his reindeer as they set off to save Christmas, ultimately learning the true meaning of the holiday season. After the show, enjoy the many restaurants and shops that line the streets of nautical Port Jefferson.

Barnaby Saves Christmas will delight the littlest theatergoers. Photo courtesy of the Theatre Three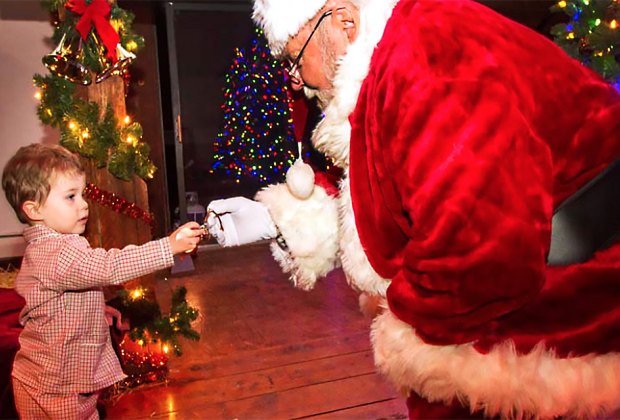 Meet Santa on an East End Polar Express Trolley Ride this holiday season. Photo courtesy of North Fork Trolley
8. Polar Express Trolley Ride — Riverhead and Southampton
Friday, November 29-Sunday, December 23, 2019
Inspired by Chris Van Allsburg's award-winning book The Polar Express (that, in turn, inspired the movie, starring Tom Hanks), families take an interactive trolley ride while listening to actor Liam Neeson's reading of the book and interacting with a character from the story. A visit from Santa and his elves along with hot cocoa and cookies await passengers as they disembark at the "North Pole." For full effect, families are encouraged to wear their pajamas (Children must be 2 and older.) Trolleys depart from Riverhead and Southampton.
RELATED: The best indoor skating rinks for kids on Long Island

Port Jefferson's Charles Dickens Festival climaxes with a reading of A Christmas Carol. Photo by Jennifer Trotta Sam
9. Charles Dickens Festival — Port Jefferson
Saturday, December 7-Sunday, December 8, 2019
For more than 20 years, Port Jefferson has held an annual tribute to the great English writer. The Dickens Festival is held in the village center with characters in costume, including chimney sweeps, Scrooge, and the town crier. Weekend-long festivities include ice skating, musical performances, magic shows, a bonfire, Theatre Three's annual production of A Christmas Carol, and more. It's fun for all ages.
10. Brookhaven Town Holiday Spectacular — Holtsville
Friday, December 7-Sunday, December 22, 2019
For several weekends in December, visitors can enjoy this indoor, walk-through holiday light show at the Holtsville Ecology Site. There are raffles, and children can have their picture taken with Santa. Proceeds help to take care of the more than 100 animals who live at the site.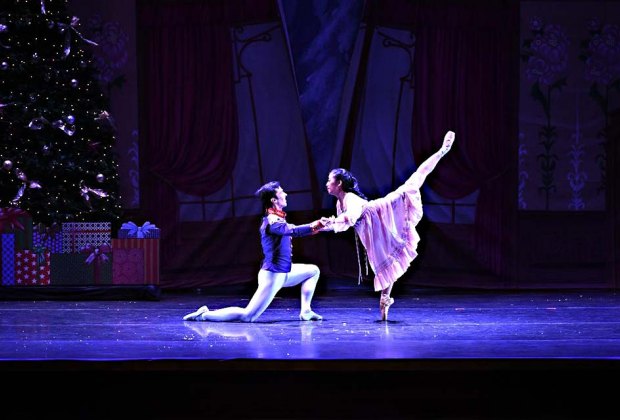 Children (and adults) will be mesmerized by The Eglevsky Ballet's performance of The Nutcracker. Photo courtesy of the ballet
11. 2019 Kids Holiday Festival – Melville
Sunday, December 8, 2019
The Hilton Huntington Hotel turns into a winter wonderland with lots of exciting activities and events for the whole family. Bouncy houses, live music and performances, arts and crafts tables, a special play area for toddlers, an appearance by everyone's favorite princess Elsa, and much more, all add up to a jam-packed day of holiday fun.
12. Eglevsky Ballet Presents The Nutcracker — Brookville
Saturday, December 14 and Sunday, December 15, 2019
Nothing says Christmas like the enchanting story of Clara and her Nutcracker. For a real treat, catch the Eglevsky Ballet's annual production at the Tilles Center for the Performing Arts on the campus of Long Island University. The production will have live accompaniment by the Massapequa Philharmonic Orchestra.

Old Bethpage Restoration Village presents Candlelight Evenings, a time to experience Christmas in America as it might have been celebrated in the mid-1800s. Photo courtesy of OBV
13. Candlelight Evenings Holiday Show — Old Bethpage
Friday, December 20-Saturday, December 29, 2019
Experience how the holidays were celebrated on Long Island in the 19th century. Walk among the historic houses, barns, and buildings at Old Bethpage Village Restoration. Enjoy traditional music, performances, storytelling, a vintage model train show, and a roaring bonfire.
Writer Gina Massaro contributed to this post.