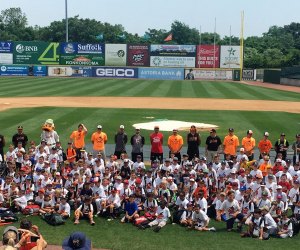 Summer Sports Camps for Long Island Kids
There are plenty of summer camp options on Long Island, and choosing among them might be dizzying.
But if you have a budding athlete on your hands or one who is trying to improve his or her skills, you might want to consider a sports camp. We've rounded up a few for you. In addition to the camps listed below, check out your local YMCA, community center or township office for programs offered at reasonable prices. And be sure to check out our Long Island Summer Camps Guide for more camps in the area.
Note that summer camp information for the 2020 season is changing daily. Please click the links to the individual camps below to see which ones are offering programs this year.
All Pro Sports Academy — Bellport
990 Station Road
This baseball and softball camp offers a low player-to-coach ratio with a professional staff that has included former Met and Yankee Paul Gibson as well as former major leaguers John Habyan, Joe Valentine, and Neal Heaton. Locations include Center Moriches, Sag Harbor and West Islip.
Camp Jacobson — Old Westbury
340 Wheatley Road
With three swimming pools and lifeguards trained by the American Red Cross, and sports activities that include baseball, basketball, football, lacrosse, hockey, tennis, soccer, and more, Camp Jacobson is ideal for children interested in exploring a range of sports and activities. Bonus: their Total Specialty Camps allow kids to spend the day learning from NBA, MLB and lacrosse pros. It also offers a ninja warrior course! Programs are offered for children in age groups 3-4, grades K-1, grades 2-4, grades 5-6, and a teen camp.
Crestwood Country Day Camp and School — Melville
313 Round Swamp Road
Campers receive swimming instruction by certified instructors and lifeguards, and have the opportunity to play soccer, beach volleyball, basketball, hockey, tennis, Gaga, lacrosse, football, and golf. Children also engage in arts and crafts, adventure play, including paddle boating and zip lining, writing, drama, and more. Full-day sessions are available for children ages 2½-16, while preschoolers can sign up for junior or mini days. Bus transportation is available.
RELATED: Nassau County Day Camps for LI Kids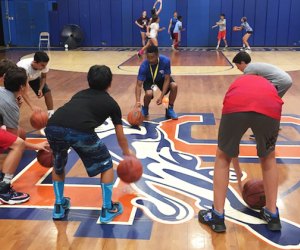 Dribbling fundamentals at a Future Stars basketball camp.
Future Stars — Various locations
​For more than 30 years, Future Stars has provided Long Island families with specialty day camp programs, featuring soccer, basketball, tennis, lacrosse, multi-sports, rising stars (K-2), swim, baseball, football, flag-football, golf, cheerleading, field hockey, softball and volleyball. Programs are offered for campers in grades K to 10. The staff is comprised of trained coaches, teachers and collegiate athletes and programs utilize collegiate facilities. Campers can cool off daily, in the pool or "water park" and lunch plans are included or optional, based on location. Future Stars has locations in Old Westbury, Farmingdale, Patchogue and Southampton. Transportation is an option at the Old Westbury site.
Hofstra University Sports Academy Camps — Hempstead
1000 Fulton Avenue
Hofstra camps feature baseball, basketball, cheerleading, lacrosse, softball, soccer, volleyball, dance and kick line, and wrestling. Kids are trained by Division I college coaching staffs in the David S. Mack Sports Complex, the University Field, Hofstra Recreation Center, and James M. Shuart Stadium/Howdy Meyers Pavilion. Programs are open to campers in grades 2 to 12. Lunch is offered and door-to-door transportation is an option.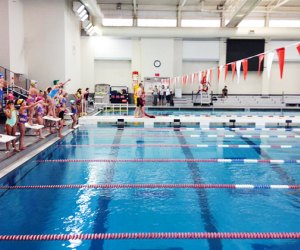 Swim instruction at Long Island Premiere Sports Camps emphasizes training and competition.
Long Island Premiere Sports Camps — Brentwood
44 Hastings Drive
Whether your child is looking to swim better, faster, farther or a combination of all three, the coaches and staff at LIPSC can help. "Just Swim" gives kids a sense of excitement about swimming and a sense of commitment to training goals. LIPSC offers camp sessions in June and July with full-day or half-day sessions. Aimed at kids ages 6-16.
LI Junior Ducks Summer Camps — Central Islip
Bethpage Ball Park, 3 Court House Dr.
The official camp partner of the Long Island Ducks professional baseball club, these camps are designed for boys and girls of all abilities ages 5-13. Throughout the day, kids will work on basic skills in the field and behind the plate. The camp session will include three or four days at your designated location, plus a day at Bethpage Ball Park, the home of the Long Island Ducks. Full day and half days available. Locations for 2018 vary, so check the website.
North Sport Athletic Facility — Northport
469 Fort Salonga Road
North Sport Athletic Facility offers camp clinics in basketball and multisports. Camp sessions are full days with a free after-care option for working parents. The winter break basketball camp is designed for boys and girls in grades 3-8, while the multisports camp is perfect for children in grades 1-7.
Port Washington Skating Camp — Port Washington
70 Seaview Blvd
Hit the ice for four hours each day with trained instructors at this sports camp. You can find full, half-day, and part-time options, plus plenty of time to hone your skate game. Divided into three levels of skaters, from beginner to freestyle. Focus on figure skating or hockey.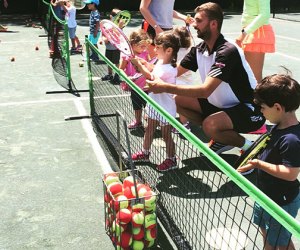 Tennis instruction begins at an early age at Sportime.
Sportime — Various locations
Sportime offers a variety of multisports programs, as well as specialty camps in tennis, volleyball, and roller hockey. It has locations across the island, including in Amagansett, Quogue, Kings Park, Bethpage, Roslyn, Syosset and Lynbrook. Camps cater to children as young as preschool age.
Tiger Tennis Summer Programs at LIU Post — Greenvale
720 Northern Boulevard
This tennis camp was developed for children ages 5 and older by the head women's tennis coach at LIU Post. Kids who attend this all-day camp learn technique, coordination and teamwork. They will also have an opportunity to swim in the facility's pool while supervised by a certified lifeguard.
Unlimited Sports Action — Port Washington
30 Beechwood Avenue
This summer day camp is offered for children ages 3-10 (your child must be potty trained) and features a multisports rotation led by coaches, teachers and college student-athletes. The counselor-to-athlete ratio for the "mini" program is 1:5; the ratio for the "junior" program is 1:8. Half, extended half, and full days are offered, with the option of early drop-off.
Winner's Edge Sports Training — Various locations
Winner's Edge offers full- and half-day outdoor camps in Nassau and Suffolk counties as well as at its indoor facility in Huntington Station. Sports include baseball, soccer, softball, dodge ball, and lacrosse. The baseball and multisports camps are designed for children ages 6-9 and 10-13. Summer registration still TBD.
This post, originally written in 2013, was updated in February 2018.
Top photo: LI Junior Ducks Summer Camps include a visit from mascot, Quacker Jack. Photos courtesy of the camps.