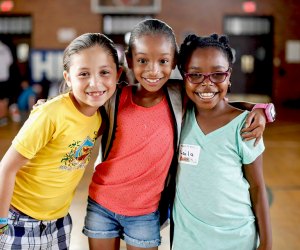 Affordable Summer Camps for Long Island Kids
Please see our updated post for a list of affordable summer camps offering programs in summer 2020.
For kids, summer is 10 weeks that make the rest of the year worth enduring. For moms and dads, these two months stretch out like a lazy highway, waiting to be filled with activity before your home becomes a whining zone of boredom. Summer camps can be a significant investment, but some on Long Island are actually quite affordable; some even have scholarships and financial aid available. Here then is our list of some of our LI's most affordable summer camps.
For more balmy ideas, check out our guides to Nassau and Suffolk County summer day camps, our list of great summer camps for preschoolers, and these new camps and summer programs for LI kids in 2019.
Nassau
Camp Sienna — Franklin Square
Days at Camp Sienna, run by the Roman Catholic St. Catherine of Sienna Church, include activities such as water slides, bubble soccer, a game truck, and bounce houses. Camp, for kids 3-14, runs from 9am to 3pm daily from the beginning of July to mid-August. The cost is $300 a week. Extended hours are available before and after camp for an extra fee. You can also register daily or for three days within a specific week.
RELATED: STEM and STEAM Camps for LI Kids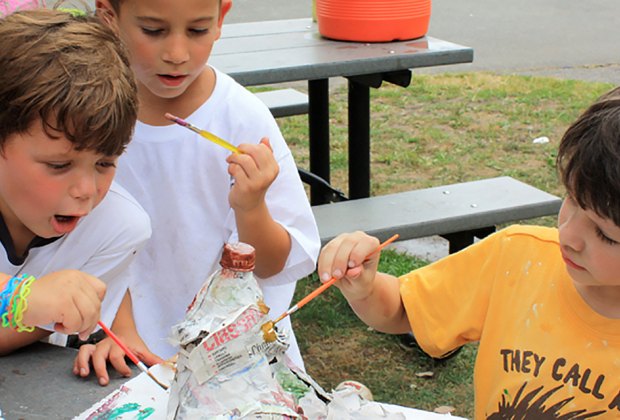 Introduce your child to science through hands-on experiments and exploration at the Center for Science Teaching and Learning.
Discovery Science Camp — Rockville Centre
Register before April 1 to get a special summer discount. Affordable one or two-week sessions are available for little scientists ages five through twelve. While days run from 9AM until 4PM, you can extend your child's stay until 5PM. Your lab coat-sporting little one will love engineering projects like building boats, constructing cookers, and making roller coasters. The program also includes chemistry, physics, and botany explorations, as well as wading in streams to learn about living systems. Longer two-weeks sessions are also available.
New Hyde Park PAL — New Hyde Park
Half-day sessions are offered in the mornings or afternoons, and seven weeks total about $560 in price. Full-days are available, as are late pickup and early drop-off options. An air-conditioned gym offers opportunities for sports, games, and arts and crafts. Field trips are taken to places like bowling destinations, Q-Zar game center, and Chuck E. Cheese. Evening sessions are available for seventh through ninth-graders from 5pm to 8:30pm, and cost about $175.
Summer Rec —​ Franklin Square, Mineola
Check with your local school district to find out about local summer recreation programs. Communities such as Mineola and Franklin Square offer morning programs that cost less than $200 per child for six weeks. Drama, arts and crafts, and gym time break up the day and give kids much-needed socializing before coming home for lunch. Field trips to the movies, natural preserves, and bowling add variety to vacation time.
RELATED: Camp Options for LI Preschoolers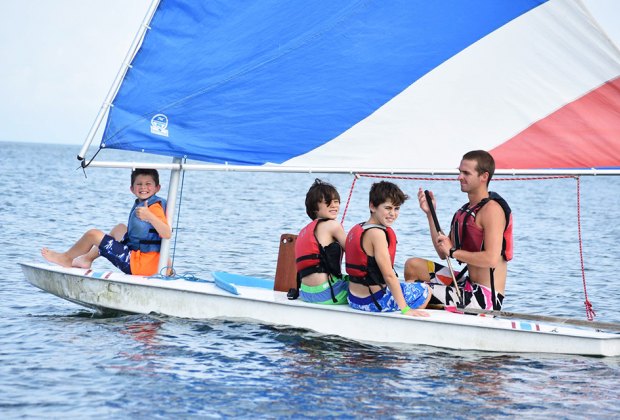 Water activities are part of the curriculum at Cornell 4H Camp, Peconic Dunes, located right on the Long Island Sound waterfront.
Suffolk
Cornell 4H Camp, Peconic Dunes — Southold
This sleepaway camp in Southold is located on the pristine Long Island Sound waterfront. Kids stay in screened-in cabins complete with lights and smoke detectors. Activities include archery, cooking, arts and crafts, farm-to-table cooking, rope course, swimming, and woodworking. 4-H offers a great "mini-stay" option for first-time campers, who can stay for three days and two nights before deciding if they want to stay for the remainder of the session. Tuition is $450 weekly for the day camp, which runs from 9AM until 5PM. The overnight camp is $750 a week for kids entering grades 3-10. "Camperships" are available for families residing in Nassau County.
Hidden Pond Camp at the Rinx — Hauppauge
This camp will fit easily into your summer schedule since you can choose to register your child for as little as three days per week and one week per summer. Half-days are available for three and four-year-olds. You can register your child for up to five days per week and eight weeks per summer for the full camp experience. Archery, lanyards, ultimate Frisbee, nature, and special events such as Carnival Day, Hip Pickles Day, and Game Show Mania are some of the activities offered.
Oasis Summer Camp--Brookville
Oasis' LIU campus has a summer camp that runs from June 29 to August 21 of 2020. Morning drop-offs start at 8:30 am and afternoon pick-up is at 5:30 pm. Early drop-offs, late stays, and transportation are available for extra fees. Activities include horseback riding, overnight options, crafts, and songs. You may sign up for a minimum of two weeks. Discounts are available for early registrants and returning families.
Oceanswide Summer Program at Caumsett State Park — Lloyd Harbor
Located in gorgeous Caumsett State Park Historic Preserve on the sparkling Long Island Sound, Oceanswide offers exploratory and marine programs that include ROV design and building, marine archaeology and forensics, scuba diving, and glacial ecology. Campers can apply to be sponsored.
Islandwide
Boys and Girls Club — Glen Cove, Hempstead, Hicksville, Locust Valley, Port Jefferson Station and other locations
Boys and Girls Club camps are available for kids ages 6-15 for tuition as low as $55 per week. Days run from 9am to 3pm and include lunch. Extended care is offered from 8:30am to 5:30pm for an additional fee. Your child must have a paid membership to enroll, which is around $50 for kids ages 6-12, and $30 for ages 13-15. Themes in the six-week program include sports, outdoor activities, tech projects, arts and crafts, dance, and field trips. Kids can be registered for one week at a time.
Camps R Us — Baldwin, Bellmore, East Rockaway, St. James, Syosset, West Islip and other locations
Kids have the option of registering for two to five days per week, with half days (9am-noon) mini-days (9am-2pm) and full days (9am-5pm) available. 2020 prices range from two half-days for $319 to a week of full days for $535. In addition, there is a 5 percent discount for enrolling two or more siblings, and a 10 percent discount for enrolling three or more. There is also a $75 reduction if parents are employees of one of Camps R Us' participating organizations, which include many hospitals and police departments. Camps R Us activities include athletics, swimming, bowling, and a game room, as well as field trips to museums and cooking schools. Camps begin the week of June 27.
YMCA Camp — Bay Shore, East Hampton, Glen Cove, Holtsville, Huntington, Patchogue
Parents can register students for weeklong camps provided kids are or become YMCA members. The cost of membership varies depending on location, but can be between $70 and $90 per child. Week-long fees also vary by YMCA chapter; financial aid is available. East Hampton, Glen Cove, Huntington, and Patchogue offer 5 percent off the purchase of four to six weeks of camp, and 10 percent off seven to nine weeks. The Bay Shore location runs in three-week sessions and parents can receive a 10 percent discount if they pay in full upon registration. The YMCA offers activities including athletics, creative arts, drones, woodworking, and theater. While the camp day runs from 9am to 4pm, extended hours are available, and transportation can be provided for an additional fee.
Sleepaway
Camp Edey —Bayport
This Girl Scouts of Suffolk County-run camp offers scholarships of $50 to $75 per week to registered Girl Scouts and their families. Campers can register for one sleepaway week at at time, or choose a day-camp option that includes transportation. Campfire singalongs, s'mores, and spa nights are all a part of the authentic Scouting experience.
RELATED: Summer Sports Camps for LI Kids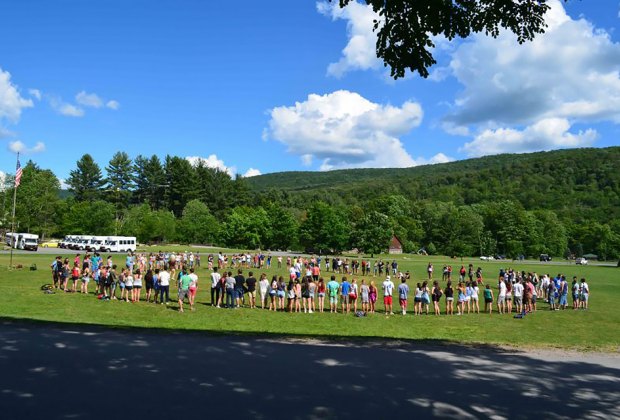 Sessions at upstate Frost Valley are two weeks long and priced based on budget.
Frost Valley YMCA —​ Claryville
It's just a two-hour drive to fresh air and new friendships at Frost Valley YMCA camp in the Catskills. Tidy, comfy cabins come complete with lights, heat, bathrooms, and carpeting. Camp Wawayanda is for grades 2-7; Camp Henry Hird is for grades 8-10; and a counselor-in-training program is offered for students entering 11th grade. Activities include ecology, yoga, candle-making, skateboarding, and service projects. Sessions at Frost Valley are two weeks and priced on a tiered system depending upon your budget. Camperships are also available.
Photos courtesy of the camps