Best Things To Do on Long Island This July With Kids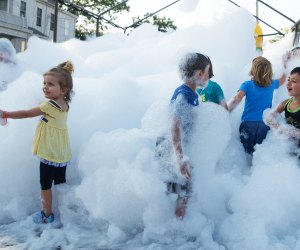 Break out your red, white, and blue because school is out, and the 4th of July is here. The month of barbecues, beaches, boats, and explosive fireworks is upon us, and after the summer of 2020, we have a lot of making up to do! The Long Island Steamers return to the woods in Brookhaven, Cradle Pop Shop takes up a weekend residence at the Cradle of Aviation, and traffic-free streets await for exploring and enjoying all across the island.
We've got plenty more things to do in our Summer Fun Guide, which is jam-packed with our picks for the best family beaches and must-do summer outings. Our Activity Calendar is growing by the day, and below, we've rounded up our curated list for the best things to do this July with kids. Read on for our 13-can't-miss activities.
As always, if an event piques your interest, click through to our listing for all the details, including addresses and times. And keep in mind: On Long Island, especially now, really cool things to do with kids often book up quickly, so register or buy your tickets ASAP.
Subscribe to our newsletters to get stories like this delivered directly to your inbox.