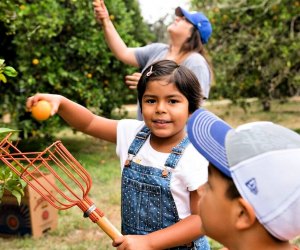 Volunteering at Holiday Time: Fun Ways for LA Kids To Find Their Spirit of Giving
Volunteering during the holidays not only helps your community, but helps kids learn the value of giving back. Sharing traditions with our children is what the holidays are about—baking pies, lighting candles, singing songs—and volunteering to help those in need is another tradition we can offer our kids. In fact, dishing up food or singing Christmas carols may be the best gift of all, setting up our kids for a life of sharing and empathy. That's a gift we give to them and to the world they inherit.
We've collected a list of websites and resources to help you find volunteer opportunities that match your family's interests and abilities. Also, check our calendar for more upcoming charitable events.
Getting Started
LA Works matches volunteers with nonprofits that need volunteer help. Enter your zip code and keywords to describe your interests, and you will find an abundance of volunteering possibilities. Age requirements, if relevant, are also listed.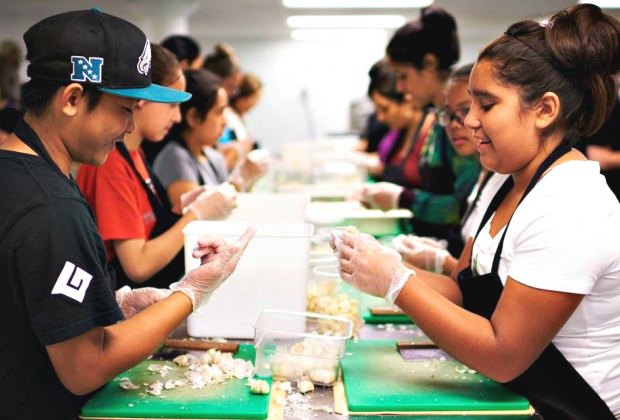 LA Kitchen hosts a morning of kid friendly kitchen activities and food prepping. Photo courtesy of LA Kitchen
Food Banks and Soup Kitchens
Local food banks and soup kitchens often offer food drives at this time of year. Small children can help load a bag with canned goods and nonperishable items. Children of all ages can ride along to help you deliver food. Check with area organizations to see what might be needed and how you can help.
Each December, One Voice's Holiday Food Program distributes food baskets, books, and toys to 2,500 Los Angeles families in need. All ages are welcome to help sort the food for packaging. More than 2,000 volunteers participate in this fun and festive "Kid Safe" evening.
Westside Food Bank welcomes help from kids ages five and up for occasional food sorting, accompanied by a parent or guardian. Special events throughout the year.
Los Angeles Regional Food Bank has a minimum age of 14 for volunteers, and the teens must be accompanied by a parent or guardian.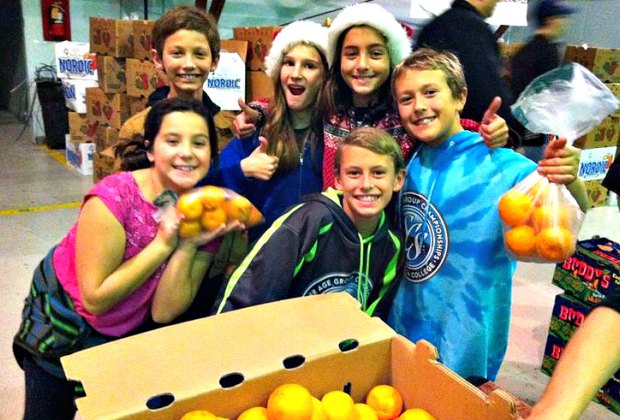 Food Donations
One creative way to volunteer as a family to help get food to the people who need it is through Food Forward, an organization that collects surplus fruit from backyard trees, as well as from farmers and produce markets. Check the Food Forward volunteer calendar to find days when there are kid-friendly opportunities to pick fruit for those in need.
Many local churches and organizations offer a Thanksgiving or Christmas meal for the homeless. Consider preparing a turkey or baking a pie to donate. You can also volunteer to serve or clean up. Check the following websites for a few dates and locations:
St. Monica's Church - Santa Monica
Westside Thanksgiving Community Dinner and Celebration - Santa Monica
Union Station Homeless Services - Pasadena
One Incredible Family, Inc. – Culver City/ Playa del Rey
Animals
Our furry friends also need extra care during the holidays, especially those without permanent homes. The Lange Foundation appreciates help from adults and children who can share some love for their adoption-ready animals - either at the Westside facility or by bringing home a foster animal temporarily.
Best Friends Animal Society, which leads NKLA, a coalition of animal welfare organizations and shelters, welcomes volunteers 12 and up (kids ages of 12-15 must be accompanied by a parent or guardian).
Clean Up
Help make our parks and neighborhoods clean, keep trash from floating down to the ocean, clear trails, or plant native plants. There is always something to do, even during the holidays, to protect and beautify our environment.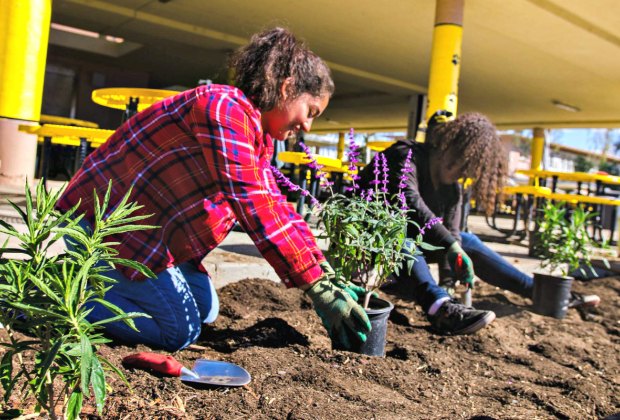 Photo courtesy of TreePeople
TreePeople seeks volunteers year-round to plant and care for trees, and promote and maintain the natural splendor of Los Angeles. Check the group's calendar for the many ways you can participate.
Ballona Wetlands Trust sponsors weekend restoration projects at the Wetlands in Marina del Rey. Volunteers as young as five (accompanied by a parent or guardian) are invited to help clean up trash and plant plants.
Nursing Homes
Nursing homes and long-term care facilities often seek seasonal volunteers of all ages to visit with their residents. Consider caroling at area nursing homes.
Or share stories with residents of other senior facilities. Sign up through LA Works.
Orphanages
Thank goodness orphanages sound like something far away and long ago to most of our kids, and yet just over the border in Mexico there are orphanages filled with children who will never have the kinds of family homes our children are blessed with. A trip to visit one with Corazon de Vida Foundation offers a chance for our kids to share some of their time, their caring, and their energy with kids who really appreciate the effort and attention. Bus trips go down regularly; check the calendar for upcoming trips.
Toy Donations
If you are unable to volunteer your time, but your family is still eager to help, consider donating new and gently used toys. Your children may more willingly give up forgotten and outgrown toys if they know the toys will be well loved by children in need. Check out our toy donation suggestions to find a donation location near you.
Originally published November 21, 2011