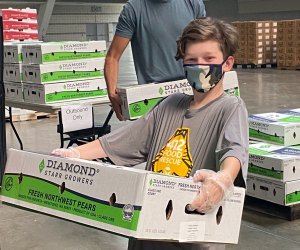 Volunteering at Holiday Time: How LA Kids Can Help Their Neighbors in Need in 2020
Volunteering during the holidays not only helps our community, but also helps kids learn the value of giving back. Ironically, this challenging pandemic year, when so many of our neighbors are in need, is a hard time to volunteer; social distancing requirements have caused many organizations to cancel big volunteering events, and 2020 is no year to sing Christmas carols in nursing homes. Although many of our favorite local charities and volunteering opportunities are on hold to keep the vulnerable healthy, we have still managed to pull together some creative, safe, and socially distanced ways to pitch in and help out this season. Check out these ideas for volunteering with kids, delivering food, helping lonely grandparents, and spreading cheer this holiday season!
For more ideas to keep the holidays bright, check out our Christmas and Hanukkah Guide for Families.
Getting Started Volunteering
LA Works matches volunteers with nonprofits that need volunteer help. Enter your zip code and keywords to describe your interests, and you will find volunteering possibilities. Age requirements, if relevant, are also listed. Although there are more restrictions on volunteering in the age of COVID, LA Works still finds ways for people to pitch in.
Food Banks, Soup Kitchens, and Food Donations
Local food banks and soup kitchens often offer food drives at this time of year, where kids can volunteer alongside adults. In 2020, many of these projects have been put on hold until it's safe to gather communities together again. A way to involve children this year may be collecting some holiday food items to donate to one of these charities, even if sharing the gift can't be the large community event it normally is.
412 Food Rescue may have the most outside-the-box, effective approach to mobilizing families to get food where it's needed, even during COVID times. The charity has an app that connects with stores or restaurants offering surplus food to donate. If a grocery store has 72 bags of salad with today's "sell by" date or a catered event has 5 big trays of ravioli left over, 412 Food Rescue will match that surplus food with those in need immediately. All that's needed is someone who can come pick it up and deliver it to the charity that can make sure the food is used. Download the app, and tell your kids you just became Food Heroes. Volunteer at your convenience to help prevent food waste and bring food to the families who need it.
Union Station Homeless Services in Pasadena is one of the few projects still accepting volunteers to help feed people this holiday season. Registration is open for Dinner in the Park volunteers.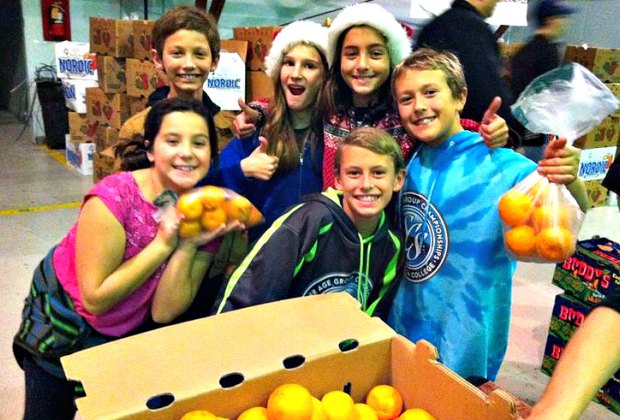 One Voice's Kid Safe evening is on hold until 2021. Photo by Mommy Poppins
One Voice's Holiday Food Program is one project that could use donations this year to replace its usual efforts. The project normally distributes food baskets, books, and toys to 2,500 Los Angeles families in need with a major annual event that features a "Kid Safe" evening at Santa Monica Airport. Sadly, the volunteering event isn't possible with the restrictions of 2020, but One Voice is still committing to gifting families in need with $100 grocery gift cards. Donations to this project are very much appreciated.
Food Forward, an organization that collects surplus fruit from backyard trees, has had to cancel its backyard harvest community events during the pandemic but recommends that anyone with a fruit tree harvest and share with the community, either by offering the fruit on local Facebook groups or by putting out a bucket for neighbors and passers-by. This is an easy way to involve kids safely.
Some local churches and organizations that offer a Thanksgiving or Christmas meal for the homeless can't accept volunteers this year but are asking for donations to help support local families in need. Two charities asking for donations instead of volunteering are St. Monica's Church and Westside Thanksgiving Community Dinner , both in Santa Monica.
Helping the Elderly
Normally we point families toward local nursing homes that welcome visits from young people over the holidays; obviously 2020 is not the year for that, and it's not the year to go caroling at the old age home up the street. Luckily, we've found a COVID-friendly way to pitch in.
All Together LA is a charity that pairs volunteers with isolated elderly neighbors who are in need of extra support during the pandemic. Running errands for an older person in the neighborhood who has no family nearby is a wonderful way to engage kids in the spirit of giving, especially if they can't see their own grandparents this holiday season.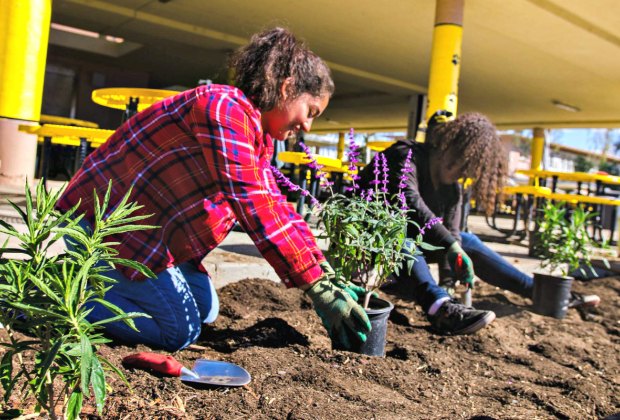 Photo courtesy of TreePeople
Volunteering to Clean Up
Help make our parks and neighborhoods clean, keep trash from floating down to the ocean, clear trails, or plant native plants. There is always something to do, even during the holidays, to protect and beautify our environment.
TreePeople seeks volunteers year-round to plant and care for trees, and promote and maintain the natural splendor of Los Angeles. Check the group's calendar for the many ways you can participate; though there are fewer events during COVID, it is still possible to volunteer.
Toy Donations
If you are unable to volunteer your time, but your family is still eager to help, consider donating new and gently used toys. Your children may more willingly give up forgotten and outgrown toys if they know the toys will be well loved by children in need. Check out our toy donation suggestions to find a donation location near you.
Originally published November 21, 2011