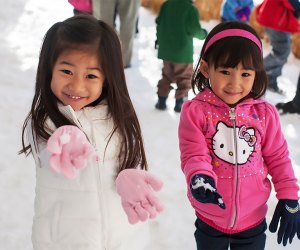 New Year's Eve Weekend: Best Things To Do with LA Kids this Weekend
ALL WEEKEND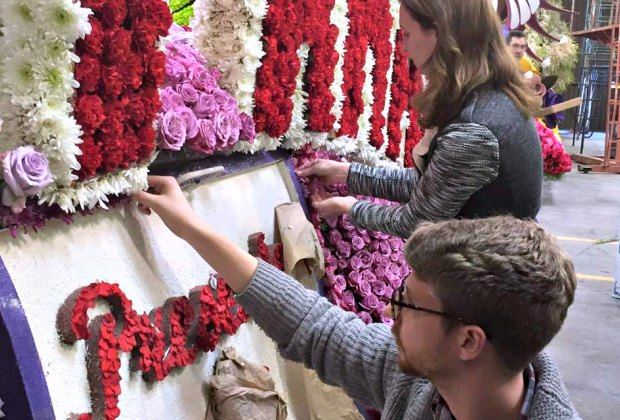 Lend a hand decorating a float for the Rose Parade. Photo courtesy of Tournament of Roses

Live on Green - Pasadena
Families can enjoy a free, three-day festival leading up to the Rose Parade and Bowl Game.

Rose Parade Float Decorating - Pasadena
Watch the magic happen as the finishing touches are applied to Rose Parade Floats this weekend.

Disney on Ice: Dare to Dream - Ontario
Make way, make way: Moana it's time you knew, the village of Ontario is all you need. (It's where Disney on Ice can be found this weekend.)

Kiddee Matinees - Hollywood
Don't feed them after 2018. The New Beverly closes out the year with matinee screenings of Gremlins.

Snow Days at Kidspace - Pasadena
Kidspace offers all the wintry fun without subzero temps. Snowballs, snow angels, snowmen...'sno fun like Snow Days at Kidspace!
2001: A Space Odyssey - Hollywood
Open the pod bay doors please, HAL. I want to get to the end of year screenings of 2001 at the Egyptian.
Lythgoe Family Panto's The Wonderful Winter of Oz - Pasadena
There's no place like Pasadena, there's no place like Pasadena, there's no place like Pasadena...

Lythgoe Family Panto's Beauty and the Beast - A Christmas Rose - Laguna Beach
Want more Panto? There's a Beast of a show down in Laguna.

Mary Poppins Returns - Hollywood
Mary Poppins and Lin-Manuel Miranda? It's practically perfect!
Kwanzaa! - Baldwin Hills/Crenshaw
The Lula Washington Dance Theatre presents an exuberant celebration of Kwanzaa, mixing high velocity dancing and drumming, from African Dance to classical ballet.
Float Decorating, Burbank Rose Parade Float - Pasadena
You can be part of the magic by helping to decorate Burbank's float for the Rose Parade.
Happy Harbor Days - Dana Point
Families can stroll through Dana Point Harbor to experience the voluminous free public light displays, including themed light creations Candy Cane Lane, the "Merry Kiss Me" arch, lighted trees, and more
Bandfest - Pasadena
The bands selected to perform in the Rose Parade perform their field shows at Pasadena City College.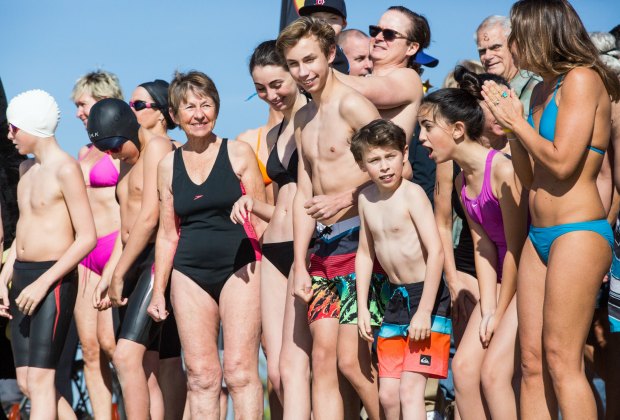 SoCal polar bears take to the waves. Photo by VenicePaparazzi.com

SATURDAY DECEMBER 29
Los Angeles International Children's Film Festival (SMPL) - Santa Monica
This free film fest offers shorts and animation from around the world.
Equestfest - Burbank
Worry about the flowers later. Today it's all about the horses.​

Polar Bear Swim - Santa Monica
It's Santa Monica's second annual polar bear swim! (Warm up afterwards at the Beach House's heated pool.)

Watson Adventures' Wizard School Scavenger Hunt - West LA
Close out the year with a Potter inspired sleuthing mission through the Getty Center.

Marina Lights Movie Nights - Marina Del Rey
Burton Chace Park's free cinematic series concludes with a sing-along screening of Frozen.
SUNDAY DECEMBER 30

Bob Baker Marionette Theater's Holiday Classics Show - Mid City
The Bob Baker Marionettes visit Miracle Mile Toy Hall for a heartwarming puppet production.

New Year's Eve Kick-Off for Kids - Mid-Wilshire
The Zimmer gets the New Year's celebrating off to an early start.

Then and Now Public Program - Buena Park
Kids can learn about the creatures that ruled Orange County in the distant past.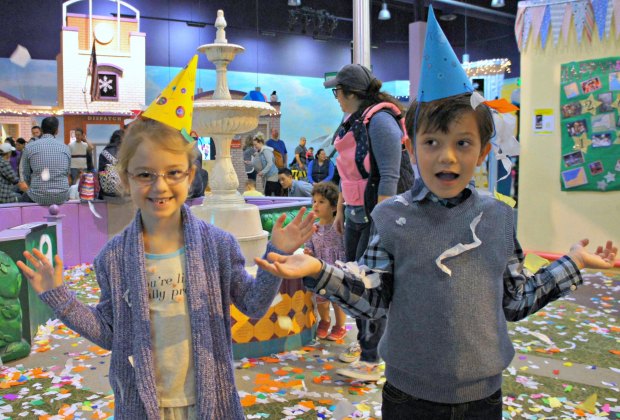 Party like it's Noon Year's Eve! Photo courtesy of Pretend City Children's Museum
MONDAY DECEMBER 31 – NEW YEAR'S EVE
Noon Year's Eve Balloon Drop - Pasadena
The New Year's celebration at Kidspace is operating on a kid's time clock, with a balloon drop and sparkling cider toast at noon sharp.

Annual New Year's NOON Party - La Habra
The Children's Museum at La Habra's kid-centric New Year's celebration culminates in a noon balloon drop, too.​

New Year's Eve Party - Irvine
It's always midnight somewhere, and Pretend City has the confetti countdowns to prove it.

LA Zoo Lights: Family New Year's Eve - Griffith Park
The LA Zoo offers a perfect family-friendly New Year's festivity, with an all ages party set amid the zoo's holiday light installations.
Annual All-New One-Time-Only New Year's Eve Revue - Santa Monica
The Santa Monica Playhouse offers two versions of its annual revue, including an early, child-friendly performance.
Queen Mary New Year's Eve Fireworks - Long Beach
If you can see the Queen Mary at midnight, you get to see the second set of fireworks that Long Beach sets off to ring in the New Year.

Family-Friendly Free Waterfront Celebration - Long Beach
Long Beach offers a family-friendly New Year's celebration at the Downtown waterfront amphitheater, with free face painters and trackless train rides. Fireworks begin at 9pm.

Knott's New Year's Eve Celebration - Buena Park
Knott's Berry Farm stays open until 1am on New Year's Eve, with festivities that include fireworks and live performances.

Skating Plus New Year's Eve Party - Ventura
Kids can roller skate to an early new year with a balloon drop at 3pm. Teens get their own party later on.

Kid's New Year's Eve - Carlsbad
What kid could say no to New Year's at Legoland? Kid favorites including Lucky Diaz and The Family Jam Band and Twinkle Time performing throughout the day, then the LEGO brick drops at 6pm. Fireworks follow.

New Year's Eve LA - Downtown
Grand Park's free New Year's celebration includes performances, art installations, and large-scale photographic projections, as well as photo booths and food trucks.
New Year's Eve Celebration - Marina del Rey
MDR shoots off fireworks at 9pm and midnight.

New Year's Eve Celebration at Old Town Music Hall - El Segundo
Old Town Music Hall rings in 2019 with music, performances, classic shorts, and a surprise feature film.

New Year's Eve at Disneyland - Anaheim
What better place to welcome the new year than the Happiest Place on Earth?
And if you're looking for more New Year's Eve ideas, we've got at least a dozen more!

Try pounding mochi at Oshogatsu in Little Tokyo. Photo courtesy of Nikkan San

TUESDAY JANUARY 1 – NEW YEAR'S DAY
2019 Rose Parade - Pasadena
New York may have Thanksgiving, but Pasadena owns New Year's Day. Stake out your spot to watch this floral spectacular, or view the floats later in the Post Parade: A Showcase of Floats.

American Girl "Girl of the Year 2019" Debut - Fairfax
The American Girl "Girl of the Year" for 2019 makes her debut at this free in-store event.

Marx Brothers Double Bill - Santa Monica
Start the New Year with a Groucho, Chico, Harpo double feature at the Aero Theatre.

Venice Penguin Swim Club Annual Swim - Venice
You survived 2018. See if you can survive this icy swim as well.

Free Day at The Autry - Griffith Park
The Autry gets 2019 off to a good start, with free admission during regular museum hours.

Oshogatsu (New Year's) in Little Tokyo 2019 - Little Tokyo
Little Tokyo welcomes the new year Japanese style.

We do have a few more ideas of things open on New Year's Day, and as always, there are many more activities listed on our daily events calendar. Whatever you choose to do this holiday week, we hope you have a truly auspicious start to 2019 and wish you much joy and endless fun in the months ahead. Happy New Year, everyone!