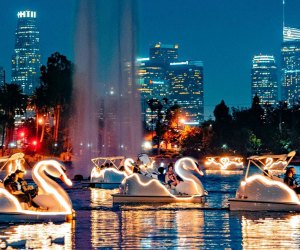 New Year's Eve with Kids: Ringing in the New Year as a Family in LA and OC
It's almost New Year's Eve— and out with the old, in with the new has never sounded so good. This year, there's no need to wonder if the exorbitant babysitter is worth it because there aren't any adult only parties or swanky restaurant feasts happening. But even with so many things closed, there are plenty of fun ways to celebrate New Year's Eve with kids in LA. To actually leave the house and celebrate in the city, you can see a wheel lighting, paddle in swan boats, or stroll through a glowing garden. There are also plenty of innovative ways to keep the party at home, family style.
More events and activities can always be found on our event calendar and guide our to the best activities of the week. That's a wrap on 2020—we did it, LA!
Happy New Year from all of us at Mommy Poppins.
While we are trying to promote safer activities that occur outdoors or with social distancing guidelines in place, please keep your family and others safe by always wearing a mask and maintaining appropriate distance. If you arrive at an event that appears too crowded try using the see all locations in this article or "nearby" search feature on our event calendar to find something else to do.
1. Virtual Noon Year's Eve Celebrations
Two of our favorite local children's spaces, MOXI in Santa Barbara and the Aquarium of the Pacific in Long Beach, are bringing their Noon Year's Eve celebrations to your home this year. MOXI put the party in a box. You can order the box online, arrange for contactless pickup, then go home and enjoy the treats, crafts, STEM charade game, engineering challenges, and more. The Aquarium of the Pacific is hosting a Zoom countdown, complete with puppets, crafts, and animals. To travel further afield (virtually), check out the Seattle Aquarium's Rockin' Rockfish Noon Year's Eve or Oakland's Chabot Space & Science Center's noon o'clock balloon drop.
OUR LATEST VIDEOS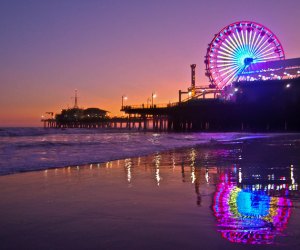 Watch the Ferris wheel count down to the new year. Photo by red.dahlia/CC BY-ND 2.0
2. See the Wheel Countdown on the Pier
Pacific Park on the Santa Monica Pier is closed, but will be lighting up the famous Ferris wheel with a light display on the wheel followed by a 60 second countdown in huge animated numbers. Following the countdown, the Ferris wheel display wishes everyone "Happy New Year" in 16 different languages. You can see it in person from the beach, or view it on the pier's live webcam from home starting at 11:30pm.
3. Grand Park's NYELA Countdown to 2021
For 8 years running, Grand Park has held LA's answer to Times Square—a giant bash in the heart of downtown with music, lights, people, and a countdown on the side of City Hall. But this year, like everything else, the party is going virtual. No standing in line or hunting for a bathroom, as the dance party takes place on your computer and in your home, ending at midnight with a 3-D digital countdown. Yep, it ends at midnight on the West Coast, so this is only for kids (and parents) who take nice long naps in the afternoon! But a giant LA dance party sounds like a great way to close out this year. The event is streaming live on Fuse.
4. Take an Illuminated Swan Boat Ride
Every night in Echo Park, as dusk settles, the lights come to life on the swan boats at Echo Park Lake. Up to 5 people can rent one together and paddle around the lake with the real birds who call this park home. It's a dazzling, only-in-LA moment, with the city skyscrapers in the distance, and the fountain gushing in the middle of the lake. Bundle up; it gets very chilly at night. Last boat rental begins at 9pm, and reservations (and masks) are required.
Elf on the Shelf's Magical Holiday Journey is a theatrical drive-thru experience. Photo by Alex J. Berliner/ABImages
5. Drive-thru Holiday Adventures
Never doubt the ingenuity of an Angeleno. Faced with social distancing restrictions, local fairgrounds, race tracks, and even mall parking lots have converted to festive drive-thrus to give families something to smile about for the holidays. While a few are closed on New Year's Eve, holiday drive-thru experiences like Magic Mountain Holiday in the Park, Santa's Speedway Christmas Drive-thru Spectacular, Elf on the Shelf's Magical Holiday Journey, Night of Lights OC, and many others are open for one last adventure in 2020.
6. Wander through the Gardens
During the day, take a trip to Reflections at Descanso, where opportunities for reflection are spread throughout the gardens. There's even a beautiful Wishing Tree for making your wishes for 2021. At night, visit South Coast Botanic Garden's GLOW, where thousands of lights illuminate the gardens with a theme of Garden Lights & Ocean Waters.
8. Hit the Slopes and Swoosh in the New Year
If a chilly adventure calls, pack up the car and head north to hit the slopes. Whether your kids are speed demons on skis, shredders on snowboards, or just like to float down a mountain on a tube, we know the perfect place for them to play. Several of these ski spots are an easy day trip from Los Angeles. Two of the Southland's nearby ski resorts (Mountain High and Snow Summit) have an annual tradition of a Torchlight Parade, in which hundreds of skiers head down the mountain after dark in a row bearing torches. As of press time, they have not yet determined if this event will take place this year. We will update this space as soon as there is more information, so stay tuned.
See the lights reflecting in the harbor on a holiday light cruise. Photo courtesy Newport Landing Cruises
8. Ring in the New Year on the High Seas
Feel that salty sea air cleanse away the old year, and leave the whole family refreshed and ready for 2021, when you head out to the open seas. Charters and cruises out of Newport Beach, San Pedro, Long Beach, and Ventura are all running on New Year's Eve for whale watches, cruises to Catalina, or harbor jaunts.
9. See Wonder Woman 1984 on the Big Screen
You know who could make the last minutes of 2020 a little bit better? Wonder Woman! Sure the movie is being released on HBO Max on Christmas Day, but for those who either don't have that specific streaming channel (who can get them all?) or really want to see Diana Prince in all her big screen glory, this drive-in is the place to make that dream come true.
10. Sing Along to "We Are the Champions"
We are all champions, just for surviving this year! Queen tribute band Queen Nation is the headliner at this New Year's Eve concert and they will rock you—right into 2021. It's a concert in your car for the whole family to enjoy, as another year bites the dust… Ok. We're done with those song references now.
11. Watch the New Year's Eve Fireworks Over Sydney Harbor
If you're up early (like 5am), you can see one of the only large scale fireworks displays, live online. Sydney is one of the first major cities in the world to ring in the new year, and they usually have two fireworks shows. But this year the activities have been scaled back to one 7-minute fireworks show at midnight. Since most other world festivities have been canceled, this will still be one of the biggest celebrations around the globe. So get up early and stream it live, or wait until the whole family is awake and watch it together over breakfast to kick off your own New Year's Eve.
12. Transport Yourself to Times Square, Virtually
We had to end with the classic. Since almost all of California is under strict stay-at-home orders, even if you get out to celebrate at some point during the day or evening, all of these activities end well before midnight. And to be honest, those of us with kids are usually home and in pajamas early, anyway. So curl up on the couch, make a toast, and know that most of the country is watching the countdown to the New Year in the exact same way. (Or one of the same ways, since the virtual countdown will be available this year on TV, mobile streaming, Facebook and Twitter.)
RELATED: How to Celebrate New Year's Eve at Home with Kids
Goodbye, 2020.
Here's to a wonderful 2021, exploring Los Angeles together.
Originally published December 28, 2011