Weekend Fun for LA Kids: Cinco de Mayo, Butterfly Release, Free Comics May 2-3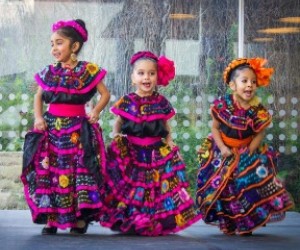 Big things are happening this weekend: big, big, big. I know they're big because they have "big" in the title, and that's not a word we use lightly around here. We've got The Big Parade, in which Angelenos walk all over town (Angelenos walking—that's big news). We've got Big Sunday Weekend, with thousands of families working together to help make the world a better place.
Another big thing is Cinco de Mayo, very big in these parts, and I know it's big because cinco is five and you need all the fingers on one hand to count that high. You'll need way more than five fingers to count all the Cinco de Mayo celebrations going on. (Lucky for you we've got them listed in our handy-dandy Event Calendar).

And what big thing should we close with? The Big Grand Butterfly Release? Big Bird Day LA? Breakfast with the Bigguns Gibbons? I'm going to go a different way: next Sunday is Mother's Day, and I want something big. You have been warned.
Keep reading for our biggest picks for this weekend.
ALL WEEKEND

Grand Butterfly Release - Pasadena
Did you raise a little larvae/pupae/cocoon? Time to let it go!

Big Sunday Weekend - Multiple Locations
Volunteer projects throughout LA are waiting for your family's helping hand.

Frappucino Happy Hour - Everywhere. Seriously.
Moms and pops can get their half-price caffeine on at Starbucks.

REDCAT International Children's Film Festival - Downtown
Movie fans of all ages can enjoy animated and live action shorts from around the globe.

Santa Ana Cinco de Mayo Festival - Santa Ana
Orange County's largest Cinco de Mayo Festival has live entertainment, games, carnival rides, and plenty of Mexican food.

Cinco de Mayo Celebration - Downtown
El Pueblo hosts traditional Mexican dance and music, in honor of Mexico's victory over the French in 1862. The party has been going on at this site every Cinco de Mayo for 140 years.

Cinco de Mayo at the Citadel - Commerce
The Citadel celebrates Cinco de Mayo weekend with performances by Ballet de Folklorico.

Marvel Universe Live - Inglewood
Where's a hero when you need one? Why, at the Forum. There's a whole gang of them there, in fact.

Circus Vargas presents ArleQuin! - Irvine
Wanna join the circus? Kids can step into the ring before the performance begins.

The Big Parade - Downtown, Silverlake, Griffith Park, and points in-between
Nobody walks in LA? Tell that to the Angelenos strutting their way through the streets, paths, and stairways of our town.

Ojai Storytelling Festival - Ojai
Lemme tell you about the time I went up to Ojai for a weekend of storytelling….

Railroad Days - Fullerton
Fullerton Train Station hosts popular trains in celebration of the region's historic rail connections and modern train developments.

Urban Ocean Festival - Long Beach
The Aquarium of the Pacific invites families to explore and celebrate Southern California's coast during its annual Urban Ocean Festival.

SATURDAY MAY 2

Bird Day LA - Multiple Locations
Look in the sky! It's a bird! It's a plane! Nope, I was right the first time; it's a bird. Lots of them actually, on the ground and in the sky in locations all across LA.

South Pasadena Eclectic Music Festival and Art Walk - South Pasadena
Music and art fills the streets of South Pasadena in this free annual festival.

Fiesta Matsuri - Downtown
This event combines the Children's Day celebration of two communities - the Japanese Kodomo no Hi and Dia de los Ninos from Mexico.

Premiere Screening: Maya The Bee Movie (G) - Beverly Hills
The premiere screening of Maya the Bee Movie benefits Children's Hospital Los Angeles.

Celebrate Teachers - Multiple Locations
Lakeshore Learning invites kids to celebrate teachers by creating one-of-a-kind gifts for Teacher Appreciation Week.

Young Explorers Academy: Comets Meteors & Asteroids - Downey
In May, your kids can learn the difference between comets, meteors, and asteroids (and then they can explain it to you).

Free Comic Book Day - Multiple Locations
Free comics up for grabs! This year's titles include Doctor Who, Spongebob, Rabbids, Teen Titans, and Sonic the Hedgehog.

California Book Store Day - Multiple Locations
You oughta read a book. And you oughta check out the books at local book stores.

Wake Up with the Waves - Santa Monica
Heidi Swedberg gets the kiddos dancing and moving on Santa Monica Pier

Home Depot Kids Workshops - Multiple Locations
Psst: kids! Next week is Mothers' Day. Psst: kids! You can make Mom a picket fence photo frame at Home Depot this weekend.

Breakfast with the Gibbons - Santa Clarita
The annual breakfast at the Gibbon Conservation Center offers a chance to see (and hear!) the acrobatic primates in action.

LA Sanitation East Valley Yard Open House - Sun Valley
May marks the return of Sanitation Open House season! First up: East Valley District Yard.

VIPink Princess Party - Culver City
It's a tea party fit for (your little) princess.

Wild West Day - Arcadia
The Wild West fun at the Los Angeles County Arboretum includes live music, panning for gold, a telegraph demo, roping and crafts, calliopes, stagecoach rides, a US Marshall Posse and more.

May Faire Celebration - Northridge
Highland Hall's annual May Faire has a Maypole Ceremony, a fiber farm petting zoo, a jousting arena, cake walk & parade, and special guests: May Fairy, Pocket Lady & Sleeping Giant.

Hot Wheels Garage - El Segundo
The four-wheeled fun at the Automobile Driving Museum includes life-size Hot Wheels cars, real Hot Wheels tracks, a face painter, balloon artists, and a Mothers' Day Art Station.

Street Food Cinema - Exposition Park
Thirty years ago, a brain, and an athlete, and a basket case, and a princess, and a criminal spent a Saturday morning in detention…

SUNDAY MAY 3

Free Day at the Bowers - Santa Ana
May Day! May Day! The Bowers Museum is celebrating May Day!

Pregnancy Awareness Month's Signature LA Event - Santa Monica
Dr. Harvey Karp (the Dr. Karp!) is the keynote speaker at this free event for new and expectant parents.

Free Day at the La Habra Children's Museum - La Habra
Kids can get their hands dirty as they dabble in a variety of mediums including Japanese Brush Painting, collage, watercolor painting, and chalk drawing in this art inspired day.

Paul Frank's Banana Split Pencil Pouch Party - Tustin
Kids can join artist and designer Paul Frank in a workshop creating a Banana Split Pencil Pouch.

Target Free Sunday at MOLAA: Cinco de Mayo Festival - Long Beach
The Museum of Latin American Art's Cinco de Mayo celebration features live music, art workshops craft vendors and face painting.

Hammer Kids: Look Together: How to Make a Book about Art - Westwood
Art has inspired us to do a lot of things; now this workshop at the Hammer shows us how to make a book about art.

Free Star Wars LEGO Building - Multiple Locations
Kids can build a free Star Wars themed LEGO at participating Toys R Us locations.

Bilingual Education Fair - Westwood
UCLA is the place to be if you want your kid to parlez-vous français or sprechen Sie Deutsch… kapish?

Kids Run the Bases - Dodgers Home Game - Echo Park
The Dodgers play the D-backs, and kids get a Yasiel Puig Replica Jersey and run the bases at Dodger Stadium.

33rd Annual Cinco de Mayo Celebration - Monterey Park
Folklorico dancers, mariachis, and other traditional Mexican music highlight Monterey Park's Cinco de Mayo celebration in Barnes Park Amphitheater.

Family Jam: Family Meditation and Concert - Westwood
Acclaimed Chinese musicians from the Bridges East and West Music Festival visit the Fowler for a serene concert and meditation for all ages

Fairy Tales in the Park - Oxnard
An all-volunteer troupe of actors perform fairy tales for the young and young at heart in Harborview Park. This month: Little Mermaid 2: Ursula's Revenge.

House Elf Liberation Tea - Hollywood
Potter-centric Whimsic Alley hosts formal Tea, with a House Elf Liberation twist. (Bring a spare sock, just in case!)

As always, there are many more activities listed in our Event Calendar (and if you didn't receive this post as an email, you really should subscribe). Whatever you choose to do this weekend, we hope you have marvelous time!