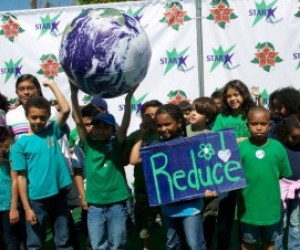 Weekend Fun with LA Kids: Book Festival, Star Wars and Earth Day April 18-19
We here at Mommy Poppins are all about mothers, and this weekend, we're celebrating the biggest mother of them all: Mother Earth. We are blessed to live in a region full of outdoor destinations, many of which host Earth Day festivities. Naturally, we've compiled a guide to the best Earth Day celebrations in the area.

Of course, mothers with slightly less girth are celebrated as well. Club MomMe's Spring Family Fest is a chance for all mom and dads to explore the latest in parenting and enjoy a little pampering, while kids get their play on.

Nothing would make your Momma prouder than to see you spending time with a few good books. The Los Angeles Times Festival of Books is one of the biggest literary events of the year, with celebrities, authors, celebrity authors, and author celebrities, including Malcolm Gladwell, Octavia Spencer, Joyce Carol Oates, and Scooby-Doo. You can read all about it, (or have someone read it to you if you're still working on your sight words).
Keep reading for the most mom-o-rific events this weekend.
ALL WEEKEND
Los Angeles Times Festival of Books - Exposition Park
The USC Campus hosts two days of performances, readings, panel discussions, and booths from booksellers, authors, and publishers - all for the love of books.

Star Wars Celebration - Anaheim
I felt a great disturbance in the Force, as if thousands of Star Wars fans suddenly cried out in geek ecstasy. (Luke and Leia are going to be there!)

Disney on Ice - Exposition Park
Lightning McQueen and Ariel, Tinker Belle and Buzz Lightyear take to the ice in Disney's latest production.

Annual SpringFest - Redondo Beach
Redondo Beach's 31st annual Spring Carnival & Community Festival features carnival rides and a Kids Zone, arts & crafts, and a food court with gourmet food trucks.

Renaissance Pleasure Faire - Irwindale
It's a trip back in time to medieval days with continuous entertainment, jousting tournaments, comedy, magic, glass blowing, military encampments, archery, fencing, and plenty of m'lords and m'ladies.

Free Entrance Days in the National Parks - Multiple Locations
All national parks are open to the public with no admission fee in honor of the opening weekend of National Parks Week.

Disneynature's Monkey Kingdom with Live El Capitan Show - Hollywood
The latest film from Disneynature introduces a monkey named Maya, who will do anything for her newborn son Kip. Before every screening, the Wildlife Learning Center presents exotic animals from around the world live onstage.

Gruffalo's Child - Costa Mesa
The Gruffalo's child ventures into the deep dark wood. Doesn't he know about the Big Bad Mouse?!

Kiddee Matinees - Hollywood
New Beverly Cinema offers kid matinees of The Mighty Ducks.

Circus Vargas presents ArleQuin! - Santa Ana
Ever dreamed of joining the circus? Discover the fantasy as Circus Vargas sets up shop at Westfield MainPlace.

Earth Day Expo: Party for the Planet - Griffith Park
L.A. Zoo holds a party for the planet, providing guests an opportunity to explore information and ideas about animal conservation and preservation, sustainable living for humans, recycling, and how to make Earth a better place to live.

California Poppy Festival - Lancaster
The fields are alive with the color orange!

Topanga Earth Day Festival - Topanga
Celebrate Earth Day in Topanga! The 14th annual festival promises art, music, organic food, drumming, dance, youth programs, crafts, face painting, puppet shows, and all sorts of educational workshops.

SATURDAY APRIL 18

Earth Day Bird Fest Celebration - San Pedro
The Earth Day events at Cabrillo Marine Aquarium start with a beach clean-up; then families can learn about the environment and create projects to take home.

Kidical Mass - Santa Monica
Get on your bikes and ride! The current family ride has an Earth Day theme.

Heal the Bay Earth Day Celebration - Santa Monica
Help save the environment and earn a reward! Participants in Saturday's Nothin' But Sand Beach Cleanup receive free admission to the Santa Monica Pier Aquarium's Earth Day celebration.

Wake Up with the Waves - Santa Monica
Gwendolyn & The Good Time Gang bring the musical fun to Santa Monica Pier

Child Car Safety Event - Sherman Oaks
Is that car seat correctly installed? Find out in with a free inspection at the The Help Group.

Glendora Earth Day Festival - Glendora
Glendora's Earth Day celebration includes an eight- mile community bike ride, children's bicycle safety rodeo and one-mile ride, an animal magic show, shuttles to the Nature Center, and a Narrated Eco-Tour of Glendora.

Malibu Earth Day Celebration 2015 - Malibu
Malibu's Earth Day celebration offers educational activities and a petting zoo.

Animal Crackers - El Segundo
One morning, I shot an elephant in my pajamas. How he got in my pajamas, I don't know. But I do know that the Marx Brothers classic Animal Crackers is playing at the Old Town Music Hall.

A Faery Hunt's Fairy Fun Time - Arcadia
The Faeries invite kids on an interactive walkabout in the LA Arboretum. Watch out for peacocks!

Saturday Morning Stories and More - West LA
Andrew and Polly perform a mini concert at Children's Book World.

Earth Day 2015 - Whittier
At the Sanitation Districts' annual Earth Day families can tour a water reclamation plant and a material recovery facility, enjoy music and dance performances, and create eco-friendly arts and crafts.

Hands-On Saturdays for Families: Earth Day Every Day - Arcadia
The Gilb Museum invites visitors to find their connection to our planet by creating ways to support the greenness of our earth, the clearness of our skies and the beauty of our oceans.

Free Healthy Pet EXPO - Whittier Narrows - South El Monte
You and your dog look alike? Enter the contest at the free Pet Expo sponsored by the LA County Dept. of Public Health. Other highlights include free or low cost vaccinations for dogs and cats, low cost spay and neutering, pet adoptions, free pet ID tags, and dog training.

Junior Chef Classes - Multiple Locations
Feeling thirsty? Williams-Sonoma teaches kids how to make homemade drinks.

Saturday Morning Concerts - Santa Monica
Twinkle Time entertains the kids at Books and Cookies.

PicnicLA - Downtown
Bring your picnic basket: the Music Center presents PicnicLA, a giant picnic in the park.

What is a Western? Film Series - Griffith Park
The Autry screens the 1943 film The Ox-Bow Incident. Henry Fonda stars in this film about justice and wrongful accusations.

SUNDAY APRIL 19

Club MomMe's Spring Family Fest - Fullerton
Discover the latest in baby products, discuss the pros and cons of vaccination, learn about developmental milestones, and chillax, play and learn in nine different interactive lounges at the Club MomMe's Spring Family Fest. Mom gets mini-massages, Dad chills with microbrew and TV, kiddo gets a Lalaloopsy/Thomas playdate, and everyone goes home with an overflowing goody bag.

A Chance to Dance - West LA
Los Angeles Ballet dancers offer free ballet classes. This month's theme: "Put Some Spring In Your Step!"

Walk to End Genocide - Mid-Wilshire
Thousands of activists, faith leaders, and elected officials from across Southern California gather at Pan Pacific Park for the largest anti-Genocide event in the country.

Family Art Workshop - Hollywood
In honor of Earth Day, kids make a recycled pet craft at Barnsdall Park.

Children's Earth Day at the STAR Eco Station - Culver City
A veritable galaxy of child and teen stars visit STAR Eco Station for its Earth Day celebration.

826LA@Hammer: The Advice-Bot Repair Workshop - Westwood
Everyone's an expert at something, whether it be candy, dodge-ball, sleeping, or some other thing. Kids can learn all about advice (the good and the bad) while contributing their own to the reconfiguration of Advice-Bot 2.0.

Kids Run the Bases - Dodgers Home Game - Echo Park
The Dodgers play the Rockies, and kids run the bases at Dodger Stadium.

Orchestra Santa Monica - Santa Monica
The April concert from Orchestra Santa Monica is themed Border Crossings.

Zimmer Sunday Family Programs - Mid-Wilshire
Roses are red, violets are blue, it's poetry month at the Zimmer Museum. (Not all poems rhyme, you know.)

Movie Under the Guns - San Pedro
Nothing against Johnny Depp, but to me, Gene Wilder is Willie Wonka. See if you agree with this battleship screening of the 1971 film Willie Wonka & The Chocolate Factory

As always, there are many more activities listed on our daily events calendar, and if you didn't receive this info as a newsletter, you should sign up for our weekly events updates. Whatever you choose to do this weekend, we hope you have a terrific time!