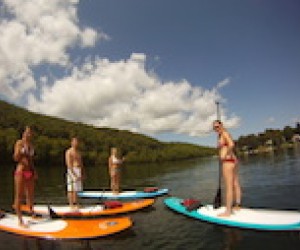 Stand Up Paddleboarding in Fairfield County
If you and the kids would like to get your aloha on, without the pricey plane tickets, Stand Up Paddleboarding (SUP -- how cool is that acronym?!) has landed on the Gold Coast. Over the last few years, a handful of outfitters have set up shop along the shoreline in Fairfield County, and at Candlewood Lake as well. Absolutely no experience is required to learn this iconic Hawaiian tradition that doubles as an excellent workout ... and triples as a unique way to tour the county's wetlands. It's also the perfect solution for someone like me, who gets a little freaked out by the claustrophobic and ultra-close-proximity-to-the-water elements of kayaking. Even better, you and your teenaged kids can get your zen on over water with a SUP yoga class. Cue the ukuleles, people! And for more CT Water Fun check out our CT Beach and Water Fun Guide.
The adventurous way to learn the sport is to sign up for a tour, since they often begin with a lesson. With your newfound muscle memory, follow the guide to a cool destination you can revisit later with a new board or rental. If you'd like to take the cautious route, simply sign up for lessons.

Fairfield Board Company
These guys offer private and group lessons, so you could learn alongside your tween or she could sign up for a class with a friend (without you, duh).

Private: $60-70 for 60 min
Group: $50 for 60 min
Rentals: $20 per hour or $50 per 24hrs.

Heritage Square
1700 Post Rd, Unit B5, Fairfield, CT 06824
203-955-1132
Fairfieldboardcompany@gmail.com

Downunder CT
Downunder instructors are trained by the Academy of Surfing & SUP Instructors. They have two lovely locations, and teach younger kids in tailored classes. If you really get into it, they even offer videotaping of your skills so you can hone them. Children must be at least 9 to paddle board on their own. Children as young as 5 can ride with a parent. Also of note, they've linked up with Saugatuck Sweets to throw an unforgettable birthday party!
SUP Lessons: $55 and up. $5 additional for children under 16.
Downunder also offers SUP yoga. Talk about mastering the mind -- it's either that or you're in the drink! Once you've figured it out, imagine the beauty of a lotus pose over water. Blissssssssss
SUP Yoga Classes: $40/each, 5/$160 or 10/$280

157 Rowayton Avenue, Norwalk, CT 06853
203-642-3660

575 Riverside Dr, Westport, CT 06880
203-956-6217

Candlewood Stand Up Paddleboard
Paddleboards aren't exclusive to salt water! This outfitter will come to your Candlewood family compound or community beach to conduct a class. They also offer private lessons, and the always cool (in photographs anyway) SUP yoga classes. All offerings by appointment only.
SUP Private lessons: $65
SUP Group lessons: $50
Yoga classes: $50/each, 4/$180 or 5/$320

Rentals: 1-hour/$25, 2-hour/$40, 4-hour/$50

Chatterton Marina
5 Shore Drive, New Fairfield, CT 06812
203-312-7704

Longshore Sailing School
If you're 12 and you can swim, you're in! Choose from either a 5-week session (skills turn to play with races, treasure hunts and awards) or drop-in 60-min sessions (included with a board rental) around the mouth of the Saugatuck River. If you're looking for a great way to get some one-on-one time with your kiddo, sign up early for a Saturday morning slot and figure it out together.
One-hour rental/lesson (Adults): $20
5-sessions -12.5 hours (Ages 12-16): $240 ($220 Westport resident)

260 Compo Rd S., Westport, CT 06880
203-226-4646
Fairfield Kayak Company
If you've learned, but aren't ready to invest in a board for yourself or your children, you can rent by the half or full day here. You can pick up or they deliver to launches from Bridgeport to Southport and beyond.
Half-day rental: $45
Full-day rental: $60

Jim or Jamie, Phone: 203-255-5315
FairfieldKayak@yahoo.com