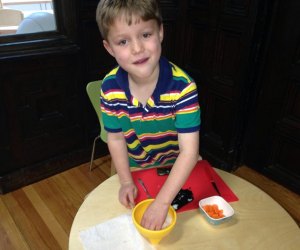 Places to Play in Cold Spring: Where Kids and Families Can Play and Learn
In January, we highlighted the village of Cold Spring including the area's top attractions and some suggestions on where to eat. Now we'll wrap up our tour of this cozy village with a look at the best places for kids young and old to play and learn.
Whether you're looking for quiet indoor activities or death-defying outdoor adventures, there's something for everyone--most within easy walking distance of the village's MTA station.
Butterflield Library
10 Morris Avenue
Conveniently located across the street from Tots Park (we'll get to that in a moment!), Butterfield Library is housed in an adorable old house on Route 9D. Butterfield offers children's programs throughout the week with special "Parent and Me" classes for babies, story hour for preschoolers, MineCraft for elementary age kids and essay writing for teenagers. During the summer there are reading programs and book clubs designed to keep kids excited about books and on top of their reading skills. A Mid-Hudson Library card is required to take books out.
The Manitou School
1656 Route 9D
In addition to being an independent preK-4 progressive school, The Manitou School offers a host of after school and summer programs to residents of Cold Spring and the surrounding communities. Located in the beautiful and historic Plumbush House (formerly the Plumbush Inn), Manitou's enrichment programs include International Cooking, Karate, Art, Robotics, Math and Spanish, just to name a few! Children enrolled in after school programs can enjoy a snack in the gorgeous solarium and then get creative in the oak paneled teaching kitchen, get active in the brand new multipurpose room/gym or get to work in one of the newly redesigned classrooms. Mention that you read about The Mantiou School on Mommy Poppins for a FREE drop-in class!
Tots Park
Maybe I haven't visited enough parks, but I've never seen anything like Tots Park before. Nestled within a larger McConville Park, Tots Park is something that I imagine the toddlers of Rugrats would have created given a few outdoor toy catalogs and a truckload of sand. Completely fenced in, this park has a gigantic sandbox encircled by a miniature bike path- perfect for the plastic tricycles and gigantic dump trucks that live in the park. There are bucket swings, big kids swings, a few rocking toys, a playhouse, small slides and a miniature playground climber…all easily accessible to the 5 and under set. The park is dotted with shady spots for parents and caregivers to congregate while the little ones run wild. The only drawback? No actual bathroom--though any preschooler there can point you toward the designated "pee tree" (for kids who can hold it, the library is right across the street).
Glynwood
362 Glynwood Road
Located on land purchased in the 1920s, Glynwood Farm is a working farm that practices environmentally sustainable agricultural practices. The farm offers a farm market (open 3 days a week--Tuesdays, Fridays and Saturdays) that sells meats, eggs, produce and locally sourced items like jams, honey and cheese. Gynwood also runs a CSA, offering produce produced on the farm. The farm is open for visits on the first Saturday of the month from May-October and hosts a number of public family events during the year, including a spring sheep herding Celebration and a fall Harvest Festival.
Taconic Outdoor Education Center
75 Mountain Laurel Lane
Part of the larger Clarence Fahnestock State Park, the Taconic Outdoor Education Center is a wonderful spot for an adventurous family outing, no matter what the season. There are interactive exhibits, nature presentations, maple syrup festivals, high and low ropes courses, cross country ski trail, snowshoe trails, and a sugar shack--just to name a few activities.
Hudson Highlands State Park Preserve
Surrounding Cold Spring on pretty much all sides is the Hudson Highlands State Park. Stretching up from Annsville Creek in Cold Spring all the way to up to Beacon. Many local parks and hiking trails are encompassed in the Hudson Highlands including Little Stony Point Park and Breakneck Ridge (both along Route 9D on the way from Cold Spring to Beacon) and Bannerman's Island (formerly a privately owned island in the middle of the Hudson River). Little Stony Point and Breakneck are both easily accessible by car and, as the names would indicate, very different hiking experiences. Little Stony Point is a great place to ramble along with small children--there is a large sandy beach along it that some would say amounts to a sanctioned swimming hole (though there is no confirmation on this), while Breakneck Ridge is a breathtaking rock scramble whose name is not without backing. Bannerman's Island is accessible by kayak and has an amazingly eccentric back-story. You can get there by Hudson River Expedition's guided tours (ages 13+) that launch from the Cold Spring Waterfront.