Get Pumped for Peppa Pig Live! Coming to a Theater Near You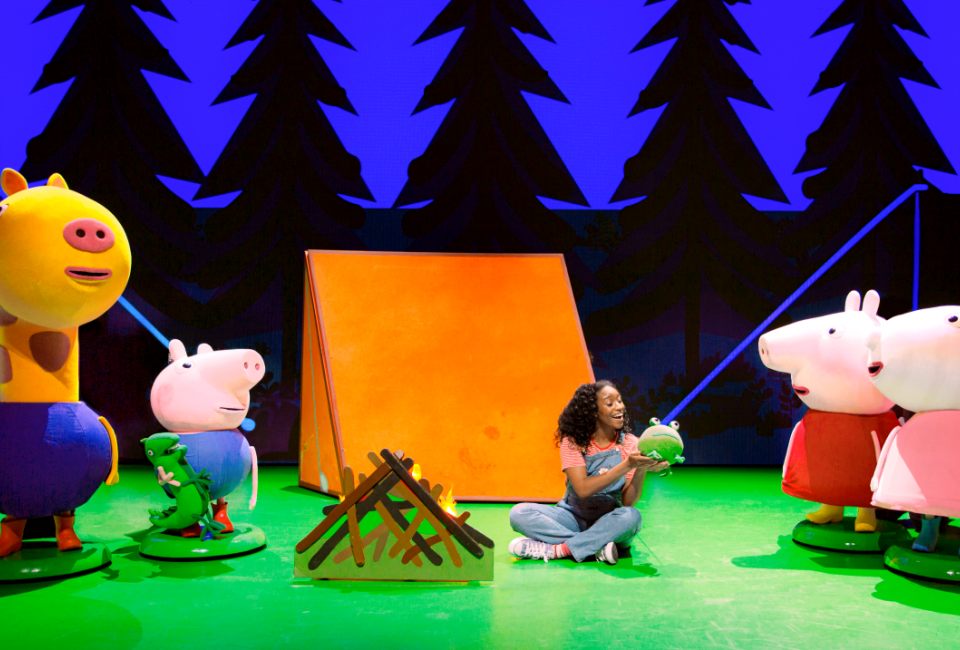 4/11/22
- By
Elsa Simcik
Peppa Pig fans are squealing with delight because their favorite pig and her friends (George, Pedro Pony, Suzy Sheep, and Gerald Giraffe) are coming to a live theater near you in Peppa Pig's Adventure. The show is making stops in Red Bank, NJ on Wednesday, April 13 before heading up to Lowell, MA on April 16 and then stopping in Boston on May 1. We had the privilege of seeing the show when it stopped in Atlanta. Dressed in matching pink shirts adorned with their names, my crew headed to the theater with lots of giggles, anticipation, and cries of "How much longer until we see Peppa?"
Read on for the inside scoop on this show that's sure to delight your favorite preschooler.
Subscribe to our FREE newsletters to get stories like this delivered to your inbox.
How Does Peppa Pig's Adventure Work?
When it comes to live shows and movies, parents of young kids usually ask two questions: How long does it last? Will my kids be able to sit through it?
To answer the first question, the show runs 60 minutes, plus a 20-minute intermission (or to kids, a potty break). As for the second question, we have good news: Your kids aren't expected to sit still.

Go jump in a mud puddle with Daisy and Peppa! Photo by Elsa Simcik
The show is interactive and engaging so audience members are encouraged to dance, shout out, and even jump around in the aisles. The pace of the show helps with keeping the preschool set's attention. Characters come and go, backgrounds change, and every few minutes, the players launch into a song and dance number. And while audience members are certainly captivated, that doesn't mean they are quiet. Expect to hear a hum of chattering children (along with a few crying babies) while listening to Peppa and friends perform.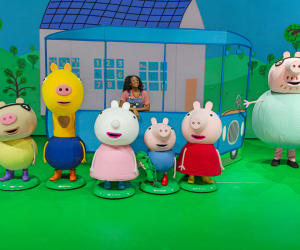 Sing and dance along with Peppa, Daisy, and friends. Photo by Shore Fire Media
What is Peppa Pig's Adventure about?
Peppa's human friend, Daisy—an energetic and bubbly character—introduces the show and narrates the action. The crowd cheers as familiar faces appear on stage, especially the titular character. For the first half, the gang is at school, learning, singing interactive songs, and getting hyped for their upcoming camping trip. After the intermission, the crew (with Daddy Pig driving the bus) heads out on their camping adventure. More songs follow, including a sleepy song that (almost) quiets the audience. Notable songs include the catchy "Today is the Day" and the crowd-pleaser "Bing Bong Song" (which we can't promise won't get stuck in your head). Spoiler alert: it rains on the camping trip which provides a nice segue into Peppa's favorite activity: jumping in muddy puddles.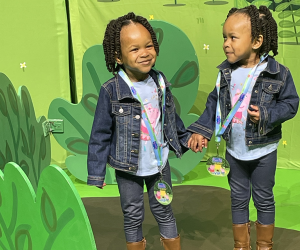 Go behind the scenes and take plenty of pictures after the show. Photo by Elsa Simcik
If you were expecting to see Peppa and friends as life-size, walking animals (like the characters at Disney), this is different. Peppa, George, and the other friends are more like puppets with humans behind them. The puppeteers manipulating and voicing the characters are all wearing black, but they don't hide. In fact, they stand up behind their puppets and sing and dance. The only exceptions are Mommy and Daddy Pig, who are more like the Disney variety of characters in costume. The audience (which had an average age of 3), didn't seem to notice if the performers were human, puppets, or humans inside a costume. They were just thrilled to see their favorite pig and her friends live. After the show, our crew asked "When can we see Peppa again?"

Get dressed up in your best fancy clothes for an afternoon at the theater! Photo by Elsa Simcik
Tickets and Tips for Peppa Pig's Adventure
Find show dates, cities, and tickets at Peppa Pig Live US.
Be prepared for lots of pricey preschooler products as you enter the theater: snacks, plush Peppa Pigs, and a fan favorite—the light-up pinwheel!
For about $50 more (prices fluctuate by location), your child can go on stage after the show with Peppa and Daisy and jump in a pretend muddy puddle. Grown-ups can snap lots of pics at this VIP Photo Experience.
While the show doesn't have a storyline that will entertain most adults, if you're lucky, the theater will serve adult beverages, like the one in Atlanta did.
Click Here to Sign Up!